"Indian superstar Sonu Nigam's "Hall of Fame" is the Indian legend's best work"
Bollywood singer Sonu Nigam unites with Grammy-winning producer Jason Goldstein to release English single "Hall of Fame."
"Hall of Fame" sang by Nigam is part of a colossal collaboration for the album series, Billboard Presents Electric Asia Volume Two. The track features American rapper, MC Yogi.
"Hall of Fame" has been written by successful songwriter Jim Beanz from the USA.
6th Sense has been involved with the music creation of the song, which has a contemporary dance feel to it.
Jason, who is known as one of the most influential hitmakers within the modern RnB and hip-hop genre has produced the music.
Collaborating with artists like Beyonce, Jay Z, Michael Jackson, David Bowie, Rihanna Mary J. Blige, Jennifer Lopez, Ludacris and LL Cool, Goldstein's work has been admired by many.
Providing unique vocals, Sonu teamed up with Jason for this track. "Hall of Fame" marks Nigam's much-anticipated cross over into the mainstream.
Sonu an adaptable Bollywood playback singer dynamically collaborated with Goldstein on this popular anthem, catering for the global dance scene.
Jason bringing hip-hop legend, MC Yogi into the fold as a featured artist is another x-factor to this song.
Working with Goldstein's specific music production style and sounds, "Hall of Fame" is one of Nigam's finest work in years.
Ever since he began recording hit tracks in the 90s, Sonu has dominated the Bollywood playback circuit.
Besides receiving several accolades including National and Filmfare Awards, Sonu has gone international, uniting with artists such as Avicii and Britney Spears.
"Hall of Fame" is Nigam's first, solo single in the English language. The single is highlighted by his vocal depth rhyming beautifully, contrasted with some excellent rapping from MC Yogi.
The singer born in Faridabad, India states "Hall of Fame" is his best English single. The Mumbai based vocalist speaking about the track says:
"How amazing and exciting to be included on the Billboard Presents Electric Asia album.
"There's no more fortunate a musician than me in this world, touch wood, who has received so much love worldwide for so long and life is still opening newer doors to my absolute astonishment.
"Hall of Fame" is my best ever English language single. I am really proud of it and my hope is to reach an audience around the world with this track, to share the excitement.
"It was a joy to work with artists such as MC Yogi and Grammy-winning engineer/ producer Jason Goldstein on this song."
"I am also thankful to my team from EEG Talent, Nick Rajsakha along with Prolific Media's RJ Bucaria, who put together this amazing collaboration from across the ocean along with the forward-thinking team from b2/ Billboard Records, Jonathan Serbin and Sean Dinsmore,and due to the teamwork, Jason and I were able co-create an innovative musical experience.
"Billboard, given its international reach and reputation, is a perfect home for this track."
Sonu Nigam and his single joins a number of global stars on the Billboard Presents Electric Asia Volume 2 album.
The second instalment in the series features 15 songs by gifted and popular artists from around the world.
This includes celebrated international record producer DJ KSHMR (USA), singer-songwriter with Warner Music Tia Ray (CHN), pop singer Jason Zhang (CHN), hip-hop star Jia (CHN), electronic guru Mickey Zhang (CHN) and superstar Namchato (THA).
Talking about the single "Hall of Fame," b2 CEO, Jonathon Serbin mentions:
"We are thrilled to launch Volume Two of the Billboard Presents Electric Asia series and to work with India's superstar Sonu Nigam on this Volume.
"In particular, we are excited to continue to establish links between Asian and Western music markets and fans and to also welcome the new links to the Indian music market and fans."
A&R director of b2, Sean Dinsmore adds:
"This album brings in tracks from across Asia. Indian superstar Sonu Nigam's "Hall of Fame" is the Indian legend's best work to date and his track is sure to excite existing fans, and to find new fans for this Asian star around the world.
Since its release on October 20, 2018, the track has been attracting a global audience.
Check out the track "Hall of Fame here: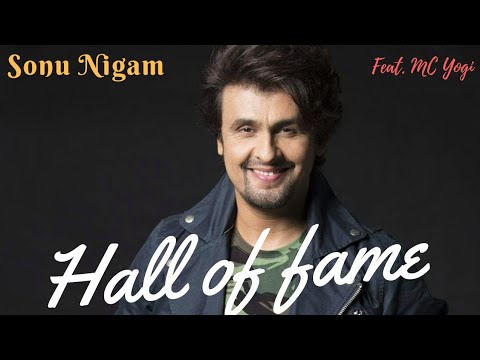 There have been many positive reactions to the song shared on YouTube by Sonu himself. A fan describing his vocals on the popular platform said:
"This is just great, He is sounding just like an American singer, his voice is just not recognisable. The accent is on the point. This is a rocking."
Another fan loving his voice commented:
"No comparison, no matching. Undoubtedly this is the most mesmerizing voice of the world. You are in the heart of fans. We all love you a lot and please sing more and more for us."
There is no doubt that Nigam is the master of chords and has reached a height of astronomical proportions.
Previously Sonu Nigam has worked with Indo-American DJ KSHMR for the track 'Underwater, which was released in 2017.
Meanwhile, "Hall of Fame" and Billboard presents Electric Asia Volume Two is available on iTunes and Spotify.