"It was a very tough character for me to play because of the martial arts."
It would not be wrong to say that we have thoroughly missed seeing Sonakshi Sinha on celluloid.
But fear not, because she's back. And this time, 'no one will be forgiven'!
In her next movie titled Akira, the 29-year-old actress can be seen in a sturdy, kickass avatar.
In the newly released trailer, one sees a feisty Sona flaunting her swift action skills and bashes the bullies.
She appears to be an ex-convict who moves to Mumbai to pursue her studies.
Many movie fans are surprised by her attempt to take on the action genre. Neelima D says: "She's gonna kill it. After watching it she's gonna my one of the [favourite] actresses."
Watch the trailer here: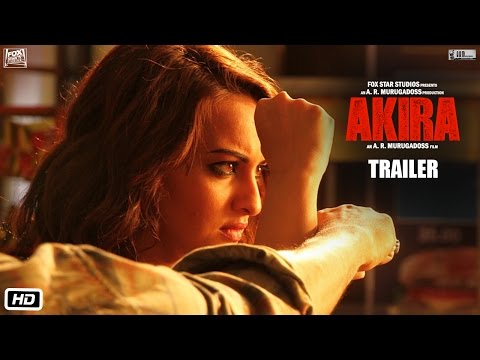 During a Facebook live chat with fans, Sonkashi talks about stepping into the shoes of 'Akira' and doing her own stunts:
"It was a very tough character for me to play because of the martial arts involved in it. But I must say it was one of the most fun characters I've played."
Post her last film Holiday: A Soldier is Never Off Duty, this is the second time Sonakshi has worked in an AR Murgadoss movie.
Commenting on this experience, she laughs: "With Akira, I think it will be even better because he was directing me as one of his heroes.
"I was fully charged up and ready-to-go. For a director like him to put in his faith in me to pull off the role is a huge achievement."
For donning the rough 'n' tough look, one imagines that the Dabanng actress must've trained very hard.
In fact, a media report suggests that her wrist, knee and back were injured during filming. But it seems that the blood, sweat and tears have paid off!
Answering a fan's question on Facebook, Sonakshi talks more about her refined look:
"I try and eat small meals every two hours, but it's not only that. When I work out consistently that along with my diet works wonders."
Akira also stars Anurag Kashyap and Konkona Sen Sharma. Anurag plays a corrupt policeman and is the villain. Konkona essays the role of a no-nonsense cop.
Akira is set to hit the screens on September 2, 2016.