"The brand has been around for 20 years. It comes from Australia."
Sexpo™ is the world's largest sexual health and lifestyle exhibition brand.
After huge success in countries like Australia and South Africa, it was time that this amazing exhibition came to the UK.
Sexpo UK hit London in November 2015 and was held at Olympia in Kensington.
DESIblitz went to the show to find out more about this new show and exhibition in the UK.
The event was organised by Nina Saini, who herself has worked in the adult industry for over 10 years.
"The brand has been around for 20 years. It comes from Australia." Nina told DESIblitz.
The show has welcomed over 2.5 million visitors worldwide and the UK was not going to be any different.
We asked Nina Saini about the attitude towards a sexual exhibition such as Sexpo UK from Asians.
"Within the Asian community, I think it's still a little taboo to talk about sex."
She herself has full family support in what she does and stated she does not hide what she does.
Filled with an atmosphere of open-minded visitors, Sexpo UK had lots to offer for everyone's taste and discovery. Different types of brands and companies took part in the Sexpo UK experience.
But she feels attitudes towards relationships and even sex are changing.
The UK is a new consumer market for such an exhibition and there was plenty of interest from the public in the exhibitors and entertaining shows taking place.
Latest trends in lingerie, sexual clothing, sex toys, creative and artistic sexual ventures were all on display.
Appearances from many stars from the UK adult industry excited visitors and they happily obliged to sign autographs and having selfies taken.
A huge number of exhibitors came to enlighten visitors about different types of sexuality.
A novel exhibitor was Pricasso, an artist with a difference, proudly painting artwork of people with his penis.
We met up with US TV reality star Farrah Abraham who was attending to promote her new sext toy range teaming up with Topco Sales.
Farrah was ecstatic and was keen to see her Asian fans and overwhelmingly thankful for all the support she has had.
Talking of her female toy range she told DESIblitz:
"We have the new Women's novelty line. So, get that for your wife or girlfriend."
Watch our exclusive highlights from Sexpo UK 2015 -Warning: the video contains adult content: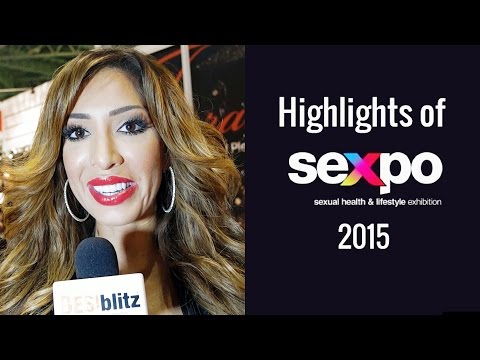 Cupid Labs showed of their sexual food supplements and cosmetics for erections and better orgasms.
MysteryVibe know that one size does not fit all and presented how people can take control by designing their own pleasure.
We spoke to Soumyadip Rakshit,  CEO and Co-Founder at MysteryVibe, a designer from India who has created in the UK a vibrator, which uses cutting-edge technology of six motors and bends and adapts to the shape of the body.
His view on differences in attitudes towards sex between South Asia and Europe stem from education and openness in families. He said:
"Generally, Asian communities are more traditional or can be, and they don't often discuss sex growing up with families."
Whereas his friends from Europe have much more open sex education early in life.
The exhibitor Latex Leather and Lace brought together the very best in latex, leather, PVC and wet look fetish clothing, with many on display to try.
Ohhh Bunny's exhibited their brightly pink colours rabbit inspired collection of toys known bunny hoppers which are both gentle and adventurous.
Many other exhibitors showed off their individual products and definitely had huge interest.
There were many eye-catching shows on the main stage.
Gorgeous titillating dances from The Folly Mixtures had everyone mesmerised with their charm and sensual moves.
Felipe Reyes performed acrobatics showing his hand balancing and aerial artistry.
Madame Galina Ballet Star Galactica showed elegance mixed with ballet resulting in sheer sexiness.
Comedy and cabaret from Desmond O'Connor and performances from the hunky Dreamboys for the ladies along many other acts kept visitors entertained.
A roster of seminars and workshops took place at the show.
Emily Ford from Contours Pole, a pole dancer who's been teaching for over seven years, demonstrated her art.
Enlightening workshops for a spanking erotic class and a beginners guide to sex toys by Shh! were informative.
BDSM Q&A with Deborah Fields, a sex clinic courtesy of the NHS, Sexual Fizz with Marti and a discussion on Clubs, Drugs, Online Hooking-Up, and Sexual Well-Being were all part of the showcase.
Many other sexually informative workshops too entertained visitors.
Brand ambassadors attending were Ali Fox, Lady Bellatrix, Andy Jones, Tanya Tate, Cara Sutra, Katy Horwood, Oliver Clarke and Lexi Lowe.
Parties were also part of the razzle dazzle of the evenings at Sexpo UK 2015 with Killing Kittens Aftershow Party on the Friday and The Official Sexpo Afterparty on the Saturday.
The first Sexpo UK was a resounding success and definitely generated tremendous interest from the visitors attending.
Let's hope that Nina Saini and the Sexpo UK team can only make this show grow bigger and better every year and attract visitors from all backgrounds to learn more about sexual health and lifestyle the Sexpo UK way.
Invalid Displayed Gallery