"My speed and ball control on grass was exemplary"
Manzoor Hussain Junior has a record 15 gold medals for Pakistan in field hockey. The former Pakistani inside right is the highest gold medallist player in the subcontinent.
The Lahore residing Manzoor was born into a Kashmiri Rajput family in Sialkot on October 28, 1958.
His father Muhammad Ali who had retired from the Pakistan Army as a Junior Commissioned Officer, originally belonged to Jammu.
Meanwhile, Manzoor's mother Zainab Bibi came from Ladakh and was a housewife.
His father was very crazy about hockey, wanting Manzoor to represent Pakistan in the sport. He occasionally used to watch Manzoor play in local club tournaments at a district and division level.
His two younger brothers, Maqsood Hussain and Mahmood Hussain were also hockey players.
Olympians Brigadier Manzoor Hussain Atif (late) and Ric Charlesworth (AUS) were big influences on his game. He was often picking useful tips from them.
Hockey icons B.A Burki, Afzal Manna, Ilyas Khan, Niaz Khan, Latif-ur-Rahman, Habib-ur-Rahman also had a big hand during his career.
After making his 1973 hockey debut against Kenya in Nairobi, Manzoor went on to achieve big things for Pakistan hockey.
As part of his 15 record tally, Manzoor won gold medals in six world hockey events, two of them as a captain.
Brigadier Atif who was the manager of the Pakistan 1984 Olympic Games winning team gave him the title of 'Golden Player' during a seminar in Lahore.
He was also coined as the 'General' in Malaysia for his dribbling, dodging, stickwork and penetration.
We closely take a look at his nine major gold medals, with some exclusive insight from the man himself:
World Cup 1978, 1982
The 1978 Hockey World Cup saw Manzoor Hussain Junior collecting his first gold medal at a big senior tournament.
Pakistan became world champions for the second time after narrowly defeating the Netherlands 3-2 on April 2, 1978. All matches of the 1978 World Cup took place at Camp de Polo, Buenos Aires, Argentina.
Four years later Manzoor picked up his second consecutive Hockey World Cup gold medal. He had a major contribution in the event, scoring six goals.
He scored two goals during the 5th edition of the tournament that took place at the Bombay Hockey Association Stadium, Bombay, India.
Manzoor scored his first goal of the tournament in a group A game against West Germany. He got onto the score sheet in the 43rd minute, extending Pakistan's match lead to 3-1.
The Germans lost 5-3 in the end to Pakistan on January 5, 1982.
In the final against the same opposition, Manzoor scored in the 26th minute to give Pakistan an all-important 2-1 lead.
His stickwork was particularly remarkable, as he dodged eight German defenders to score the goal.
Describing the epic goal, Manzoor said:
"This is a goal which everyone in the world always remembers. I received the ball from our end at the 25 point mark. I went forward dribbling from the right flank. This distance was about 70 yards.
"My speed and ball control on grass was exemplary right until the ball got into the back of the goal."
Pakistan was on top of the world after registering a 3-1 win in the final on January 12, 1982. Manzoor's performance throughout this tournament was consistently marvellous.
Champions Trophy 1978, 1980
Manzoor Hussain Junior dominated the opposition during the 1978 and 1980 gold-winning campaigns. He had demonstrated his array of skills in abundance.
Hosts Pakistan were winners of the inaugural Champion Trophy in 1978. Manzoor along with his teammates bagged gold in Lahore courtesy of being undefeated and topping the group.
Pakistan won all of their four matches. The results were 6-2 (New Zealand), 3-1 (Spain), 4-1 (Great Britain) and 4-1 (Australia).
Pakistan clinched the 1980 Champions Trophy in front of a home crowd in Karachi. Manzoor and his fellow Pakistani players won their second consecutive golf title after leading the round-robin format.
Pakistan won five out of the six matches, along with drawing against arch-rivals India 0-0. Their victories came versus Spain (5-1), Australia (7-1), West Germany (4-2) Great Britain (6-1) and Netherlands (3-2).
Junior World Cup 1979
Manzoor Hussain Junior won his second major gold medal as captain after leading Pakistan to the 1979 Junior World Cup title.
Manzoor was able to participate in the inaugural edition, courtesy of his age – he was 21 at the time.
With his hockey display, Manzoor was like an icon player of the tournament. He was by far the best player on the hockey field during this event.
The likes of Brigadier Atif, Air Marshall Nur Khan and other senior officials dedicated the win to Manzoor for his performances.
After topping group B, Pakistan completed a 4-2 win over Malaysia in the semi-finals on August 31, 1979.
Pakistan defeated West Germany 2-1 in a closely fought final on September 2, 1979.
With Pakistan claiming gold they became the first side to win both inaugural editions of the senior and junior Hockey World Cups.
The first Junior World Cup took place in Versailles, France from August 23 to September 2, 2020.
As a consequence of this tournament, Manzoor was declared the "Pele of Hockey."
Asian Games 1978, 1982
Manzoor Hussain Junior had outstanding performances for Pakistan in the 1978 and 1982 Asian Games.
Pakistan qualified for the knock out stages of the 1978 Asian Games after being unbeaten in the Preliminary Group A round.
They then had an easy ride against Malaysia, beating them 5-2 in the semis on December 17, 1978.
Pakistan came through a 1-0 tough battle against India in the final at the National Stadium in Bangkok, Thailand on December 19, 1978.
Manzoor and the whole team put a lot of effort into this tournament as Pakistan achieved their fourth gold medal at the 1978 Asian Games.
At the 1982 Asian Games, Pakistan was once again undefeated, having beaten China (6-0), South Korea (10-1) and Japan (12-1).
In the last four, the triumphant Green Shirts brushed aside Malaysia 2-0 on November 29, 1982. In the final, Pakistan thumped India 7-1, silencing the home crowd.
According to Manzoor the President of Pakistan, Zia-ul-Haq (late) had always motivated the team with a very clear message:
"I want the team to raise the green flag in India."
"The Pakistani population has many expectations from all the team."
Pakistan had a very aggressive approach against India. They certainly had a keen desire to demolish them and win the tournament.
Indian Prime Minister Indira Gandhi (late) witnessed the final between the two neighbouring nations at the Shivaji Stadium in New Delhi, India on December 1, 1982.
This was Pakistan's fifth consecutive and Manzoor's second gold on the trot in the Asian Games.
Asia Cup 1982
Pakistan won the inaugural Aisa Cup event held in Karachi from March 12 to 20, 1982. Following a round-robin format, Manzoor Hussain Junior and the other Pakistani players all received gold medals.
Pakistan won all six matches of the competition, that too with a considerable and healthy margin.
Pakistan successfully overcame India (4-0), Sri Lanka (14-0), Malaysia (7-0), China (10-1) and Singapore (7-0).
Once again, Manzoor had shown that he was no ordinary player. His performances were exceptional.
The talented Manzoor as always was extremely adaptable to every situation of each game that he played.
Besides his magnificent contribution, it was an all-round team effort.
Olympic Games 1984
Captain Manzoor Hussain Junior inspired his team to gold at the 1984 Los Angeles Olympics that took place at the Weingart Stadium. He scored four goals in the tournament.
He scored his first goal in the group B match against Kenya on August 1, 1984. Scoring in the 30th minute, Pakistan won the game comfortably 3-0.
His remaining three goals came against Canada in the Pool B game on August 5, 1984. Pakistan convincingly won the match 7-1, with goals coming from Manzoor in the 13th, 14th and 51st minute.
Manzoor was in excellent form during the 1-0 semi-final win against Australia on August 9, 1984.
Equally, he was in sublime touch in the final versus Germany. Acting as the playmaker, Pakistan were victorious 2-1 after extra time.
Manzoor's performance was similar to a 'General' who was leading his troops in a war-like situation. As a 'General,' he had accomplished his Olympic Games mission very well.
Manzoor was honoured the President's Award for Pride of Performance in connection to his display at the 1984 Olympics.
Considering he had won many previous gold medals, it was really satisfying to receive this award after competing in his last major event:
"I cannot express enough how happy I was with the Pride of Performance."
"When I went to receive this award at the Presidential palace, everyone gave me a standing ovation. At the time I did wish my father was there as he would have been very proud of my achievements."
Manzoor and his team regained the Olympic gold after sixteen years on August 11, 1984.
Watch Manzoor Hussain's 1982 Hockey World Cup goal (04.49) here :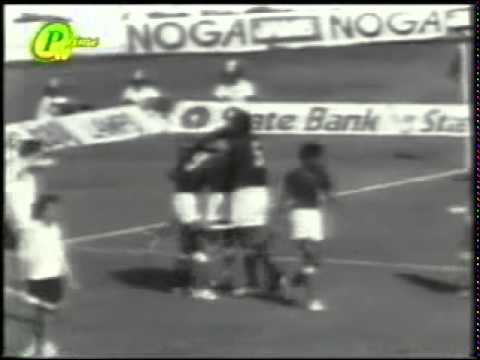 Manzoor Hussain Junior has several other gold medals in competitions across the world.
The gold medals include the 1976 Quaid-e-Azam Trophy, 1977 Asia Junior World Cup, 1979 Esonda Hockey World Cup, 1980 Four Nation Malaysia, 1980 Four Nation Singapore and 1980 Four Nation Poland.
Manzoor was certainly a magician, hurricane and jaguar on the hockey field, especially with his zig-zag like moves.
Manzoor Hussain Junior is such a popular and 'Golden Player' of his time that he has become a subject. He is taught at a National Academy in Australia, with a particular discussion on the 1984 Olympics.
Over the years, Manzoor has held many key positions within the Pakistan Hockey Federation (PHF). He continues to support Pakistan hockey and wishes the national side all the success for the future.
Youngsters who wish to represent Pakistan hockey can learn so much from Manzoor Hussain Junior and his gold medals. His hockey artistry is definitely unforgettable.