'An Indian woman spends 12,000 hours on average making rotis in her life.'
We have all experienced that dreaded moment when there's a knock at the front door and a pang of fear runs through you.
You slowly open the door to find an onslaught of your relatives have decided to pay you a visit just before dinner.
You make small talk while trying to work out if it's even possible for you to make 20 or more rotis in half an hour and the most important part of all: Will they be round enough?
To ease the stress and suffering of Asian women everywhere, a new company many have found the perfect solution in the form of an automatic roti-making machine.
The innovative invention known as the Rotimatic may just be the answer to all our prayers! The Rotimatic has been created by Singapore based firm Zimplistic and has just completed its pilot launch.
Technologists and engineers Rishi Israni and Pranoti Nagarkar are the co-founders of Rotimatic: the first automated roti maker!
Rishi says: "Zimplistic's mission is to tackle hard real-world problems to improve the daily lives of people." Well the Rotimatic may just be the answer to the daily qualm of making fresh roti or just using bread.
On the Rotimatic website it is compared to the washing machine, oral contraceptive and cell phone. These are all inventions that have transformed and shaped people's lives – a brave comparison to say the least. Will it live up to the hype?
Rotimatic produces one round and puffed roti per minute, to your preference. Oil, flour and water are added to the machine and then you can select what thickness, softness and oil ratio you would prefer. As such it should cater to all the family's wants.
However, the Rotimatic is not only a time saver but can cater for the experimenters of life. As it allows you to add flavours to the flour prior to making and caters for those who want paranthas or puris.
The revolutionary Rotimatic is an invention that caters for all. It will help people in their everyday life by taking the time out of having to prepare and make the roti, an essential task for the daily diet of many South Asians.
Also, much emphasis is placed on the health benefits of using Rotimatic to make rotis, as whole wheat roti has a lower glycaemic index in comparison to wholemeal bread or white rice. This means blood sugar levels are well regulated, you feel fuller for longer and have a lower daily calorie intake. The Rotimatic really does see positives all round.
Riaz, however, a 45-year-old mother from Birmingham disagrees saying: "The automated Rotimatic takes away a tradition from the Asian culture and family life, something which I think is more detrimental than helpful."
Yet, Isma a 23-year-old from Birmingham says: "The time it takes to make roti is too slow especially when I return from work and just want to eat quickly so I look forward to the launch of the Rotimatic."
The launch date is not yet known, though the commercial launch will first take place in Singapore. It is eagerly anticipated as the pilot batch for Singapore was oversubscribed in minutes.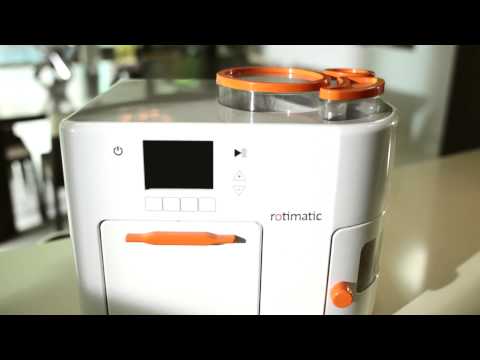 However, what will the implications of Rotimatic on British Asians be? Making rotis is a substantial part of Asian family culture. As a child, one witnesses their mother making rotis, usually on a daily basis, knowing that one day you will too.
Rotis are something of a household signature; one family may make them small and lightly cooked, while another large and crispy. Do the benefits of the machine outweigh that inherent part of the Asian culture?
For busy families, single working men and women, or just those who can't make rotis, then this machine will seem like a knight in shining armour. Although it may cause some alarm for small groups of people, the Rotimatic will provide a means to save time and hassle when it is not needed.
As the Rotimatic Facebook poster states, 'an Indian woman spends 12,000 hours on average making rotis in her life.' This fact alone is enough to scare most people, especially in today's modern age when time and efficiency is everything. Will the modern and professional British Asian woman spend so much time kneeding away flour and water?
In a world where we are constantly on the go and want to be able to juggle both work and home life without undue hassle: the Rotimatic may just be what we need to lessen the load!