"He hasn't changed much but is more mature. He still has his bad sense of humour!"
Producer Bhushan Kumar is back with the beautiful and talented cast of Ranbir Kapoor, Jacqueline Fernandez and Arjun Rampal for the thriller, Roy.
The musical thriller has been one of the most anticipated films of 2015. It will mark the comeback of superstar Ranbir Kapoor to the silver screen, after his role in Besharam in 2013 and a few cameos since.
While Arjun and Jacqueline take centrestage in the film, Roy will be only a minor role for Ranbir.
Roy has already gathered a lot of attention from the release of its first look. It promises a stylish crime caper, with immersive visual detailing and sombre tones.
With the trailer getting more than six million views and the music soundtrack topping every chart, all eyes are on this engaging romance.
This slick romantic thriller is directed by debutant Vikramjit Singh, and follows two parallel narratives.
Kabir Grewal (Arjun Rampal), a successful but flirtatious filmmaker, seems to have a strange obsession with the character Roy (Ranbir Kapoor).
He has directed the successful series 'Gun 1' and 'Gun 2', both films based on the heists of thief Roy. Kabir is ready to complete the trilogy to his Gun series with 'Gun 3', in tailing the new heist of Roy.
With Ayesha (Jacqueline Fernandez) being the new addition to the playboy filmmaker's life, and an inspiration for one of the characters in Gun 3.
Kabir's life and his parallel world of Roy is waiting for a twist and unveiling of new mysteries.
Will Roy finally reveal his face to the world? Will this be the last heist of Roy?
After being associated with the hit music of Aashiqui 2, Yaarian and Ek Villain, T Series is back with another fantastic soundtrack.
The music has been produced by Ankit Tiwari, Meet Bros Anjjan and Amaal Mallik, and this super hit soundtrack has added an extra buzz around the movie.
Standout songs from the album include 'Sooraj Dooba Hain' sung by the melodious Arijit Singh, which has already become a party anthem. Amaal Mallik, nephew of Anu Malik offers the hit tune a lovely Desi twist to EDM.
The hit combination of Meet bros Anjjan and Kanika Kapoor join hands again after their super hit song 'Baby Doll' with 'Chittiyaan Kalaiyaan'. The Punjabi party number has already hit the right notes with the audiences.
Finally, the melodious and eerily romantic 'Tu Hai Ki Nahi' is an Ankit Tiwari trademark. It adds yet another hit to the brilliant singers list of achievements, with the album getting 4 out of 5 by every music critic.
Bhushan Kumar expresses his gratitude on the response saying: "We received a fabulous response to the theatrical trailer and the first song 'Sooraj Dooba Hai', which is now a party anthem for the season, followed by 'Tu Hai Ki Nahi' and 'Chittiyaan Kalaiyaan'.
"The rest of the songs from the album have an individuality of their own and help the story go forward."
Despite anticipation brewing, Ranbir Kapoor has for the most part been absent from the promotions and has only a small role in the film.
A lot of speculation with some tabloids suggests that Ranbir 'didn't want to steal the limelight', or he that wasn't too happy with his screen time.
However in a recent interview Bhushan clarified: "There is no problem at all. Actually, the thing is, we don't want to reveal much of the kind of role Ranbir has in this film.
"Mostly because he plays the title role and if too much information about that same would be revealed then no one would go to watch the movie."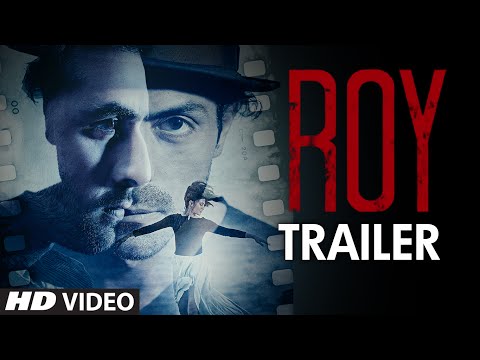 Furthermore, Arjun Rampal admits that he has seen a difference in Ranbir Kapoor's attitude after Rajneeti (2010): "He hasn't changed much but is more mature. He still has his bad sense of humour [laughs]!
"He has become lot more quiet and mature. You will find lot more calmness in his performance."
There is also considerable talk about the chemistry between Jacqueline Fernandez and Arjun Rampal. As Jacqueline said:
"Arjun and I are inseparable. Ranbir and I actually did not have that much time to bond with each other. I know he is a wonderful person, though! Professionally, I was kind of able to gauge that about him, too."
We shall have to see who has the best chemistry with the Sri Lankan beauty on screen!
With no movies making a big impact on Box Office records at the beginning of 2015, it will be interesting to see how well Roy fares.
According to some trade analysts, advance booking for Roy witnessed almost 100 sell-out shows within just two days in most of the Indian cities. It has predicted opening figures of Rs 6-7 crores on its first day, followed by 8-9 crores on the second.
With this dynamic trio and a fresh script, the movie releases from February 13, 2015. So would you like to spend Valentine's Day with the cast of Roy?