"You'd think maybe one day, when I get Alzheimer's."
Eros Now, South Asia's leading streaming company, released series 2 of the dramatic-comedy, Metro Park.  Eminent film actor, Ranvir Shorey, of Khosla Ka Ghosla (2006) fame has everyone laughing with the web series, Metro Park 2 (2021).
After a successful season 1, Ranvir returns for season 2 of Metro Park. Ranvir describes Metro Park 2 as "bigger and crazier than Metro Park 1."
Metro Park 2 comedically portrays the life of an Indian family settled in New Jersey, USA. Accordingly, the realities for immigrants settling into America appear through each character.
The comical representation leads to non-stop laughter for the audience.
Ranvir Shorey continues his role as Kalpesh Patel in Metro Park 2. Kalpesh is a Desi, Gujarati and depicts the craziness of living as an Indian abroad.
The series is kicked off by Kalpesh in his convenience store, Pay and Run.  He explains the store's name, "Admee dard mein bagh rah hain (man is running in pain due to spending money)."
Watch an Interview with Ranvir Shorey about Metro Park 2 and digital work here: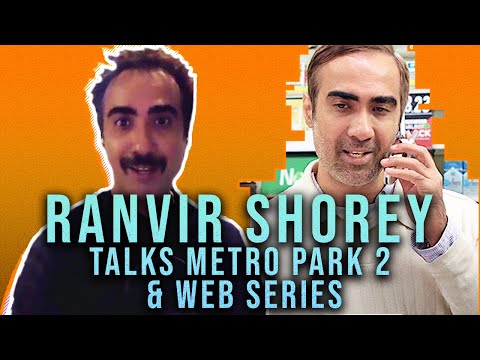 Subsequently, the twelve-part series brings the fun of Indian families living overseas to homes worldwide. Kalpesh is married to Payal Patel, played by Purbi Joshi. The pair humorously show the pitfalls in Indian families.
From in-law troubles to managing spousal duties, the series has the audience hooked. Payal, like many Desi women, runs the household, her business, and personal interests. In this series, she is passionate about vlogging.
Another character, Kannan, played by Omi Vaidya from 3 Idiots (2009) continues the comedy-drama. Kannan and his wife, Kinjal, acted by Vega Tamotia, struggle with the eccentricities of parenthood.
There are also other new characters in Metro Park 2. Milind Soman graces the screen as Arpit, an affluent dentist.
Other than Metro Park 2, Ranvir Shorey has previously worked in various other web shows. The Netflix web series, Sacred Games (2018), saw Ranvir portraying the role of Shahid Khan.
Ranvir Shorey speaks exclusively with DESIblitz about Metro Park 2, along with discussing his other web series experiences.
The Mirthful Metro Park 2
Ranvir Shorey's character as Kalpesh Patel is back for season 2 of Metro Park, with the comedy-drama continuing. Ranvir admits more conflict is in store for the second season with more family members.
With this in mind, Metro Park 2 gives more depth to the Patel family. There is more family and more conflict involved. Consequently, Ranvir defines Metro Park 2 as 'bigger and crazier' than the first season:
"Their conflicts are bigger; their aspirations are bigger. I think that adds a lot to the added craziness."
Ranvir goes on to highlight the transformation of his character. He reveals the key differences in Kalpesh from season 1 to 2:
"Kalpesh is dealing with more chaos this time around."
"Obviously born out of the same conflicts, which the series is about… an Indian immigrant living in the US."
Metro Park relates to the Desi community in the diaspora and the struggles they face. For this reason, Ranvir talks about the dilemma of retaining a Desi cultural identity:
"That's essentially what the show is about. "
However, Metro Park 2 takes season 1 further. Ranvir Shorey discloses that the story develops more and "gives the characters bigger opportunities to reveal themselves."
Moreover, the cast personally had to face challenges whilst shooting for Metro Park 2. Filming began after the first lockdown, with the cast taking the necessary precautions.
Thankfully, according to Ranvir, the producer looked after the entire cast:
"We had a great team. We had a great plan in place."
Ranvir emphasises on the vigilance requirement when filming during the pandemic:
"They had a full department called COVID Compliance, which was working all the time. It was headed by a doctor."
Ranvir also relays the measures that kept everyone safe. He recounts the use of masks, temperature checks, and social distancing. However, changes expanded beyond filming. Ranvir confesses the lifestyle adjustments the cast made:
"We also had the crew living in a bubble."
Ranvir opens up about the living conditions while filming, unveiling the restrictions placed on the crew. These include not meeting many people from outside their bubble.
Web Series and Differing Roles
Ranvir Shorey has acted in several other web series. PariWar (2020) is yet another comedy that he has featured in. Despite acting in two comedies, he insists on the distinction between his characters.
Ranvir jokes that he'd never crossover his characters from PariWar to Metro Park 2:
"You'd think maybe one day when I get Alzheimer's."
Clearly, Ranvir is adamant that his character in Metro Park 2 is unique.
Correspondingly, Metro Park was Ranvir's first web series. Despite Ranvir venturing into web shows, his forte lies in films. He proceeds by explaining how his experience in web series differs from the big screen:
"You get a lot more time to be able to flesh out that character.
"Explore that character a lot more than you would in a feature film."
Ranvir made it clear that a web series allows him more time to connect with his character.  He adds that he spends time developing his character if he is lucky and given a "meaty role."
Ranvir is also part of the web series, High. This is a crime-thriller, reflecting the diversity of Ranvir's acting. Ranvir speaks fondly of High:
"High is another series which I really love. It feels strangely cathartic to play that part."
Additionally, Ranvir has been busy filming another web series. Shooting for his project, Sunflower has come to a wrap-up. Recording for this web series had started in September 2020. Ranvir adapted to the new normal of COVID-19 on set.
Ranvir states the acting world has done quite well, adjusting to COVID-19. Though adhering to the rules is a must:
"There are fresh protocols and rules which have to be followed."
Fortunately, Ranvir Shorey has not had COVID-19. Instead, he is excited about the first thing he'll do when the pandemic is over:
"I'd like to go pubbing."
Until COVID-19 restrictions lift, taking certain precautions is essential for all artists. Ranvir will have to wait for a little while longer before he can visit pubs again. Ranvir Shorey and the entire cast and crew filmed Metro Park 2,  following medical advice.
The fun is ready for viewers. The second season provides development of the storyline and characters as well as pure drama. The web series comedically depicts real Desi issues faced by diaspora communities.
The wait is over for fans who'd like to see the versatile Ranvir Shorey on-screen in Metro Park 2.
Metro Park 2 was released on January 29, 2021. The web series focuses on bigger family conflicts and craziness while filling the audience with unlimited laughter.
Metro Park 2 is available to watch on Eros Now via a monthly subscription. As a sneak preview, the first episode is available to all as a free view.