"It's worse than anything I could imagine it could be."
Coronavirus has had a huge effect on Desi pubs across the West Midlands, particularly in West Bromwich and the Handsworth area of Birmingham.
These Desi Pubs have had it tough ever since Prime Minister Boris Johnson announced to close them on March 20, 2020.
Despite reopening on July 4, 2020, desi pubs in the West Midlands were scrambling to make ends meet. For many, a decrease in sales was a big concern, as well as dealing with potential abuse.
Restrictive opening times until 10 pm made matters worse, especially with LIVE in-house entertainment not being possible.
For most Desi pubs, the health and safety of their staff and customers was paramount. Hence, they had been trying to comply with all the government guidelines – be it at a cost.
Despite doing everything in their capacity, continuous lockdowns of Desi pubs will pose a big threat to their survival.
Before the second lockdown, we came to know that the original owners of Farcroft Pub BBQ Grill – Restaurant in Handsworth had made the decision of handing over the pub to new management.
COVID-19 certainly had an impact on their closure after running for thirty plus years.
Watch an Exclusive Mini-Doc about the Impact of COVID-19 on Desi Pubs here: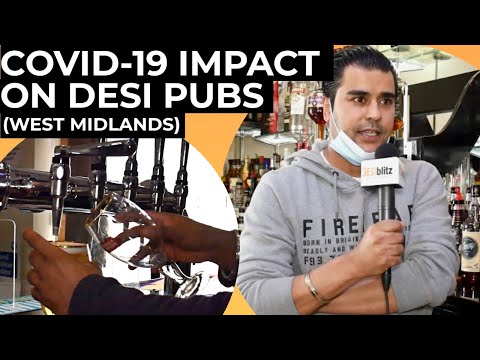 Senna Atwal, Chairman Midlands Pubs Association exclusively told DESIblitz that whilst pubs were facing extreme difficulties, it was not all doom and gloom yet:
"COVID-19 has been somewhat challenging for Desi pubs. Though pubs offering a good food menu have flourished with customers taking advantage of having tables for two hours and making a night of it.
"However, cost of serving customers has exceeded due to additional staff required having to offer table service. Pubs that are mainly for drinkers have struggled due to rules about not having customers at the bar and everyone having to be seated.
"At present, none of our pubs have indicated that they will close permanently after lockdown but it has been a very challenging 2020 and certainly dented landlords savings."
Upon visiting Desi pubs in West Bromwich and Handsworth, we got a deeper insight into the impact that COVID-19 has had on them.
The Vine, West Bromwich
Under normal circumstances, The Vine on 123 Dartmouth Street, West Bromwich was an energetic and busy pub. Though manager Kulvinder Beghal admits it has been a "very difficult" time during COVID-19.
Kulvinder states certain laws and lockdown rules coming into effect, have had an impact on the business.
He says with customers being under the influence of alcohol, they have had to strike a balance when teaching about the dos and don'ts. This is to avoid any "verbal abuse" turning into anything "physical."
Kulvinder mentions, the absence of people at higher risk from COVID-19, including those between 60-75 all adds up:
"So in this establishment, on its own, we've lost in between 15 to 2000 pounds worth of business per week."
Kulvinder points out that despite the business suffering, they were having to do much more:
"Whereas one person behind the bar could manage between fifty strokes, sixty people, we're having to work with 40 people. But the workload has trebled because we have to hire three people to do one person's job."
Kulvinder also tells us that some of their customers have gone on to report them, despite following government guidelines.
Kulvinder told us even though they had been trying their best, the way forward was not clear. This is due to wages going up and sales going down by fifty per cent.
Kulvinder stresses on government funding, which is key to survival during further lockdowns. This is because they still have bills to pay and ongoing running costs.
Prince of Wales, West Bromwich
The Prince of Wales on 130 High Street, West Bromwich was one of the most bustling desi pubs, prior to the coronavirus pandemic.
Owner, Rajinder Singh, acknowledges that his pub was "really quiet with a sales dropping by seventy per cent.
The former Tarangha Group band member reveals the pub has been hit hard, particularly without LIVE music and dance.
According to Rajinder, the 10 pm shutdown rule did not really work, with customers usually coming in from 9 pm onwards.
Rajinder specifies that they have had to reduce their stools and chairs from 70 to 15-20 for social distancing purposes.
When asked if the pub will survive with restrictions and further lockdowns, Rajinder replied:
"Well, it's really hard if it's going to keep like this. I don't think so. I can just hardly pay the staff, make my own wage."
"If it keeps like this, it's going to be really hard to survive."
Having a dig at the government as well as stressing on the community element, Apna Bhajan Jagpal, a close friend of Rajinder and customer felt pubs should remain open:
"Honestly speaking, yes they should be. And people at the top don't know what they're doing. One week it's one thing, second week it's another and third week it's the other.
"I think they don't know. Either they socialise with the wrong people. And I believe socialising with the right people, which is a community. A pub is a community. And we want more freedom in ourselves.
"I believe that in socialising, we can help each other. And I'm sure if somebody is not well they will not be able to make it to the pubs either. It's all family orientated."
Despite what Apna Bhajan thought, the pubs had to close, following a second national lockdown in England on November 5, 2020.
The Grove Bar and Restaurant, Handsworth
The Grove Bar and Restaurant is one of the oldest Desi pubs in the Handsworth area. Also housing a restaurant, the pub is located on 279 Lane Grove Lane.
Gurjit Paul is part-owner of the pub, which his father found many years ago. Describing it as a "nightmare" Gurjit believes COVID-19 has hurt them in all directions:
"It's worse than anything I could imagine it could be. Sales are down fifty per cent (wet sales). We've cut a few staff down as well.
"With a 10 pm closing time, that's affected us a lot more than [we[ thought it would. And people you can see that they don't come out as much.
"They're scared and they're afraid of coming out and you can see the size of the people where five would come out. They are drilling down to one or two. And it's not like it was before."
Gurjit feels very "angry" and "sad" about the situation they are in. For Gurjit, livelihoods matter the most. Gurjit asserts that the pub is strictly adhering to government directives.
Some of the measures that they have put in place include a sign-in book, face masks, hand sanitisers, and space between tables for social distancing.
In addition, Gurjit cites that the pub and restaurant offer table service for everyone's safety. Despite doing everything to the law, Gurjit sees no light at the end of the tunnel:
"With more of these lockdowns, there's no ending in sight."
For Gurjit, lockdowns mean things will only get more complicated, with survival becoming more difficult.
Gurjit is critical about the Tory government, saying they have no "clue," poor strategy and unclear messaging. He also adds that the "wellbeing" of his staff is very important.
The Royal Oak, Handsworth
The Royal Oak is a very contemporary, spacious, and potentially game-changing pub on 171, Holyhead Road, Handsworth.
This Desi pub has caught itself in the middle, having opened after the first nationwide lockdown.
One of the pubs' partners, Amrik Singh Saini discloses that they did not have much choice, but to open the pub. This is because it was a project, which began in February 2019.
Amrik confesses that it has been a mixed bag during this tasking COVID-19 period where sales are less than half:
"I know it's hard work for us and it's not busy, but it's steady. According to the plan, it's 250 seat to seat. But with social distancing, it is awkward with 130 seats. And it's quiet, but I have to go with the flow."
Amrik recognises that the safety of his staff and customers is vital. Amrik explains that social distancing, risk assessment, hand sanitisers, and track and trace are in place.
Despite encouraging customers to wear masks, Amrik concedes that they have had an indifferent response:
"You ask them to wear the mask, when you're walking around the premises or when you go to the toilet use your mask.
"Sometimes it's okay, but some people mind it."
Amrik was the only pub owner we spoke to who felt it was better to close under these unprecedented times.
Amrik was of the view that it was a "headache" to continue running, with his business having restrictions and being slow.
By that he meant, requesting people to wear masks and limits of six from the same household. Amrik testifies that his staff will be on furlough during any lockdown.
Similar to other pub owners, Amrik is looking to the government for further support in terms of grants and funding.
In late November 2020, Health Secretary Matt Hancock issued a statement saying that Birmingham will be placed in Tier 3 from December 2 onwards.
Tier 3 signalling very high alert means pubs in the West Midlands can only operate sales for takeaways or deliveries. Receiving additional grants is only a short term incentive, not a long term solution.
Even if the West Midlands eventually comes out of Tier 3, Desi pubs will be up against it. It will take time before they are back on their feet.
Sales and manpower can be core issues at least until March-April 2020.