"I have seen my role as the sort of glue in the middle of it."
Mayor of the West Midlands Andy Street is positively tackling the impact of COVID-19 in the all-important central region of the UK.
Andy Street exclusively gave DESIblitz a comprehensive insight about the corona effect on the West Midlands, particularly the role he has played in handling and responding to it.
When 2020 started, the West Midlands Mayor had other things on his mind. However, he soon had to divert all his attention on sectors affected by the coronavirus.
Andy salutes the endeavours and hard work of various organisations, educational establishments, transport staff, the different councils and the NHS during these unprecedented times.
He also highlights what everyone can learn from the response to such a crisis.
Furthermore, the West Midlands Combined Authority (WMCA) has prepared a critical report titled: West Midlands Regional Health Impact of COVID-19 in August 2020.
This interim report, which calls for evidence touches on the longstanding "inequalities of BAME groups in the UK."
In addition, Andy and his team are trying to support South Asian Groups including young people with mental health issues, on the business front, the hospitality sector and with jobs.
WMCA has introduced several initiatives and schemes to help those most vulnerable. Additionally, Andy Street is adamant about the vaccine being the only way out from COVID-19.
He conveys that it is friendly to people from all walks of life, especially from a special dietary point of view.
Watch an Exclusive Interview with West Midlands Mayor Andy Street here: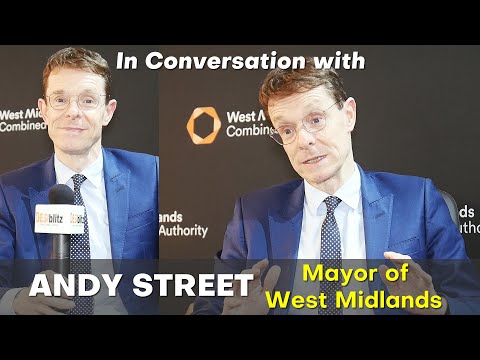 The determined Mayor is working closely with opposition parties and key stakeholders, demonstrating his astute leadership attributes.
Despite admitting that some areas could have been handled better, there are some success stories too. Going forward, he is very clear on his priority for 2021.
Find out more about what the West Midlands Mayor Andy Street had to say in an exclusive conversation with DESIblitz.
2020 Priority and COVID-19 Battle
According to West Midlands Mayor Andy Street, 2020 began with "HS2 winning the battle." He was also looking ahead to the 2020 Mayor Election under normal circumstances.
However, his priority had to change with the deadly COVID-19 virus coming about:
"That all changed about March time. And of course, the overwhelming priority has been to lead the region through the battle against coronavirus."
Andy makes it clear that he does not necessarily do things himself, but in fact, plays a bridging role:
"Be clear. I don't do lots of things myself, in terms of the different agencies, the health service, education, councils, they all do their stuff.
"But I have seen my role as the sort of glue in the middle of it. And making sure citizens really understand what's going on and what's required of them.
Andy admits despite it being a challenging year, everyone has "stuck by." He acknowledges COVID-19 has hit the West Midlands hard, with many losing their lives.
But Andy identifies areas where Birmingham has dealt with the virus incredibly well:
"Two things that I think have been incredible. Actually, we've seen so many community organisations rise and think about what they can do for their communities.
"And we've seen some incredible full service from our public services, whether it be the NHS or whether it be lots of other public servants, transport workers all playing their roles and schools all playing their roles."
He also agrees that the NHS has done a terrific job under extreme pressure.
Andy respects those in leadership roles, hoping they can also recognise the support he has given to all key practical issues.
Lessons Learnt and Response
Andy Street says that he takes away two lessons from the pandemic that has impacted the West Midlands.
He claims despite not being able to prepare for COVID-19, lessons have relevance to the response itself:
"I think the first lesson we draw and this sounds a bit dry actually. But it's true that we get very excited about the new parts of our economy, you know, the health research, the electric stuff and the 5G and all of that.
"But actually, what we learn is a huge number of people are employed in the most reliable foundational parts of the economy. Like the hospitality part of the economy that's been hit very, very hard.
"So, I think everybody's really come back to where are the huge number of jobs and where are jobs vulnerable as well. And we need to think about that in the future."
He continues highlighting the significant function of what can act as the fourth pillar during such a crisis:
"The second thing I think we've learned is how faith organisations, community organisations, voluntary groups…play a critical role as well.
"In a sense, they're probably the fourth emergency service actually. So we've really seen and relied on them."
Andy believes from a regional level, the response to COVID-19 was immediate.
Having direct responsibility for emergency workers, he ensured that transportation was running effectively for frontline staff at all times.
Secondly, he lauded the efforts of the various councils who were quick in giving grants to businesses that suffered.
BAME Communities, South Asian Groups and Businesses
From a BAME communities perspective, Andy Street confesses that the number of deaths due to COVID-19 indicate an "unequal effect."
Andy felt this was very disturbing and alarming. Hence, to combat this inequality, a key step was taken to find out more:
'We being the Combined Authority have done this important report that we call the Regional Health Impact of COVID, looking at these inequalities. Why was it? And most importantly, what can we do about it going forward?
"It's a very honest report, pulls no punches, talks about the different death rates between different communities on what were the underlining factors.
For South Asians as a high-risk group, Andy said that there is support available.
He mentions that leading South Asian businesses can benefit from "material" courtesy of the "Asian Business Chamber."
Moreover, he tells us with mental health impacting all communities in 2020, the WMCA has gone onto develop the online program Thrive at Home.
Andy states that this programme provides useful tips to manage mental health.
Additionally, he alludes to the fact that the WMCA is also supporting people back into work, especially those with long term health issues.
He specifically points to the online program, Thrive at Work, which has facilitated employment to many in the Black Country.
Recognising the contribution of South Asians to the hospitality industry, Andy is seeking further support for this sector.
"The critical argument is their viable businesses. They're good businesses. We need them to be here when we come out the other side.
"So, they can continue to employ literally tens of thousands of people across this city and region."
Andy understands that the wedding industry has taken a huge toll. Andy explained to us that he has been lobbying that with limitations, venues cannot open.
Therefore, he discloses that there is no "additional support" for this sector at the moment.
Jobs and BAME People Helping Birmingham
Andy Street informs us that despite 'youth unemployment" being high, they have been putting a lot of emphasis on this matter:
"First of all, we've launched what we call our youth platform. Just go online and you'll see all the training, the careers, advice, all of that in one.
"Secondarily, there will be dropping places in each local authority where we can go physically for that called the Youth Hubs.
"They will come to each borough when the restrictions are allowed, but then there are specific schemes as well.
"And a brilliant scheme I would just call out at the moment is what we call a sector base work programme.
"We're working with those sectors of the economy that are growing like construction, digital, healthcare."
Andy advises that the Department for Work and Pensions is a go-to place, particularly as they place individuals in one of the schemes.
He also singles out the 'Kickstart' schemes, with employers such as Tesco and Severn Trent providing many opportunities for the youth.
Andy feels the BAME people of Birmingham can help in a variety of ways. This includes BAME businesses to help young people with employment and training.
He continues urging BAME people to assist with another key issue:
"I would actually say is step forward and play a representative role.
"That might seem a little distant at the moment, but actually, it's very important to what we're talking about.
"That's what we've been trying to do in the Leadership Commission to encourage that."
With the virus impacting different communities, he emphasises that there is a massive need for more BAME people in leadership positions.
Vaccine, Political Parties and Leadership
Andy Street is very firm that with the virus shaking everyone in 2020, the vaccine is the only exit strategy. He urges everyone to take the vaccination, particularly after receiving an invitation.
Andy also stresses on the importance of the vaccine to dislodge any conspiracy theories:
"You can actually spread the message through your community about getting the vaccine as soon as you possibly can.
"We hear that there are all these anti-vax stories. There's nothing more powerful to deal with these stories than someone you respect in your community.
"Irrespective of your background, your faith, whether you're a vegetarian or not, the trials are absolutely clear that it will be beneficial.
'To the huge majority of people, you must go forward and take that. And please don't be taken in by all the rumours and scaremongering on social media."
"Go and look at the facts from the NHS about this. Please do your bit, make yourself and all of your community safe for the future."
Andy confirms that even the opposition parties are on the same page about the virus. He describes this issue as being "more important than politics" and all "about leadership."
Andy recalls an earlier conversation he had during the pandemic, which reinforces a joint consensus:
"I remember right at the beginning of the pandemic, I rang up the Police and Crime Commissioner.
"He's the only other person elected across the whole of the West Midlands. He's not my party."
"And I said to him, 'David, We're going to have to work together on this. And he said, 'you're right. Andy, it's all about community leadership.'
"And I genuinely think that that is what I've tried to do. And I think that's what the role of the mayor [is], bringing everyone together."
It is evident from Andy that taking the appropriate steps was vital and above party politics.
Reflection and Priority for 2021
Reflecting on managing the pandemic, Andy asserts that if given another opportunity, naturally things could have been handled differently. He pinpoints two specific areas:
"The first of course is the whole question of the policy with care homes in the first lockdown and people being discharged from hospitals into care homes.
"I think we all now accept that that was not the right thing.
"And then the second thing was actually it took us some time, to be honest about the differential impacts on different communities.
"I'm a huge believer in being honest with anything. Because if you tell people the truth, they're likely to do the right thing about it.
"And I think we should have been quicker to be clear about what was going on there."
In contrast, Andy notes a positive in that the Nightingale Hospital in Birmingham did not have to come in play during 2020.
He deems this as a success, particularly with existing hospitals not being "overwhelmed" during earlier and mid-2020.
Commenting on his priority for 2021, he utters a single word, "jobs." He compares the employment situation, which has gone from very good to bleak:
"The West Midlands was doing really well as an economy. Probably never had better prospects for young people here, record employment levels.
"But we've seen unemployment double during the pandemic and we've got to work incredibly hard together.
"It's a sort of a regional national mission to give opportunities to our young people in particular."
Despite the Mayor's noble intentions, a report by Julie Nugent, Director, Productivity and Skills presents a gloomy picture.
The report issued in December 2020 by WMCA reveals that "inequality is likely to increase."
It also divulges that "unemployment across BME communities" was 8.9%. This was double in comparison to white residents at 4.2%.
However, besides any strategic interventions, Andy and others are ready to address this and other challenges that come there way.
Andy Street realises there are no quick fixes as it will take a little more time before the virus settles down. Nevertheless, there is a beacon of hope.