"Some things should be admired from afar, you go close and it's just not the same."
Pakistani film Pinky Memsaab tells the story of a Pakistani household living in the opulent city of Dubai.
This film focuses on a wealthy married couple and their two servants – a driver and their maid from Pakistan, Pinky.
There has been speculation over whether this film will be a commercial success or not.
These concerns were raised due to the film being a largely female-focused piece of cinema, critics are worried that the film will not draw in audiences.
However, with women-centric films such as Verna (2017) and Cake (2018) having been box-office hits.
There is no reason as to why Pinky Memsaab shouldn't follow suit.
DESIblitz takes an in-depth look at Pinky Memsaab to understand the journey this unique film takes you on.
The Plot
Pinky Memsaab looks at a Pakistani household living in luxurious Dubai.
This film attempts to look at the issues that occur in wealthy international Pakistani households.
Pakistani model and actress Kiran Malik plays the beautiful, socialite wife, Mehr.
Malik's character sheds light on the typical 'bored housewife' trope.
Whereas actress Hajra Yamin explores the naive perspective of village girls in her role as, Pinky the maid.
Shazia Ali Khan doubles up as both director and writer for this unique and enlightening piece of Pakistani cinema.
Khan looks at the innocence of village life through Pinky's character, taking the audience on a journey as she is exposed to the cosmopolitan and 'modern' way of life in Dubai.
One such dialogue within the film which was quite impactful translates as:
"Some things should be admired from afar, you go close and it's just not the same."
This line is delivered by Pinky after being exposed to the tribulations her boss incurs.
The character Mehr is starkly juxtaposed with Pinky, as Mehr seems stifled by the golden cage of Dubai life, she appears trapped.
She desperately craves love, affection and fulfilment, which she does not appear to gain in her current life.
It is the complex and endearing relationship between this maid and her boss that is the basis of, Pinky Memsaab.
With claims that Pakistan is not producing enough women-centric cinema, Pinky Memsaab acts as an innovative attempt to resolve this issue.
With two very strong female characters being portrayed in this movie, Khan looks to explore the complexity of women across social stratas.
Conflict is caused in the film by Adnan Jaffar's character, Hassan – the husband in this household.
Hassan has a high paid investment-banking job and as such, he appears to be unable to provide the intimacy his wife craves.
Such issues are prevalent throughout marriages globally including those within the South Asian community.
It is refreshing to see such issues being portrayed within Pakistani cinema.
The Cast
The cast of Pinky Memsaab (2018) has multiple skilled and talented actors to its credit.
One such actress is Hajra Yamin who has previously starred in films such as, Maan Jao Naa (2018).
When discussing the cast of Pinky Memsaab (2018) with Mangobaaz Yamin said:
"There are also actors from India and Dubai who are playing some roles in the film, so it's a very diverse cast."
In addition to Yamin, the cast has another strong female actor to its credit, with Kiran Malik playing Mehr.
Malik herself is a Dubai-based Pakistani actress and model.
She has worked in fashion shows such as Kamiar Rokni's collection at PFDC Sunsilk Fashion Week and more.
Kiran will also be releasing another Pakistani film this year, the film is titled Zarrar (2018).
In Pinky Memsaab, Malik is seen to stretch her acting skills as her character Mehr, is portrayed to have an emotionally volatile nature.
This can be difficult to portray on-screen, however, Malik does so flawlessly.
With the film tackling such personal and heavy content, there is a need for lighter moments.
This comes in the form of Sunny Hinduja's character, Santosh- the family's driver.
Hinduja is known for roles in films like 'Shaapit' (2010).
The seasoned actor's comedic timing gives the film a much-needed lift.
Adnan Jaffar brings a serious and abusive character to life, in Pinky Memsaab.
He plays husband to Mehr, investment banker Hassan.
Jaffar's emotional turmoil and severity are very impactful on-screen.
The combination of this core cast delivers a very realistic and engaging screen performance.
Which gives the impression that this film will be a very interesting and entertaining watch.
Pinky Memsaab would be a wonderful film to watch as a girl's night treat or as a solo viewing.
The film has an almost 'coming of age' feeling to it.
The audience witness Pinky grow from a quite childish and immature young girl, into a cosmopolitan woman who begins to question the limitations present in her life.
For cinema lovers, this may be one to watch to see how the cast delivers after such a compelling trailer.
While there have been concerns over the commercial capability of Pinky Memsaab similarly female-centric films such as, Cake (2018) have done extremely well in the box office.
Thus, meaning that there is more than enough opportunity for Pinky Memsaab to be a box-office sensation, which could usher in a trend of women-centric cinema within Pakistan.
See the trailer for Pinky Memsaab below: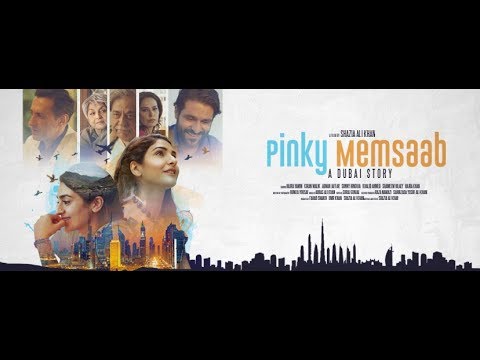 Pinky Memsaab releases from December 7, 2018.