the colourful powders are made from natural sources such as turmeric, herbs and flowers
Holi 2018- a colourful celebration of love, fertility and the beginning of spring.
This ancient festival has been enjoyed in India for centuries.
Also known as the Spring Festival of Colours, Holi celebrates good over evil and is usually held at the end of February or beginning of March.
Revellers play Holi with powdered colours and water guns (pichkari). The aim is to drench and cover each other with colourful powder and water in good humour.
Usually celebrated in large gatherings of people, the colour-throwing is accompanied by music and drums.
Over the years, Holi has become a global phenomenon, and today it is enjoyed in all corners of the world.
Take a look at how Holi 2018 is being celebrated all across India and the rest of the world below:
Kolkata, West Bengal
Against a vivid blue backdrop, a young child wears a vibrant rainbow coloured wig during Holi celebrations in Kolkata, West Bengal.
Bhopal, Madhya Pradesh
College girls in Bhopal throw coloured powder at each other. The powder is known as gulal.
Mumbai, Maharashtra
It's not just the public who love celebrating Holi. In Mumbai, numerous Bollywood stars have been enjoying the festival of colour.
Ranveer Singh, in particular, hosted his own Holi party where he invited the likes of American rapper, singer and music producer Pharrell Williams to join in the fun.
While it seems that Pharrell may have been overwhelmed by the colourful rave, we actually can't think of a more animated character like Ranveer to introduce the 'very chill' Pharrell to this ancient Indian tradition!
At another celebration in the cosmopolitan city of Mumbai, a moustached man receives a face-full of red powder!
Guwahati, Assam
A street vendor sells gulal in Assam. Traditionally, the powders are made from natural sources such as turmeric (giving a vibrant yellow colour), herbs, flowers and even sandalwood.
Today, you can find more synthetic-based powders offering a large variety of hues.
Ahmedabad, Gujarat
In Gujarat, school children have fun playing in water and powder.
It's selfie time for this group of women in Ahmedabad. Covered in pink, purple and red they show off wide smiles for the camera. Of course, if it's not on Instagram, did it really happen?
Vrindavan, Uttar Pradesh
Defying a centuries-long tradition, these Hindu widows in Uttar Pradesh celebrate Holi in full force with flower petals and gulal.
Vrindavan also happens to be one of the most famous places in India for celebrating Holi.
Jammu, India
A young girl succumbs to her friends as they spread powder all over her face and hair in Jammu.
Kathmandu, Nepal
A Nepali Uncle is lifted into the air in Kathmandu. We wonder how he can even see through his heavily plastered glasses!
Lahore, Pakistan
In Lahore, Pakistani Hindus gather to celebrate the happy festival, wearing their most colourful shalwar kameez outfits.
Karachi, Pakistan
Youths in Karachi also gather in Karachi to revel in powder-throwing. This young pair each enjoy a face of yellow powder.
Ohio, USA
The Singh family in Ohio celebrate an interracial Holi!
Georgia, USA
Holi in the park for this Desi-American family in Georgia.
Dubai, UAE
Many people around the world will have seen Holi being celebrated in Bollywood films, as the festival offers a perfect backdrop to show-off Desis and their love of music and dance.
Take a look at this iconic Holi song,'Rang Barse', featuring Amitabh Bachchan, Jaya Bachchan and Rekha: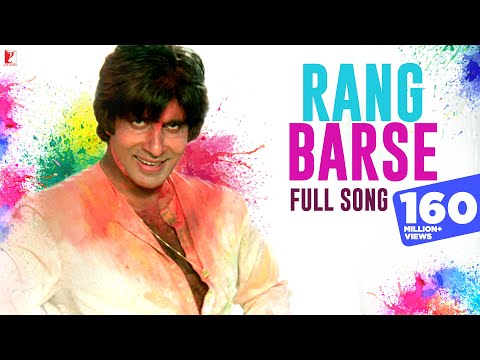 Happy Holi 2018 to all of our readers!