"I don't understand what I should say."
An Oreo pakora being sold on a street stall in India has upset netizens.
It comes after Amar Sihori posted a video of the extreme delicacy on his YouTube channel, 'Foodie Incarnate'.
The clip shows a merchant from Ahmedabad making the controversial food. He then reveals that he has been making the dish for the past 15 to 20 years.
He tells the food reviewer that plenty of people in the area eat them and they are a favourite among children.
The unnamed man behind the stall opens a new packet of Oreos and dumps them into a mix usually made for pakoras.
He then deep-fries them and gives them to Sihori who returns to his car to test them for himself and provide a review.
The YouTuber, who says he has travelled some 1,200km from his home to test an Oreo pakora says:
"I am stunned."
Eating it along with some chutney, he continues:
"I don't understand what I should say.
"I mean, they're okay, they're not bad. They're not bad in taste but they're not good either.
"They're edible and you can eat them but why? Why would you eat Oreo pakora? What was the need?
"You can just eat Oreos and to make pakoras, there are so many vegetables and things, make a pakora out of them.
"Oreo pakoras… they're famous. They're not bad to eat they're not for me, I can't eat them."
Sihora then tells his viewers:
"If you want to eat them, come to Ahmedabad and eat Oreo pakoras and let me know how you found them."
Originally posted on Thursday, November 4, 2021, the day of Diwali, the video has been seen over 160,000 times.
However, netizens were critical of the unique twist on the classic South Asian street food.
One person said: "Humanity is evolving… just backwards."
Another added:
"Hats off to those kids that eat that thing."
Someone else referenced Marvel supervillain Thanos and said:
"That's why Thanos erased half of the population."
Watch the Oreo Pakora being Made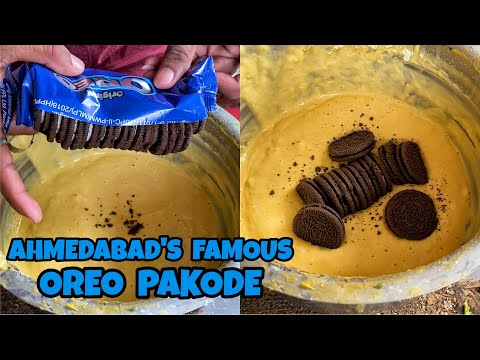 It comes after another staple South Asian food caused controversy after being adapted in an unusual way in the UK.
A poppadom was covered in 24K gold at the Shad Indian Restaurant at London Bridge and was available for £200.
Netizens reacted to the food item in the same way as they have with the Oreo pakora since they were certainly not impressed.