"I want to make music that I feel passionately about."
Nitin Sawhney is a highly acclaimed composer, instrumentalist, producer, and songwriter.
He has been solidifying himself as one of the most innovative British Asian artists within the music space.
The talented musician is technically gifted across all spectrums of the industry. From Indian classical music to western electronica to everything in between, Nitin is a true music maestro.
His daring fusions of rap, soul, and jazz, along with soothing glances of South Asian melodies is an ode to the creativity within Nitin's skill.
Nitin made an entry into the music scene in 1993 with the release of his debut album Spirit Dance. However, his musical prowess began long before then.
Nitin was born to first-generation Britain Indian parents in 1964, before growing up in Rochester, Kent
At the delicate age of five, Nitin had exposure to legendary instruments like the piano and tabla, captivating an artist's interest.
With such a profound appreciation for the sounds, percussions, and tones that different instruments could release, Nitin began to take centre stage.
The musician's journey was hit by early hurdles of racism and discrimination. Having said that, he made the decision to break through these barriers both in and out of music.
It's what makes Nitin's catalogue so powerful. This is evident through Nitin's rapid rise and the impressive accolades he's achieved along the way.
Working on numerous TV shows such as BBC's Human Planet along with major historical artists like Paul McCartney, Nitin's ingenious musicality is widespread amongst the elite.
The spirituality the producer oozes on every track as well as the support he provides for those around him is a testament to the love for his craft.
In an exclusive conversation with DESIblitz, Nitin Sawhney discusses his musical growth, the album Immigrants and persevering through obstacles.
Building the Foundations
With such an iconic career so far, it's not hard to imagine that Nitin's love of music began in a similarly remarkable manner.
Most kids, when they're four or five years old, would be playing with cars, dolls and other toys. However, the toys Nitin began playing with were illustrious classical instruments.
It is quite clear that the artist had a keen eye for musicality. He recalls the first time setting his sights on a piano:
"I remember seeing a piano at a friends house and kind of running up to it and getting really excited, it was just an amazing instrument."
This is where Nitin first developed an interest in music. It also showcased his fearlessness when faced with such a grand tool as he humorously states:
"I remember as a 4-year-old, kind of banging on the keys."
Though, it was these spontaneous bursts of music and instrumentation that really emphasised how diverse the artform can be.
With the piano still lingering on a young Nitin's mind, his intrigue began to shine. Thus. he started to absorb the different elements of classical music, especially Indian.
The credible artist remembers his initial fascination for the nuances of Indian music:
"I remember seeing…an amazing tabla player who I thought was really exciting when I was about five years old."
"I just loved the rhythms that were coming out of his hands."
It is this appreciation that Nitin's career has thrived upon. The versatility the showman has is down to these early meetings with classical music.
From the roots of the piano and tabla, the songwriter started to challenge himself. This was with more complex kits like the jazz piano and flamenco guitar.
Interestingly, Nitin also reveals about learning the sitar at a local Sikh temple in Kent.
At this point, his focus was not entirely on Indian classical music. More importantly, it was his infatuation with the art that really grew.
This is vital as it emphasises the bedrock of his career. The way some of his songs echo melodious keys infused with Desi romanticism is down to these early inspections of music.
With such a youthful drive and enthusiasm towards musical compositions, Nitin allowed himself to absorb the intricacies of instrumentation.
He came to know about how each aspect of music had a connection through history, innovation, practice, and exploration.
Exploration and Taking Influence
With the raw talent and interest that many could see in Nitin Sawhney, it was his comprehensive training that really moulded the artist's expertise.
The composer's development, much like his music, was down to exploring the different components of western and Indian classical music.
Using his basic understanding of the taal and raag systems of Indian music, Nitin acknowledges:
"I would use my understanding of musical theory from western classical music to get a greater understanding."
Both the taal and raag systems are vital to Nitin's craft.
The taal system concerns itself with the rhythmic pattern of equally placed beats of any song. Whereas the raag system is more of a melodic structure that intends to affect the emotions of the audience.
This illustrates how intricately Nitin's training was by diving deeper into the framework of western and Indian classical music.
However, it also showcases the type of songs that Nitin wanted to create. This includes layering tracks with emotions, providing provide a sense of relatability.
By comparing them, he can extract the best possible knowledge. He then applies them to his own projects, realising how distinguishable they are:
"Indian classical music is more about rhythm and melody, whereas western classical music is much more harmonically based.
"I think really my training was exploration. I was very lucky in that I had a kind of understanding of Indian classical music, western classical music, also flamenco."
Interestingly, Nitin's understanding also had a cut across effect via his early influences within the music industry.
Western pioneering artists had a notable impact on him. These include the likes of English composer John McLaughlin and Spanish flamenco guitarist Paco de Lucía:
"Flamenco had all of the attributes of western classical music in terms of the harmonies and complexity."
"If you listen to some of Paco de Lucía solo compositions, they're very complex. You had 12 beat cycles which are extended time cycles from what you're used to with western classical music."
Though, it was the community surrounding classical music that really allowed Nitin to take note of how melodies and beats could have an experimental sound.
John McLaughlin's fusion band, Shaktee, was formidable at emphasising this to Nitin.
The band was compiled of monumental artists such as tabla player Zakir Hussain, violinist Lakshminarayana Shankar (L. Shankar), and percussionist Vikku Vinayakram.
Nitin stresses the importance of these musicians, mentioning:
"You had all these amazing musicians get together and kind of bring together influences from jazz and Indian classical music.
"I remember…how incredibly compatible they sounded. That's where I realised there were incredible connections between music from Spain and Indian classical music."
The beautifully evocative and airy passion that these artists were able to illuminate provided the substantial groundwork that Nitin needed to succeed.
Zakir's vibrant tabla hits, the cultural notes of L. Shankar, and the hypnotic grace of Vikku are all underlining characteristics of Nitin's vision.
Taking these elements into account, the composer quickly honed in on his own skills that would distinguish his music from the rest of the competition.
Evolving the Sound
Having such an abundance of knowledge, training and insight into music, Nitin Sawhney became aware of conjuring up different techniques and sounds.
He got to illustrate this in 1988. Nitin went on reunite with his old school buddy James Taylor, a highly talented jazz keyboard player.
Taken back by Nitin's talents, Taylor signed him up to tour with his band, the James Taylor Quartet.
Gifted with an invaluable opportunity, Nitin quickly excelled within the jazz scene by playing with mesmerising flair.
However, it was not until Nitin founded his own band, The Jazztones, and subsequently The Tihai Trio with percussionist Talvin Singh where his unstoppable run began.
Alluding to a phase of experimentation, Nitin states:
"I think in the 90s I was quite experimental in trying out different things."
Such experimenting is identifiable in monumental tracks like 'Bahaar', 'Vidya' and 'Voices'. They all encompass and celebrate jazzy tones, South Asian melodies, and enchanting vocals.
They also trickle with cultural fluidity and poetic electro, which remains poignant throughout Nitin's discography.
In 1999, the famed producer released his spectacular album, Beyond Skin, a prequel to Immigrants (2021).
The album was the most significant expression of Nitin's ability and South Asian heritage. Neil Spencer from the London Observer highlight the perfect blending mix of this project:
"The most accomplished fusion of Indian and Western influences to date."
"Entwining funk and flamenco with the subcontinent's classical forms and adding a narrative that reflects his experiences as a British Asian."
This personifies how Nitin has managed to create a unique atmosphere within his songs.
The way he can intertwine the cultural, social, and political lanes of his life in a seamless festival of sounds is magical.
In addition, the superstar succeeded in finding new sounds by drawing upon his own experiences as a person:
"Over time I think I've also wanted to make connections with my political perspectives with the music that I make.
"Ultimately, I want to make great music and strong lyrics. Something that moves people and feels like it's coming from somewhere honest."
It was vital for Nitin to illustrate his classical abilities. Equally important, was Nitin's evolution of sound, which actually stems from the rise of his perspective.
The impeccable stature of the music mogul means his music is a representation of his life:
"When I write music and my feelings, about what's going on in the world, it's because I want to make music that I feel passionately about."
Despite Nitin still being a master of instrumentation, he also allows emotion to dictate what happens with the musical grammar.
Besides, conveying more thought for the listener, it also allows for an unparalleled intimacy with the tracks that Nitin puts out.
'Immigrants'
The passion and finesse that Nitin has achieved so far with his releases are unfathomable.
Although, he has added to his long list of achievements with the success of his 2021 album, Immigrants. 
Nitin made sure not t make a "didactic" album. In fact, the songwriter wanted Immigrants to combine all the characteristics of his previous work, giving a voice to the voiceless:
"What I tried to do is give a voice or platform to different feelings."
He later adds about wanting to develop something, which was a befitting reply to the harsh climate as a result of Brexit:
"I wanted to make an album that was a response to a lot of the stuff that's come out of draconian measures that aren't necessary and based on the xenophobia that I think Brexit produced."
With such heightened tensions in the midst of racial prejudices across the UK and the world, Nitin hopes the music on the album helps draw attention to those issues.
However, the maestro also conveys emotional themes of belonging and identity which grasps listeners at every note.
Impressively but not surprisingly, Nitin has called upon the expertise of spectacular artists to help share these feelings.
These include Brazilian British singer Nina Miranda and soulful British composer Ayanna Witter-Johnson. Enthralling violinist Anna Phoebe also comes into the equation.
The reason behind this is that Nitin Sawhney wanted to work with people who had some kind of connection with immigration.
This gave the album a more diverse range of voices and instrumentation, It also gave it more significance because it has been created by artists who had lived that truth.
Nitin elaborates further as he mentions:
"It was very much about working intuitively, collaborating with people that I respect that I think have got a lot to say themselves.
"People that I could have a good conversation with about issues of immigration. So these are very intelligent artists who are incredibly talented and skilled."
The very skill and talent Nitin mentions are formidable on the project. The song 'Replay' is breathtaking with its piercing hits of tabla, glimpses of electronic bass, and hypnotic lyricism.
Whereas 'Heat & Dust' draw upon migrant experiences through tense melodies, reflective vocals, and Spanish-infused strings.
Remarkably, Nitin provides breaks within the album in the form of interludes. It is these intermissions between songs that have snippets of real news stories regarding immigration.
The importance of this was detailed by Nitin:
"What I wanted to make was an album that felt like it had a narrative flow to it."
"Not a concept album, but an album that felt like it had relevance like it was coming from a genuine place in terms of what I feel about what's going on with politics today."
With this storytelling approach, Nitin can take fans and artists on a journey through his life experiences.
Hitting the ears with bangs of loneliness, discrimination, hate, and hopelessness is touching, yet reminiscent of an unchanged world. It asks the listener to understand.
Then, towards the end of the project, Nitin cleverly includes songs that envision hope and change. These include tracks like 'Another Sky' and 'Dream'.
This album is not aimed to be a cliche but a realistic goal where compassion, love, and humanity will win.
With praise from megastar Billie Eilish, the album has been a testament to Nitin's humanitarianism and his unbreakable pride in being a British South Asian.
Pushing through Prejudice
With such an incredible addition to Nitin's discography that touches on many discriminatory aspects of the UK, it is compelling to see where the motivation for that has come from.
Although Nitin's early life was beginning to sculpt around music, it was also here where he experienced some of the topics he addresses in his songs.
Growing up in the midst of immigration and the rise of the far-right party, The National Front, meant Nitin was subjected to the many dangers faced by immigrants.
He reminisces about how feared the party was and the shocking ordeal he had to go through:
"They felt like a gang of thugs really, which is what they were. I was attacked many times by people who had affiliations with The National Front.
"Outside my school gates, there'll be leafleting from a National Front member…when I was a teenager."
However, this was just the beginning. Nitin recalls a cruel incident where a "guy in a white van" would be "shouting racist abuse" at him.
For any teenager, such acts of terror can diminish their confidence and force them to shy away from society. The award-winning musician even admits:
"It was a pretty scary place to grow up. I was pretty much the only Asian around there.
"It was quite a kind of isolating time to grow up for a British Asian."
Most noteworthy, the turning point for Nitin and where he clearly solidified the messages his music would represent was in his most dangerous situation to date.
Unwittingly, he and his brother had driven straight into a National Front march where he states that skinheads were "banging on the roof" of the car.
The hostile environment was met with an unusual response – laughter:
"All we could do was laugh 'cause I thought this is hilarious.
"They're seeing a couple of Asian kids in a car right in the middle of there that made them look quite ineffectual and pathetic."
These events are still fresh within Nitin's mind. They also propelled him to dedicate time and energy towards a better future for British Asians.
Despite the declaration of Brexit hindering Nitin's plans, he gave a stark warning in 2014 about this:
"You can see on Channel 4 news. There's a conversation I had at the time warning about the dangers of Nigel Farage and UKIP. Literally saying, 'I think they're very dangerous'."
Even in 2021, Nitin does not hide from sharing his distaste for officials like Priti Patel. This is because of the insensitivity and destruction they radiate:
"They demonise asylum seekers who need help. People who are vulnerable, they attack.
"They don't care because they've been allowed to get away with this and they are unaccountable."
The brutality and relentless nature of discrimination have unfairly been with Nitin Sawhney for the majority of his life.
However, it emphasises his resilience and strength, even more, to break through these types of barriers. As he continues to produce music, Nitin continues to shed light on the social atrocities.
The heavy nuances of Indian classical music and South Asian-inspired sounds resonate with all types of listeners. But this illustrates the type of heartbreak that this fantastic music stems from.
Although, as a universal language, Nitin believes his music can help spark a real change and inspire others:
"We should celebrate diversity, we should celebrate inclusion."
"When I say inclusion, it's about being inclusive of people who are more vulnerable, who actually are historically sidelined or made to feel invisible.
"I think that can happen on the basis of your heritage. It can happen on the basis of disability. It can happen basis on the basis of gender.
He also adds about his thought process:
"When I make music, I have all that going on in my head without making it necessarily dictate everything that I do. It's just the way I think."
This cements the rollercoaster-like journey that Nitin has endured. It is also a testament to his selfless character as a person and musician.
He has created timeless music with immense artistry as well as orchestrating his discography to illustrate real-world issues. This is something that has undoubtedly confirmed Nitin as a catalyst within music.
Cherishing the Success
With an incredible streak of triumphs and accolades, Nitin has remained humble in the face of success.
His mission is to help the music scene grow and develop. However, his ambitions are not limited to just music or humanitarian causes.
His intuitive exploration of cultures and sounds has enabled him to produce hit after hit and be widely recognised amongst different industries.
He won the Commission for Racial Equality Award in 2003 and was the recipient of the Ivor Novello's Lifetime Achievement Award in 2017.
Dabbling in mainstream projects like Anita & Me (2001), Mowgli (2018), and theatrical scores like Akram Khan's Zero Degrees, means the versatility in Nitin's arsenal is boundless.
Impressively, Nitin also had a nomination for a BAFTA in 2011 for his work on BBC's Human Planet. With such magnificent accolades, Nitin humbly expresses:
"I've been incredibly blessed in that way."
"Having that kind of recognition from people, it's really nice and having acknowledgment… it's very humbling."
Watch the Full Interview with Nitin Sawhney here: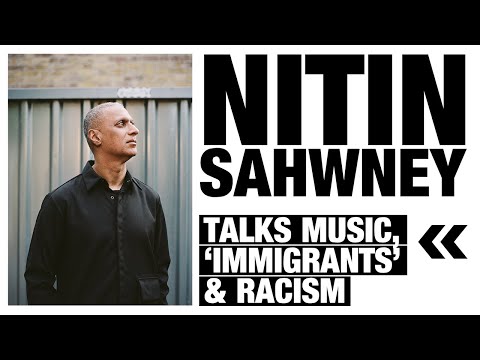 His tremendous musical knowledge and growth through racism have provided Nitin with a path like no other.
It serves as an inspiring tale for other fans and musicians alike that artistry can overcome adversity.
This was identified in 2019 when Nitin received the 'Outstanding Achievement in Music award' at The Asian Awards.
Along with achieving six honorary doctorates, Nitin is definitely one of the pioneers of classical and British Asian music.
His deep-rooted cultural flavours and trance-type beats help cultivate a special sound that is extremely intricate but recognisable.
Nitin's appreciation of production, percussion, and tones aid in creating an indulgent piece of work. His songs have the ability to create an atmosphere that one can immerse themselves in.
With a seventh honorary doctorate on cards, Nitin is showing no signs of slowing down.
With the continuous success of Immigrants, Nitin has become one of the most consistent, talented, and culturally rich musicians out there and will continue to prosper.
Check out Nitin Sawhney's album Immigrants and his other immense projects here.