"we all set about trying to come up with a new model."
The creative and charming Cary Sawhney proudly announces the new hybrid Bagri Foundation London Indian Film Festival (LIFF) and Birmingham Indian Film Festival (BIFF) for 2020.
In response to COVID-19, London Indian Festival at Home is the part digital phase, which has already gone online.
Everyone can enjoy the online version of the festival safely in their homes. According to festival director Cary, this element was important to keep a connection with the audience.
Teaming up with OTT (over-the-top) streaming service Shift 72 from New Zealand, the festival made its launch via a UK geo-specific site on May 13, 2020.
To kick-start things, Cary and his team are showing nine award-winning films from the festival's Satyajit Ray Short Film Competition.
Programming the short films together, they feature the early works of prominent directors Neeraj Ghawan and Shubashish Bhutiani.
The short films include U Ushacha (2019), The Peter Seller (2018), Papa (2017), Mochi (2016), Kharghosh (2015), Kush (2014), Kauna Kamleshwar (2013), Shor (2012) and Amar (2011).
The short films are in various languages, including English, Hindi, Marathi and Bengali. Naturally, all the non-English films come with subtitles.
Thereafter, a number of feature films, panel discussions, talent Q&As and screen talks will be spread over the coming weeks and months.
The second phase comprises a shorter festival in cinemas, subject to the lifting of restrictions. In an exclusive Q&A with DESIblitz, Cary Sawhney reveals more about the hybrid festival.
Can you tell us about the hybrid festival plans due to COVID-19?
The hybrid festival has evolved relatively quickly over the last 2.5 month. This is after the onset of the coronavirus pandemic and our cinema partners closing down, with no foreseeable re-opening date at present.
We were all ready to deliver a cracking programme in June but then had to hold up our plans.
We waited and watched what was happening to film festivals globally and it was clear that there were two options. Shut up shop for 2020, or think on our feet.
We saw that other major festivals like CPH: DOX in Denmark were quickly switching online. So, we checked out the technology, time frame and costs for this."
We were also keen to serve our regular audience in London, Birmingham and other cities and not just disappear.
"Fortunately, the festival has a talented team and many friends."
"Hence, we all set about trying to come up with a new model."
The hybrid model seemed best for a medium-sized festival like LIFF/BIFF. This meant we would move some of our festival online now to serve audiences in lockdown.
The next phase would be to plan for a mini-cinema festival in the Autumn when things have hopefully started to get better and cinemas have opened again.
Recognising that the world won't quite be the same again our strategy is to continue our hybrid festival into 2021 and beyond. This includes building a loyal UK-wide fan base online and then having film premieres in our home cities.
How confident are you about creating a film festival 'buzz'?
This is new territory for everyone where maybe the brave may be the winners in the long run. In the arts being innovative is key.
We are fortunate that we have great partners like the Bagri Foundation and the British Film Institute. They are backing us in this pioneering venture.
What is clear, having just launched the London Indian Film Festival At Home, is that our marketing strategy seems to be on track.
Our audiences are also responding positively to this new initiative as a ray of positive sunshine in an otherwise gloomy news world.
"The number of views of our short films in the first three days of launch has gone up towards 1,000 views."
What can you tell us about the short films in context to Satyajit Ray's vision?
We wanted to do a soft launch of the festival online to start with. This was to see how audiences would react to the new digital medium.
We happened to have 9 years of amazing short film winners from the Satyajit Ray Short Film Competition that had never been seen together before.
The Ray family had given the festival rights to use the master filmmakers name.
They had appreciated that we wanted to celebrate new films by emerging filmmakers that shared his vision of South Asian experience and his humanism and empathy.
"May 2020 is also Satyajit Ray's 99th Birthday month so it seemed a natural fit."
We can confidently say that the short films have grabbed the attention of audiences in the UK. There are even calls for us to screen them in India.
So starting small with high-quality shorts seems to have been the right strategy for us.
How will the festival evolve in 2020 and what is the long-term strategy?
COVID-19 remains in the UK, with the future in 1 month let alone 6 months being far from certain.
Therefore, we are planning to develop our digital offer with some of the best feel-good films from recent years.
"We are also looking at new titles and talks into the summer."
If all goes well we will be back in at least London and Birmingham in cinemas in the Autumn. Fingers crossed!
We are planning to stay partly digital as this means we can offer films and other activity to our audiences beyond London and Birmingham.
This means wherever you live in the UK you can have a chance to see the best of new Indian and South Asian cinema directly in your own home.
Watch 'Love LIFF at Home' trailer here: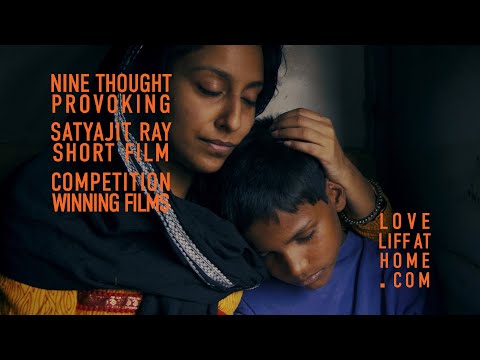 The Bagri Foundation London Indian Film Festival (LIFF) and Birmingham Indian Film Festival (BIFF) have come along way in the last ten years. Together the two make up Europe's largest Indian film festival.
Fans can expect the festival to deliver the very best of independent cinema. This is reflective of the Indian subcontinent and its worldwide diaspora.
With the support of everyone, Cary is hoping the festival will be a huge success in 2020.
For more information on the festival and to watch the short films for FREE, please visit the main site here.