"I think that AI poster ads won't engage consumers deeply."
Walking down the busy streets of London, the last thing you'd expect is a print advert that looks right back at you.
Advertising agency, M&C Saatchi, has created a poster which does just that this summer.
Partnering with Clear Channel and Posterscope, the teams come up with a fictional coffee brand, Bahio.
They also put together a 'gene pool' of photos and copies that would generate unique formations of the advert.
'The World's First-Ever Artificial Poster Campaign' is born, using facial recognition technology.
A Microsoft Kinect camera scans the facial expressions of passers-by. The ad's images and taglines change according to the data collected from over 42,000 interactions.
David Cox, chief innovation officer of M&C Saatchi, says: "It's the first time a poster has been let loose to entirely write itself, based on what works, rather than just what a person thinks may work."
Undoubtedly, this new splurge in technology can help organisations understand their clientele needs better
Facebook also finds benefit in introducing facial recognition to their users, so they can automatically tag their friends in photos.
In the US, some shops have even started using it to identify shoplifters and big spenders.
But when it comes to billboard advertisements, do people want their data being used to create tailor-made messages?
Xbox gamers have expressed concerns before regarding Kinect's potential for target advertising.
John Verdi, FaceFirst's director of privacy initiatives, also points out commercial facial recognition could 'poses consumer privacy challenges'.
Cos reassures: "We're not saving anything recognisable, we're not storing images or data.
"Each interaction is given a number, that's it. We're trying not to be creepy. This is no different from an automatic door, it's a mechanical reaction."
Watch Cox talks about the innovative concept: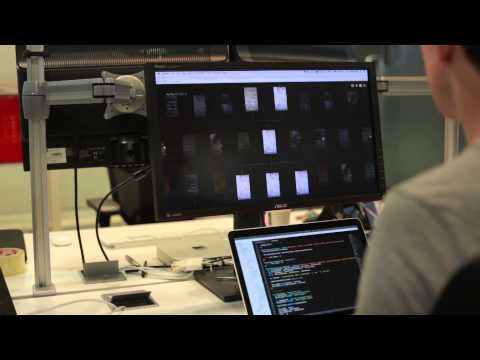 The technology is thriving. Co-founder of AI firm Affectiva, Rana el Kaliouby, attempts through her research to map facial expressions and identify the more subtle expressions.
Her company aims to provide advertisers a better sense of how their adverts are affecting their viewers.
Rana explains: "Computers are good with information – but oblivious to our feelings."
With a view to bring facial recognition to classrooms, she says: "10 years down the line we won't remember what it was like when we couldn't just frown at our device, and our device would say, 'Oh, you didn't like that, did you?'"
Not only could the Artificial Intelligence poster bring about a dangerous era where technology dominates and our privacy erodes, it could also turn the advertising industry upside down.
But Nigel Webb, creative director of digital agency Wunderman London, suggests otherwise:
"I think that AI poster ads won't engage consumers deeply.
"The best books, shows and films are written by people, not algorithms, and we respond to them emotionally because…they're crafted to strike a chord with us rather than because they reflect our emotional state at the time.
"And the same is true of the most effective advertising. Technology that appears to read our minds will never have wide appeal."