"Just shows how exploitive you guys are"
Zomato adverts featuring Bollywood stars Katrina Kaif and Hrithik Roshan have come under fire.
Netizens claim that they glorify the poor working conditions that the company's employees experience.
The Indian food delivery service has been heavily criticised online for the commercials.
The advert featuring Hrithik shows the actor open the door to receive his food from a soaking wet delivery driver.
He then tries to take a selfie with him as a token of gratitude.
But Hrithik cannot as the delivery driver has to rush off to another job.
The advert has been viewed over 17 million times on YouTube and is part of the 'Har Customer Hai Star' campaign.
The second advert with Katrina Kaif follows a similar scenario.
As a token of appreciation, Katrina offers him some cake. The delivery driver eagerly waits as she goes to get it but is forced to leave when he receives another job.
Watch the Zomato Ad with Katrina Kaif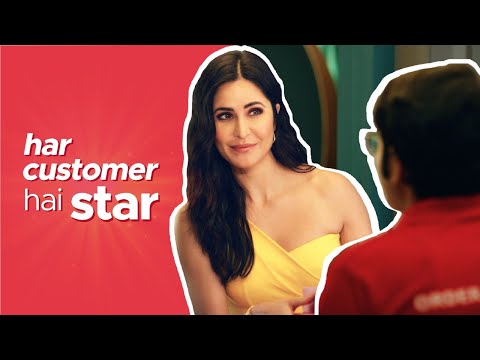 Social media users shared their concerns with the promotional material online.
One person said: "Just shows how exploitive you guys are towards your employees."
Another person asked: "So wait. Zomato is admitting they overwork their riders so much that they don't have a minute between deliveries?"
A third posted: "This just shows these delivery boys have no break."
One said: "Instead of investing huge money on these stars Zomato can do the needful on employees salary as petrol prices are sky-high."
Zomato soon tweeted a statement in response to the backlash that they had received.
The company stated that people were calling their adverts "tone-deaf" and were providing a "distraction from the gig economy".
Zomato said:
"We believe that our ads are well-intentioned, but were unfortunately misinterpreted by some people."
The company concluded: "We thank everyone for pushing us to do better and we urge you to continue keeping us on our toes.
"We won't shirk away our responsibility."
The other side of the story… pic.twitter.com/hNRj6TpK1X

— zomato (@zomato) August 30, 2021
Despite the statement, social media users were not happy, with some calling it a "non-apology".
This is not the first time that the company has experienced controversy.
During the latter part of July 2021, delivery drivers took to Twitter to anonymously share the conditions they were forced to work under.
Allegations posted included a lack of compensation for petrol prices, absence of first-mile pay, lack of a long-distance return bonus and daily earning caps.
Many also noted that all of these were exacerbated by the pandemic with people ordering more food to their homes than ever before.
Zomato also said that they had been listening to the problems that they had been hearing about and had been actively working on this.
Watch the Zomato Ad with Hrithik Roshan