"Is that a Pokemon in your pocket? Because I wanna Pikachu."
"Do you believe in love at first sight, or should I walk by again?"
Chat-up lines are somewhat of an art form, no matter where you are in the world.
From down right cheesy to heart flutteringly romantic, the one-liner is a pulling technique very few can master.
Without the right amount of confidence and flair, most hopefuls would often fall flat on their face.
Done right, it can be a quick way to start a conversation (even if it doesn't go to plan) and get in front of the 'hottie' of your dreams.
Cut Video's 'Pick up Lines from Around the World' shows a humorous sample of people from various countries, giving their best lines of seduction.
India's representative is a man from New Delhi who steals the show with risqué attempt.
Speaking in an informative and weary manner, he explains:
"We go to a girl and ask 'Is your father a terrorist?'
"She asks why.
"Because you look like a bomb!"
He ends with a surprisingly proud look as if to suggest it has worked for him in the past.
Other funny pick-up lines come from a lady in Bangkok: "Do you have a coin? I need one to call my mum and tell her I have a match."
A man from Seattle gets his success with: "Is that a Pokémon in your pocket? Because I wanna Pikachu."
Watch the full video here: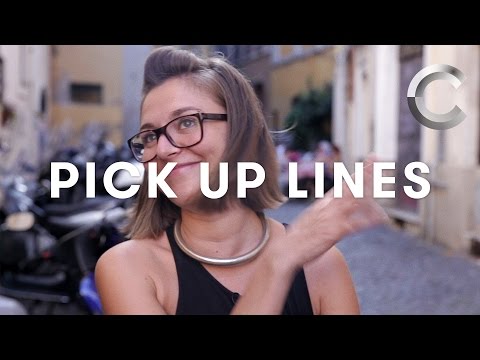 Whether it's 'Can I borrow a kiss? I promise to give it back', or 'You look a lot like my next girlfriend', it seems everyone around the world uses witty and creative lines to approach the ones they fancy.
So next time your eyes meet with a beautiful someone across the room, choose your words wisely and go for it!