"One minute I'm making a dance video and the next minute I get a Bollywood offer."
West London based Shanti Dynamite, real name Sofiya Vasileiadou is set to make her Bollywood debut after spending two years entertaining viewers on adult TV channels such as Channel Babestation, Masti Chat and Hotel Voyeur.
She will now feature in an item song and act in an upcoming film titled Chalo Doctor Doctor Khelein, to begin production mid-2013.
The half-Punjabi, half-Greek bombshell was born and raised in Uganda in June 1991.
She later moved to the UK in 1999 where she completed her education.
Sofiya then went on to train to become a hairdresser. However, she quickly realised she wanted to change her life and pursue a different career.
Since her first entrance into Adult TV, she quickly became one of the most popular adult models in the country with a rapidly growing fan base.
Sofiya was first known for her erotic Bollywood dance that went viral across popular social network sites around the world.
As of now, the 22-year-old is now preparing for her debut in Bollywood alongside Raj Babbar, Sanket Bhonsle and Sonel Singh in the lead roles for the film Chalo Doctor Doctor Khelein.
For two years Sofiya spent her time in the adult industry facing the camera nude, speaking to callers and engaging in erotic conversations.
She then went on to Masti TV which is catered to South Asian audiences and quickly built her name in the glamour world.
However, Sofiya is now planning to shift away from her glamour model image and focus her career on Bollywood. Nisha Sahdev, CEO Sahdev Media who manages her is very excited to work with this debutant:
"Sofiya came to me with a dream and vision, she's going into Bollywood from the glamour industry, it's a big move for her and we are making sure she goes through the right training and classes before she begins filming. We are looking forward to developing her career in the international market."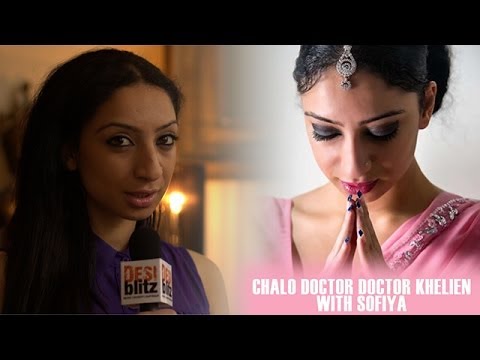 Sofiya, excited for her big move, says: "I don't know how it all happened so fast. One minute I'm making a dance video just for a joke and the next minute I get a Bollywood offer."
"I can't wait to go to Mumbai and begin filming in a few months, I really want to make a name out there. I am going to acting, dancing, Hindi classes to prepare myself," says Sofiya.
She is determined to prove herself in Bollywood and will begin to undertake training in dance, Hindi and acting before going on sets.
Saurabh Malik, who debuted as an actor in Ab Hoga Dharna Unlimited in 2012, is directing the film and has high hopes for it.
Sofiya, who does adult chat shows also runs her own production company shooting adult Indian music videos.
She will be seen doing an item number in Chalo Doctor Doctor Khelein:
"I am a performer first and I don't find anything wrong with being part of the entertainment world through whichever way I seem right. I am absolutely thrilled about doing this [item number]. This is what I dreamt of doing all my life."
Her time growing up in London was relatively traditional, when talking about her past she states: "My mother is a Punjabi, and my father is a Greek. My mother's father was from Jalandhar and was taken to Uganda by the British government when they were taking Indians to work in Africa, to develop the railway lines and to work in the coal mines."
"My parents got divorced when I was too young and my mother brought me up single-handedly. I grew up while going to the gurdwaras, eating Indian dishes, wearing Indian clothes and watching Bollywood movies," she adds.
It was during her upbringing where she slowly began to fall in love with everything Bollywood, her all-time favourite actors are Amitabh Bachchan, Rekha, Sridevi and Shahrukh Khan, and now being part of the industry makes her feel great.
The film also contains a rape scene, which will involve Raj Babbar, who is known as the pioneer of rape scenes in Bollywood since Insaaf Ka Tarazu (1980). The film follows a wealthy heir who sexually assaults a young model. Director, B.R. Chopra was noted for his authentic portrayal of the rape that takes place.

Chalo Doctor Doctor Khelein is based around the lives of medical students and the production involves a number of real doctors. Saurabh says: '"This is a comedy thriller based on the life of medical college students where we have taken inspiration from some real-life incidences."

Shanti has decided to shed her babe name for her birth name Sofiya and hopes to make a huge impact on the Bollywood industry. DESIbitz is certain that she definitely will.

[Not a valid template]