90 per cent of surveyed landlords received no information about the scheme.
Originally piloted in the West Midlands from December 2015, the Right To Rent scheme has been introduced for England from February 1, 2016.
Landlords who let property are now expected to check the documents of potential new tenants.
They are required to take copies of passports or residence permits, ensuring tenants have the right to rent property.
Landlords also need to carry out checks for tenants with time-limited permissions to stay in the UK, before the expiry date or 12 months after the first check.
Those found breaking these rules can be fined up to £1,000. Repeat offenders could face a hefty fine of £3,000.
James Brokenshire, the Immigration Minister, says:
"The scheme builds on the Right to Work checks that employers have been making for some time, and we know that many landlords already carry out simple identity checks as a matter of good practice."
Head of Immigration Services at law firm Howard Kennedy, Antonia Torr, adds:
"Should a check reveal that the tenant does not have the right to live in the UK the landlord must report this to the Home Office immediately.
"The landlord can then choose to evict that tenant or wait further instructions from the Home Office, as the Home Office does have the power to grant temporary permission to rent.
"I would not be surprised if many landlords simply choose to evict."
Watch this video to find out more about how to carry out a Right To Rent check: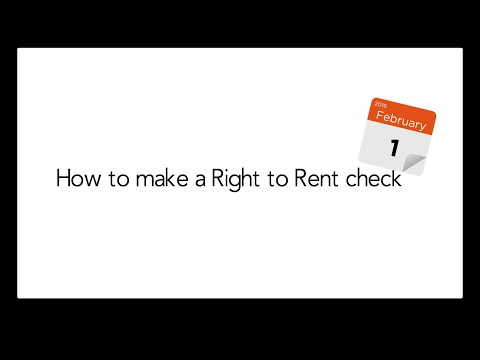 The new legal requirement will affect landlords across England, including many British Asians who make a living by renting out properties to students, professionals and families.
However, the Residential Landlord Association (RLA) has found in a survey of 1,500 landlords that:
90 per cent received no information about the scheme from the government.
72 per cent did not understand their obligations
In addition, 17 per cent of UK nationals would be disproportionately impacted, including those who do not own a passport, young people and those less well-off.
Policy director at RLA, Dr David Smith, comments: "The government argues that its 'right to rent' plans form part of a package to make the UK a more hostile environment for illegal immigrants.
"The evidence shows that it is creating a more hostile environment for good landlords and legitimate tenants."
Head of compliance at Chesterton's estate agency in London, Nicola Thivessen, also highlights the new rule could force some 'to turn to the black economy to find a place to live'.
Some even suggest this scheme may also lead to accusations of discrimination.
Thivessen adds: "As some landlords are likely to feel that the new legislation is a bureaucratic minefield, they may think they can play safe by only renting to British people.
"This is absolutely not the case, as this is tantamount to discrimination."
A survey by the Joint Council for the Welfare of Immigrants supports this statement. It has found that landlords and letting agents have been charging tenants in the Midlands trial on average £100 extra in administration fees,
What's more, they have been found to routinely turning people down because of their 'foreign' accents.
Many organisations including Migrants Rights Network have expressed worries that it will 'encourage otherwise fair-minded landlords and agents to let to white tenants with British-sounding names, just to reduce the likelihood of additional bureaucracy from the Home Office'.
The Right To Rent implementation date for Scotland, Wales and Northern Ireland is yet to be announced by the government.