"It has been an emotional and difficult journey shooting"
Season 2 of Karenjit Kaur: The Untold Story of Sunny Leone is to be released on September 18, 2018, on the online streaming service ZEE5.
This follows season 1 which showed the earlier parts of Sunny's life, focusing especially on her childhood and when she first embarked on a career in the adult industry.
The biopic series has been created by Sunny Leone with the aim to tell her story using actors playing the roles of her parents, her brother, her husband and others who were in her life in the past.
A promotional trailer of the second season shows the former adult star facing troubles with her parents, dramatic scenes of her mother having a drink-driving accident and her lavish wedding with Daniel Weber.
Directed by Aditya Dutt, this biopic series concentrates on the personal and professional issues that Karenjit Kaur faces in her journey to stardom.
The series grew popular with her fans in India, and the new season now continues with her colourful life story.
The trailer begins with her mother's voice narrating her hopes and dreams for the actress against a black and white vintage style video.
The trailer shows Karenjit Kaur holding a sign and smiling at the camera.
The sign says, 'Name: Karenjit Vohra, Stage Name: Sunny Leone, Age: 24 yrs' clearly a preview of how she did her auditions in the past for her adult films.
The black and white video fades into her wedding day, with her mother commenting:
"I wanted her to be a great daughter, a great sister, a great wife, but she had other plans."
Then the video dramatically shows a montage of Karenjit Kaur as Sunny Leone in her adult films.
Just within the first 20 seconds of the trailer, a mood for the new season has been set.
The trailer goes on to show Karenjit Kaur conflicting with her mother (Karamvir Lamba) and father (Bijay Anand).
Karenjit Kaur is shown distraught in the hospital after her mother's drink-driving accident and wants to know the reason as to why her mother has a drinking problem.
She says to her father:
"Was it financial problems, ya phir ab kis ke saath affair hona tha?"
(Or, are you going to have an affair with someone now?)
This intense scene paired with the glimpses of her lavish life in the adult film industry shows fans that this season will be her most emotional and personal yet:
"Shooting the second season of Karenjit Kaur on ZEE5 has been very cathartic for me. It has been an emotional and difficult journey shooting for the same."
The adult star turned Bollywood actress explains how the series allowed her to re-evaluate core moments in life, and take control of her narrative.
It's reported that new characters may be making an appearance this season and some more intense facts about Karenjit Kaur will be shown throughout the show.
Watch the trailer here: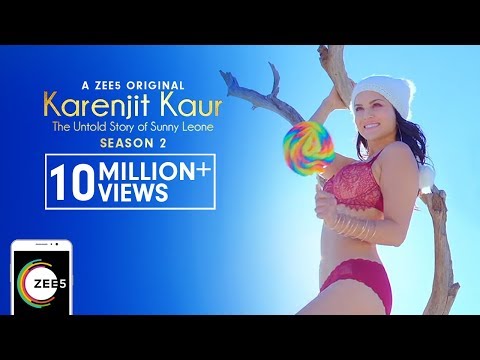 Fans are looking forward to seeing Sunny Leone in her character, and they patiently wait for the upcoming series.
Being one of the first online programmes that are exclusive to ZEE5, this highly anticipated show will be airing from September 18, 2018.