It is sad to see the nostalgic song being handled like a regular item number
The gravity of how Bollywood impacts lives can be explained with a simple example. Almost every young girl in an Indian household with even the slightest of inclination towards dancing has emulated Madhuri Dixit's moves from Tezaab's popular number, 'Ek Do Teen'.
The late '80s number was a breakthrough for Madhuri Dixit Nene who later became a celebrated dance diva in Bollywood.
Choreographer Saroj Khan made the entire nation dance to her moves as the song became an iconic number in Madhuri's career.
In the wake of remakes and remixes, the song had managed to remain untouched for nearly 30 years. But alas, it is now being relaunched. Featuring Jacqueline Fernandez, it is being used as a promotional number for Tiger Shroff's upcoming film, Baaghi 2.
A teaser of the song was released recently and just the 24 seconds of it have managed to disappoint many who hold fond memories of the original number.
Going by the lyrics, 'Ek Do Teen' essentially is a song where a girl is calling out for her lover and is counting days for his return.
Considering the song is devoid of any sexual connotations, Khan's choreography in the eighties remained typical. The protagonist is seen dancing on a stage surrounded by back dancers who were key since the composition consists of a chorus.
Watch the original Madhuri 'Ek Do Teen' video here: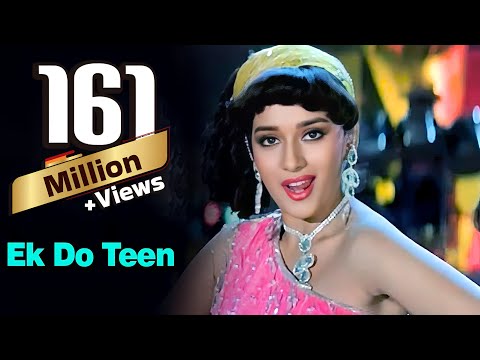 A 21-year-old Madhuri was dressed in a pink one-shouldered crop top and a colourful skirt.
Her innocently charming yet mischievous expressions hooked the audiences. Even as she was seen gyrating at a few junctures in the song, oddly there was nothing titillating about it.
In terms of song trivia, there's a famous story of how Madhuri rehearsed for 16 days until Saroj Khan found it perfect.
The popularity of this song also made the makers of Tridev position Madhuri in the centre for their song over the much experienced Sonam and Sangeeta Bijlani at her side.
Coming to the 24 seconds of the remake, ample of attention is drawn towards Jacqueline's pink lips pouting in the first few bits itself.
Watch the teaser for Jacqueline's rendition here: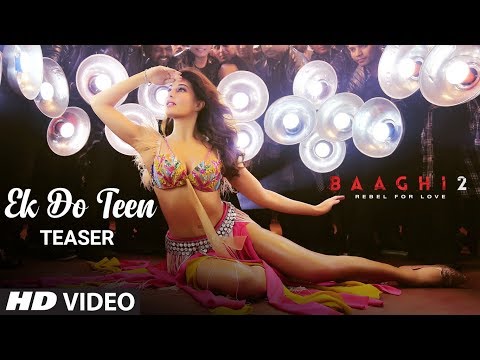 Not long after that, we see her strip her jacket and reveal the jazzy bikini that she dons for this number. Along with a skirt with thigh-high slits.
The lens too remains focussed on Jacqueline's flat abs as she moves to the famous tune. The shots of her heaving cleavage and sultry expressions take out all the innocence that once resonated with this song.
It is sad to see the nostalgic song being handled like a regular item number. While the original song was suitable for a family-viewing, the mere teaser with Jacqueline stripping is set to be an uncomfortable affair for many.
What's surprising is that three choreographers, Ahmed Khan (who is also the director of Baaghi 2), Saroj Khan and Ganesh Acharya have come together to create this number.
There are no doubts that Jacqueline is a performer and has stunned the audience with her dance moves in her previous songs such as 'Sau Tarah Ke' and 'Jumme Ki Raat'.
With this song though, due to the nostalgia that it carries, the actress may face a backlash.
A few fans even took to Twitter to express their views on the new song.
I want to express my up most frustration at why such a beautiful iconic song has been made into a modern day sleaze. PLEASE LEAVE CLASSICS ALONE! Have respect for times when skin show wasn't the only thing to get attention ??#ekdoteen RT

— Raj Gohil (@mad4raj) March 16, 2018
A sincere effort with right intention wld be appreciated but here intention is completely different & doesn't match to the soul of this legenday iconic songs which has inspired generations & responsible for existence of many actresses in BW & other film industries. ?#EkDoTeen

— ~ ~ Anand ~ ~ (@AnandluvsMD) March 16, 2018
Going by the trend, Jacqueline's number is only following suit to many others like Katrina Kaif's 'Kala Chasma', 'Chikni Chameli' etc. If only, the makers had thought of creating a new track instead?
Repeated attempts of Bollywood to create songs that titillate as opposed to entertain make us question if the viewing pleasures of the audience have indeed changed.