Watch this film for its innocent yet nuanced portrayal of frail human emotions set in one building across three eras
An illustrious cast, an interesting camera ethic and Anurag Kashyap's support are few of the many things Teen Aur Aadha has going for it.
Screened at the ninth edition of the London Indian Film Festival 2018 and its Birmingham chapter, the film marks Ukrainian Dar Gai's directorial debut.
Boasting of a cast that includes the likes of Jim Sarbh, Zoya Hussain, Suhasini Mulay, M K Raina and Anjum Rajabali, the movie tells the story of one house in three different eras.
A young boy struggles with the monotony of school and the introspective dependence of his bedridden grandfather in one era.
Two decades later, we see a tender exchange between a client and his concubine and their individual insecurities.
Skip a few more years and we have an old couple that debates if age has robbed them of their best years while discovering comfort in each other's company.
DESIblitz caught the film's screening at MAC Birmingham. From performances to logistics, here's our full review.
The Power of Theatre on the Silver Screen
One room, multiple stories, no scene, shot or set changes. If you have a play rehearsal in mind, we don't blame you. Teen Aur Aadha almost functions in the same way.
Narrating his misgivings as a man and his disgust with his own self, Anjum Rajabali doesn't let the physical constraints of the character come in the way of a sharp performance.
Raj, played by Arya Dave, can get a little exhausting despite being a character we can all relate our younger selves to.
Dave brings out the boredom and lack of motivation of a pre-pubescent child better than expected.
We know the quirkiness Jim Sarbh is capable of. Teen Aur Aadha, however, normalises him as Natraj. He plays the nervous and uneasy customer with a tender authenticity.
Zoya is brilliant as Sulekha, the amateur prostitute. She refuses to indulge Natraj but requests him to stay to avoid discovery and subsequent trouble.
How their banter is set makes for good cinema.
Natraj subsequently reveals that he finds it hard to indulge physically without a transaction taking place.
Eventually, when things do happen between them, Natraj curls around Sulekha and nestles closer to her.
The subtlety of that catharsis is sure to warm your heart and make the forthcoming disappointment that much more bitter.
Suhasini Mulay and MK Raina are effortless as the older couple. This part is obviously dialogue-heavy and is executed in the quintessential theatre format.
Seeing them share a dance, sneak a few kisses and talk about their courtship that lasted decades will make a small part of you want a love story like that.
The Divine and the Human
Teen Aur Aadha doesn't set out to astound as far as the narrative is concerned.
These are stories that could be anybody's. They are interestingly named after Indian Gods.
The first story, exploring the relationship between an uneasy Raj and his self-critical immobile grandfather is aptly titled Yamraj (God of Death).
The duo discusses the hassles of life and death. Rajabali speaks with the knowledge of death's inevitability while his grandson still sees the world with the boon of young naivety.
In the second story, titled Natraj (God of Dance) we see a prostitute (Zoya Hussein) uneasily push away her customer (Jim Sarbh), afraid of being exploited.
This section explores the unnerving experience of baring your deepest fears to a complete stranger.
Though titled Kamraj (God of Love), the third story sees an escape from the physical shackles of love. It sees love grow, age and transform.
In each of these three stories, we see a recurring theme of longing.
The grandfather longs for the company of his grandson and keeps delaying his return to his class downstairs.
The prostitute, despite denying her customer of service, begs him to tarry to speak.
The old lady in the third story cajoles her husband to stay back home and skip the trip to the Gymkhana.
The nakedness of this emotion is beautifully carried by the cast and weaves itself into the walls of the house.
When the credit roll begins and we see the house being painted again, perhaps for a new inhabitant, we can't help but think of the stories past and the countless ones still untold.
A Lesson in Paying Attention to Detail
Among other things, we see repeated references to Sachin Tendulkar. For instance, a boy called Sachin is playing in the ground in the first story.
Commentary of Sachin's innings plays in the background of the second narrative.
It's an inconsequential plot detail that's a nice discovery to make when you're engrossed in the story.
Meanwhile, the real protagonist of this story is the house, the building where these stories unfold.
The building has a school on the lower floor and a house on top, in the first story.
It becomes a brothel in the next and a warm inviting house in the third.
Its narrow staircase leading to the house to the left on the first floor becomes familiar territory at the end of the two hours.
We see the lives, the comforts and discomforts of the characters in their living spaces.
The little boy's unease in sharing a small room with his bedridden grandfather is projected in the crowded interior.
Shift to the part two and the dull blue walls suddenly come alive with the colours of the brothel.
In the third story, we see warm homely interiors. The house is neat and breezy with one desk cluttered with books.
The lady's hair clip is shown clipped on to hold the curtains in place.
These little nuances convey an inhabitation of that space that is not just superficial. This is crucial for the space to stand out amidst everything happening with its inhabitants.
The film's easy narrative allows this attention to detail stand out and take centre stage.
Teen Aur Aadha: An Intriguing Cinematographic Exercise
A 119-minute long running time is divided into three stories that are told in three long shots of 43 minutes each. This can be quite a gamble, especially if not done right.
Each story starts with a standard shot of the outer wall of the lower half of the building. The camera then follows our lead characters in each tale.
For someone who likes stable shots and clear frames, this can be quite disconcerting. However, the film leaves little room for complaint.
The intimacy of following a character through the narrative highs and lows of their story is intriguing.
We almost see a sense of empathy created, thanks to this filming technique.
Living in Mumbai for a few years now has charmed director Dar Gai. She explored 'old city' extensively, thoroughly fascinated by the colonial and post-colonial buildings that stand there despite the tests of time:
"It struck me that these walls have stories which they tell us every day, but not everybody is listening," she says.
"That's how 'Teen Aur Aadha' was incepted. And the specific structure which I selected to narrate the story is a symbol of all old buildings across the planet which have secrets hidden away in them."
She says of her decision to go with three long takes:
"The reason why I have used three long-takes to tell the story is that I wanted 'the walls' to be the narrating voice, and the walls are motionless, they don't blink, they just stand objectively and exist in an almost voyeuristic capacity."
Footnotes from the Teen Aur Aadha Experience
A film that ticked so many boxes missed the target with its music.
Vivienne Mort's background score does not quite compliment the events, punctuation and setting of the film.
Gai sprinkles Parsi references throughout the film.
Rajabali lamenting about his grandson only speaking Gujarati with his Parsi grandfather and  Sarbh calling himself a fifty-fifty Bawa all celebrate the Parsi community, an important part of Bombay's economic and cultural fabric.
One of the biggest takeaways from Teen Aur Aadha though will be its treatment of elderly romance.
Watch Trailer for Teen Aur Aadha here: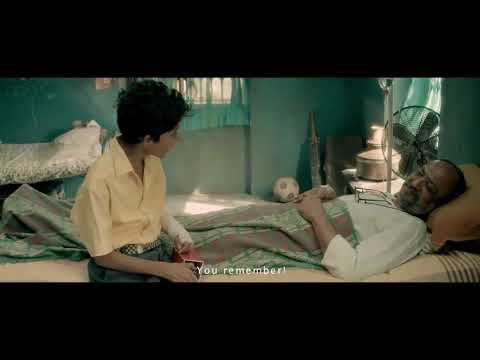 Old folk don't always walk around in sarees and kurtas and do puja (prayer) all day.
As Suhasini Mulay and MK Raina show us here, they can wear polo shirts and shorts to play squash and dance alone at home to classic jazz CDs.
Suhasini's character confesses that she has been smoking for the last 30 years, information that is news to her husband despite the packet being right under his side of the bed.
The nonchalance when she heads over to where the idols of God are kept to pull out a match to light her cigarette will make you smile.
She says: "Main baby se did se nani kab bani, pata hi nahin chala (I don't know when I went from baby to sister to granny so soon)."
They discuss the diminishing need and occasional desire for some physical affection. This part ends with MK Raina and Mulay locked in an embrace.
Suhasini says: "Lying down like this, it feels like we're waiting for death," to which Raina responds, "No. We are waiting for love."
Their 43 minutes seem like half a century's worth of waiting finally bearing fruit.
Teen Aur Aadha has given us a realistic depiction of love in the seventies that we can treasure for posterity.
Watch this film for its stellar performances, brilliant camerawork and an innocent yet nuanced portrayal of frail human emotions set in one building across three eras.
Having started with Love Sonia, the Birmingham and London Indian Film Festival will see 15 films screened from June 21st to July 1st, 2018. Take a look at the full programme here.