"To have a car driving towards me head-on was terrifying."
Hassan Waseem, aged 23, from Stockport, was jailed for one year at Chester Crown Court on April 12, 2019, for driving the wrong way on the motorway while high on cannabis.
He nearly crashed head-on into a police car while travelling on the M56.
The court heard that a lorry driver had spotted a white BMW 3 Series driving erratically on the westbound carriageway between junction 11 at Daresbury and junction 12 for Runcorn.
The incident happened just before 5:30 am on January 9, 2019.
Waseem was swerving between lines, drifting into the hard shoulder and speeding up before slowing down.
He came to a stop in the first lane. The lorry driver, who had called the police, also came to a stop on the hard shoulder.
When the driver confronted Waseem, he said: "Can I just say something? Shut your mouth."
Waseem then performed a U-turn and drove down the wrong side of the motorway.
He almost crashed into a police patrol car who was attending the incident. The officer was able to swerve out of the way. The incident was captured on the officer's dashcam.
See the Shocking Footage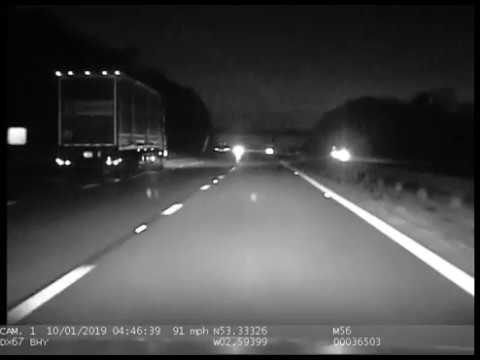 When Waseem was eventually pulled over, he was described as being agitated, testing positive for cannabis and telling police that he was trying to get to McDonald's.
A bag of cannabis and a grinder was found in the vehicle. It was also found that Waseem was uninsured.
Sergeant Anton Sullivan, who was driving the police car, said:
"To have a car driving towards me head-on was terrifying.
"Not only did I fear for my own safety, but also for the safety of my colleagues and the hundreds of other motorists who were using that stretch of road.
"At the time of the incident, there was moderate traffic on the carriageway – including a number of HGVs.
"Thankfully, Waseem pulled onto the hard shoulder before anyone was killed or seriously injured.
"However, this does not excuse his behaviour and I have no doubt that the consequences of his actions would have been far worse had it not been for other motorists taking evasive action."
Waseem, who owned a car dealership and was aspiring to be a pilot, admitted dangerous driving, driving under the influence of cannabis, possession of cannabis and driving without insurance at an earlier hearing.
Judge Patrick Thompson said:
"You were clearly heavily under the influence of drugs when you were driving."
"Your driving had already been diabolical and dangerous before you began to drive the wrong way down the carriageway at some speed.
"This was unbelievable – dangerous driving really doesn't do it justice.
"It was a miracle that you, your passenger or an innocent road user wasn't killed and that this didn't end in complete and utter disaster.
"If ever there was a case that highlights the dangers of young people using cannabis, this is it."
Hassan Waseem was jailed for one year and also received a three-and-a-half year driving ban.
The drugs were ordered to be seized and destroyed. Once his driving ban ends, Waseem is required to pass an extended retest.
Superintendent Jo Marshall-Bell said: "This case highlights the dangers of driving while under the influence of illegal drugs.
"Upon his arrest, Waseem had no recollection of the incident itself.
"He couldn't even remember that he had driven on the M56, let alone the fact that he had driven the wrong way.
"It was only when he was shown footage of the incident that he realised the seriousness of his actions and the danger he posed to other motorists.
"Not only is he lucky to be alive, it is a wonder that no-one else was killed or seriously injured as a result of his reckless actions."