Goopi Gawaiya Bagha Bajaiya is a hidden gem of creative filmmaking.
Directed by Shilpa Ranade, Goopi Gawaiya Bagha Bajaiya or The World of Goopi and Bagha is an adaptation of the original 1969 Bengali language film by the award-winning director, Satyajit Ray.
Just like the original version, the story revolves around two animated characters called 'Gupi' and 'Rabi' who travel together on a magical fantasy. The film provides great viewing for the whole family.
Goopi Gawaiya Bagha Bajaiya follows the journey of Goopy and Bhagha, an amateur singer and drummer respectively, who come across each other after being thrown out of their home towns.
While travelling together in the forest they meet the King of Ghosts who offers them some magical slippers and three special wishes.
Voicing the hilarious characters are Manish Bhawan, Shailendra Pande and Rajeev Raj. Their dialogues offer plenty of laughs, from the beginning until the end of the film.
In 1969, the Bengali version Goopy Gyne Bagha Byne was a smash hit spending 51 weeks at the box office and the songs were highly loved by children. Ray's original film won 6 awards including 'Award for Best Direction' in New Delhi in 1968, 'Best Film' in Melbourne in 1970, and 'Best Merit' in Tokyo in 1970.
Satyajit Ray said: "It's extraordinary how quickly it has become part of popular culture. Really there isn't a single child in the city who doesn't know or sing the songs (from the film)."
The new animated feature by Ranade follows a similar train of thought and was screened at the 18th International Children's Film Festival in Hyderabad.
Offering a glimpse into India's film making future, Ranade offers a delightful animation with a folk feel. While it uses traditional styles of animation as opposed to Hollywood's CGI trend, Goopi Gawaiya Bagha Bajaiya uses colour, animation and sketches.
The landscapes resemble watercolour paintings and pays homage to India's rich culture of art and drawing.
Adding to this are the various fantasy elements in the film such as shadow puppets, potions, magic slippers and drums which come alive in the films animation, humour and music. The vibrancy of the cinematography is aided by the music, which forms the most integral part of the film.
The songs and dance sequences blend very well with the storyline and characters which include wizards, ghosts and animals. All are very entertaining and funny to watch and brought much laughter to the audiences at LIFF.
The film also cleverly uses Indian percussion instruments, of which the drum takes the lead in the film and provides plenty of laughs too.
Director Shilpa Ranade admits that it was a conscious decision to recreate Ray's Bengali black and white original in an animated form. When she first came across the feature, she thought: "This has to be an animation film."
"It's not a very expensive film. We've spent about two and a half years making our film with very few people, about 20 people making the film. I think we've risen to the challenge and made a film that people are keen to watch and excited about seeing."
Satyajit Ray interestingly borrowed the story from his grandfather Upendra Kishore Roychowdhury, who in particular inspired him in creating the main characters 'Goopi' and 'Bhaga'.
Ray also wrote the screenplay and songs for his original film. He was also well known for writing short stories and novels for children and teenagers such as Feleuda (The Sleuth) and Professor Shonku in Bengali.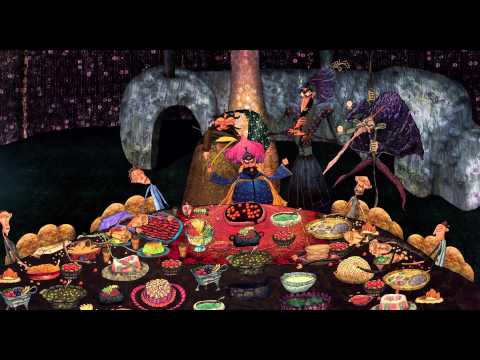 Despite the success of the original film in Bengali in 1969, the film did not do as well abroad due to the difficulties of translating south Asian dialogues, humour and lyrics to a foreign audience.
Ranade thus tries to bridge the gap between Ray's inspired original and her new animated version. She offers a fun and hugely entertaining film that can be enjoyed by all audiences. But Ranade admits that funding for such films is hard to come by:
"Goopi is produced by Children's Film Society, India. I'm not sure whether I would've been able to make it without state funding or not. We need state to step in to bring films to more people," she says.
"There's a huge level of interest in India. A lot of people want to be animators. Lots of young people now, everyone you see, every second people wants to be an animator, which is great. We have a lot of animation schools coming up.
"The industry is growing. We certainly need to push it in a way that works for our country, which we aren't doing too much right now because funding is low, and people aren't seeing the potential so much," Ranade adds.
The animated film has already made the rounds at the Toronto Film Festival and Dubai International Film Festival, and it is clear to see why the London Indian Film Festival have also chosen to promote the children's film.
Overall, Goopi Gawaiya Bagha Bajaiya is a hidden gem of creative filmmaking. Paying tribute to India's former artistry and folk nuances, the film blends humour, music and animation in a unique way.
Ranade celebrates ancient India, which is usually only accessible via museums and art galleries, and instead brings them onto the big screen. Goopi Gawaiya Bagha Bajaiya certainly offers something for a film from the Indian subcontinent, and is a cultural delight for anyone who watches it.