"If you want to go away from New York to California, don't worry we will follow you!"
Every Desi wedding has a handful of belly-tickling, laugh-out-loud moments.
Some will often end up as the stand-out memory that your guests will remember for years to come.
As more of these hilarious episodes are being captured on smartphones, any given moment can become a viral 'epic fail' online.
DESIblitz compiles the best of the funniest Desi wedding videos to keep you in stitches during the wedding season!
1. The Dancer
Weddings are a perfect opportunity for closet dancers to 'out' themselves and strut their stuff, especially after a 'glassy' or two.
Once the formalities are out of the way, it is often those that you least expect who suddenly find the confidence to release the inner disco dancer and let loose.
Comedy gold is created when those wannabe Hrithik Roshan moves turn out to be stiff Sunny Deol shuffles.
2. The Groom
It may only be for a few hours of his life, but the groom wants to showcase his grace and integrity on the big day, even though it can get a little tricky.
No slip up will go unnoticed, so it is vital to remain calm and collected in the midst of the sweltering heat, strangers telling you what to do and the in-laws keeping a beady eye on your every move.
Losing your cool, falling, crying and staying on that darn horse are just some of the pitfalls some Desi grooms have succumbed to.
3. The Father-in-Law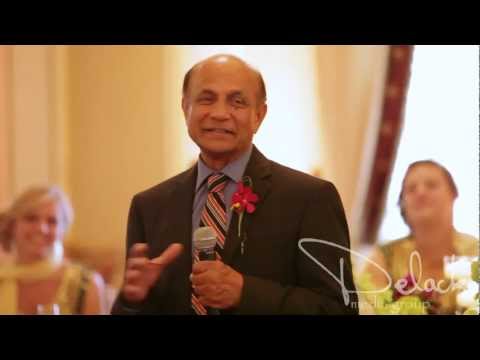 "If you want to go away from New York to California don't worry we will follow you!", the Desi American dad in this video declares.
To give away his daughter, whom he held as a tiny baby all those years ago and nurtured into a fine upstanding independent woman, is no easy feat.
Giving a speech in front of hundreds of guests to discuss this heartfelt matter must burn a hole in his heart. But of course, it helps to find a little humour in moments of sadness.
4. The Newlyweds
Who would have thought placing a flower garland around your better half's neck could be such a challenge?
After all, the newlyweds have overcome the hurdles of reciting their vows, treading around the fire and trying to make sense of the maharaj's instructions amongst his chanting of holy scriptures.
This simple task which consecrates man and woman being wed (just like the exchanging of rings in a Christian wedding) can be a dangerous if not side-splitting end to the ceremony.
5. The Try-hards
Many wedding bloopers occur as a result of over-passionate attempts to wow the guests.
Tempting misfortune on the biggest day of your life can often end in hysterical catastrophe. You are asking for trouble if you want to work with animals and over-the-top spinning podiums!
Remember, sometimes the bigger spectacle, the bigger the laugh.
With so much entertainment to expect in these matrimonial calamities, be sure to keep your distance and have your camera on standby at your next Desi wedding!