"it was a very brave adaptation of a great novel"
A film about love, ageing, and a lost sense of belonging seems right up the alley for Indian director Ritesh Batra in The Sense of An Ending.
His debut offering, The Lunchbox was all that and more – a whimsical journey about discovering a glimmer of hope amidst the loneliness that comes as part and parcel of living in a busy metropolis.
However, a purely British movie adaptation of Julian Barnes' wry book on a moaning old divorcee's recollection of boyhood, the swinging sixties and a guilty past marked by suicides doesn't quite scream Ritesh.
In fact, the award-winning book, The Sense of An Ending, isn't the most obvious choice for an adaptation anyway, given it largely relies on narration.
But director Ritesh Batra, along with screenwriter Nick Payne, cleverly iron out some of the wrinkles, taking some intelligent cinematic liberties to make the story just as intriguing and mysterious for a cinema-going audience, albeit at times also insensitive.
In an interview with DESIblitz, Ritesh explains: "Nick Payne, the screenwriter had done some very ingenious things with it. And it was a very brave adaptation of a great novel.
"So I really came to it for the love of the novel and the love of the liberties that Nick had taken. They were very nifty."
Watch our exclusive interview with Ritesh Batra here: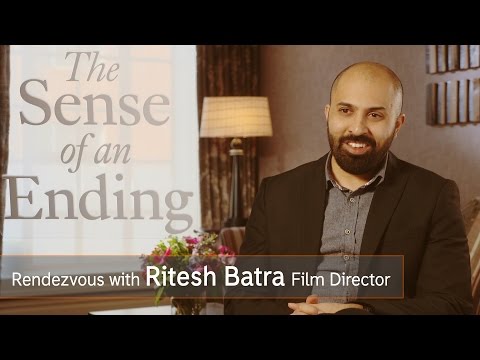 The Sense of An Ending follows Jim Broadbent who plays the grumpy, old Tony Webster who is living a reasonably satisfied life around his smart, quick-witted ex-wife Margaret (Harriet Walter) and an affectionate, heavily pregnant daughter Susie (Michelle Dockery).
Until one day, Tony gets a knock on the door by a blast from the past in form of a solicitor's letter. In it is a note from Sarah Ford – the mother of his college sweetheart Veronica.
In her last words to Tony she informs him of a valuable little piece of history that she has left for him. It's a diary; the diary of Tony's college mate Adrian, who had committed suicide early on in life whilst being part of a messy love triangle with Veronica.
The reasons for Adrian's suicide remain unknown but as Tony takes walk down memory lane to unearth cause of these sudden echoes from the past, he realises his existence probably smells of guilt.
In this journey, Tony finds a confidante in his ex-wife who is shocked to have only just found out about this chapter from Tony's life and is rather angry over Tony's selfish ways.
Amicably divorced, Tony and Margaret's relationship dynamics are portrayed brilliantly and are highly entertaining.
Tony's ineptness and aloof personality, and Margaret's slight intolerance of it adds a welcome comic punch or two to the narrative. In fact, there are a handful of comic instances added to the plot by Payne and work well in favour of the film.
Jim Broadbent dominates as the self-deprecating, curious and fearful Tony Webster. The makers couldn't have made a better casting decision because Broadbent so effortlessly wears the character's single-minded obsession with the past on his leave.
His beady eyes and knobbly charm makes the audience sympathise with an otherwise disagreeable and irritable character. 
Harriet Walter, together with Broadbent, offers a solid double act with a delicate, well-judged performance. Charlotte Rampling, on the other hand, is arresting in whatever little she is made to do in the film as present-day Veronica.
It's important to note that director Ritesh Batra had a relatively oblique, incomprehensible source material in the background but he still manages to maintain the mystery and intrigue within the plot and present an emotional yet simple derivative of the original:
"Movies and books have to be cousins, not siblings. So there is this push and pull between the movie and the book and you have to find how distant cousins you want to be through the process."
Batra relies on the flashback method to show Tony's revisit into the past both while sleeping and awake, as young and old and equally awkward. And that's a clever approach but despite that, Batra leaves room for one little flaw.
The plot and its characters' detachment and insensitivity towards something as delicate as suicide. And somehow, the failure to emotionally move audiences as Tony nears a closure.
Minus that and you have a decent British drama with impeccable performances that may not be as coveted and interestingly ambiguous as the book, but a smart retelling of the story.
The Sense of an Ending releases in cinemas from 14th April 2017.