Players will get the first chance to experience the newest mode in the franchise: War.
Since the announcement of Call of Duty: WWII, fans have eagerly awaited the first chance to experience the upcoming game. And now they won't have to wait too long, as a private beta will soon arrive.
This beta, available for those who pre-order the game, will run between 25th – 28th August and 1st – 4th September 2017.
As Call of Duty heralds as one of the most popular franchises in modern times, a lot rides on the upcoming entry. Especially after 2016's COD: Infinite Warfare drew negative reactions, both from critics and fans.
Let's take a look then at what to expect from the highly-anticipated private beta. And how you can get a chance to try out Call of Duty: WWII for yourself!
How and when can I play the beta?
As mentioned above, the beta will open exclusively for those who have pre-ordered the game. If you have pre-ordered a physical copy, your receipt will contain a 13-digit code. All you need to do then is enter the code on the game's official website to redeem your copy.
Once you have chosen your preferred gaming platform to play on, you'll receive a six-digit code a few days before it begins.
If you have purchased a digital copy of the game, you will gain access automatically.
The Call of Duty: WWII private beta will run in two stages. The first commences on 25th August 2017, at 10am PST (6pm BST) and will operate until 28th August. Only those who pre-ordered the PS4 version can play this first beta.
However, Xbox One players won't miss out on all the fun. On 1st September, the second run will begin for both the PS4 and Xbox One. It will start at 10am PST (6pm BST) and finish on 4th September.
Unfortunately, Activision is not planning to create a beta for PC users.
Introducing War and Divisions
Eager to impress fans with this upcoming entry into the COD franchise, Activision will provide various game modes, maps, and weapons for them. Meaning players will have hours of fun awaiting them.
They can choose from four game modes to play in. This includes the highly-popular Team DeathMatch, as well as Domination and Hardpoint. However, players will get the first chance to experience the newest mode in the franchise: War.
Designed for Call of Duty: WWII, War serves as an intriguingly different mode from its counterparts, in that it is narrative-driven. Comprising of multiple stages, where your team has to complete a set of objectives. Meanwhile, the opposing team will try to stop from doing so.
Offering more complex goals than modes such as Team DeathMatch, War looks set to challenge players on their strategy and teamwork. Whether it will become received well may lie in the private beta.
In addition, you can play the modes in three, different maps. From the French cliffs of Pointe du Hoc, rural Ardennes, and warm Gibratalar, all these locations contained numerous battles throughout the Second World War. Meaning players will experience the brutality of the infamous war.
But will Activision accurately portray its horrors? We may soon find out.
Also new to the COD franchise will be Divisions. This works similar to a class system, where fans can choose from a range of different options of how they want to play. Activision calls it a "reimagining [of] the create-a-class system", altered to fit the theme of the Second World War.
Players can choose from Infantry, Expeditionary, Airborne, Armoured, and Moutain. Each division will come with specific skills and training, related to weaponry and combat.
The private beta may serve as the ideal time to experiment with each of these strands, to see which one works best for you.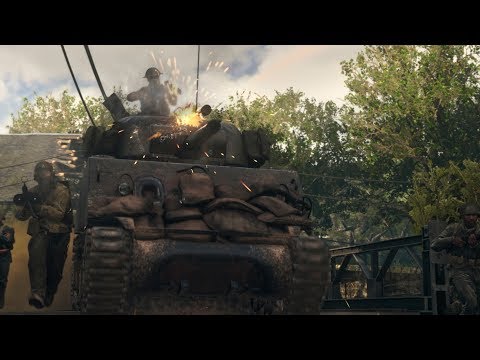 With much on offer for players, many will no doubt rush to get a pre-order of Call of Duty: WWII if they haven't already. The upcoming private beta looks set to act as an all-round first taste of the game.
However, many will feel disappointed with no glimmer of Nazi Zombies, which will feature in the full release.
But, with the chance to experience War and the new Divisions system, this should hopefully tide them over until 3rd November 2017, the game's release date.
Until then, keep your eyes peeled for both 25th August and 1st September, when the private beta begins!