"It was a true tale of endless love unfolding before my eyes."
Strictly Come Dancing is down to seven celebrity and professional couples.
With three more weeks until the Grand Final, the dancing pairs face double the pressure as they perform two separate dances this week.
First up are Kellie and Kevin who perform a Salsa to 'I Want You Back'. Kellie tries out lifts for the first time, and does incredibly well. The judges love the fun, Spanish style dance.
"There you were like two sizzling sausages on a barbeque … and your bum was bionic," says Len. The Strictly pair are awarded 34 points.
Next, Katie and Anton face an Argentine Tango to Ástor Piazzolla's 'Libertango'. Katie looks stunning in a high slit green dress that perfectly shows off her killer legs.
Bruno thinks: "Drop dead gorgeous. A high-class courtesan with an irresistible appeal." He praises Katie on her clean lines, but wishes her hooks were a bit sharper.
Craig agrees saying that Katie reacted a bit late to Anton, but thought it was 'wonderful'. They score 32 points.
Helen and Aljaž take on a traditional Viennese Waltz to 'At Last' by Etta James. Helen has a lot to prove as she was criticised by the judges last week.
But this week's performance is nothing short of beautiful. Helen glides across the dancefloor and makes it look effortless.
Craig is very pleased: "Beautiful rotation around the floor. The storytelling I have to say was absolutely excellent, in and out of hold. I thought it was absolutely gorgeous."
Helen's hero, Darcey adds: "You are such a treasure to watch. It was that close to perfection."
Len adds: "Dancing is a marriage between music and movement and that was a match made in heaven." The Strictly pair score a brilliant 39 points.
Jay and Aliona take on the Tango to classic Prince's 'When Doves Cry'. With great footwork and drama throughout, the judges are impressed with the intensity.
Darcey says: "Oh my! You were just working as one. It was superb." Len calls Jay a 'chess master': "That was a mango of a tango. Delicious," he adds! The pair score a high 38 points.
Next up are Peter and Janette, who were in the bottom two last week. Peter's confidence has been knocked. They dance an American Smooth with cupcakes. The judges have mixed responses.
Len says Peter's performance was good, and enjoyed watching the pair dance. Bruno adds that he got a 'sugar rush'. Craig says: "I would like to have seen longer lines. But I love your performance skills."
They score 31 points.
Anita and Gleb are next with a 'Rumba'! They perform 'Read All About It', and Anita looks angelic in a white flowy dress, and Gleb brings out more contemporary choreography.
Bruno loves it, saying: "It was a true tale of endless love unfolding before my eyes. At the beginning of this competition, everything you did was so angular. All that has just gone like magic."
But Craig disagrees, saying: "I felt it was a little bit spiky for my liking, I felt there was a little bit too much attack.
"I do love the contemporary feel of this dance, I love what you've done with it Gleb, absolutely love it."
He adds to Anita: "You have turned into a very fine actress."
Darcey adds: "For me that was a very polished performance. Your focus, your intent. I believe in you. He is working you well, he really is."
Len however, puts a dampener on things, saying: "I didn't enjoy it. Rumba is a story of a developing romance."
He picks up on an illegal lift and the lack of basic Rumba steps: "You know I'm a fan. Sorry, it wasn't my cup of tea."
They score only 31 points which takes them to the bottom of the leaderboard along with Peter and Janette.
Watch Anita and Gleb's Strictly performance here: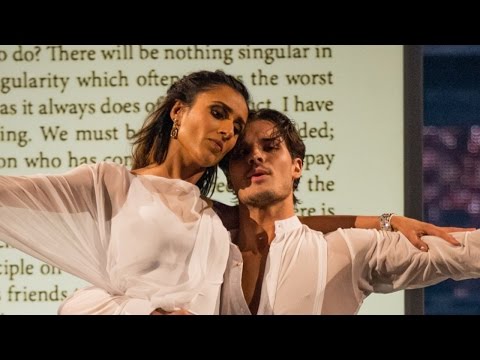 Finally, its Georgia and Giovanni who do an intense Paso Doble to 'The Final Countdown'. Georgia is fierce, and a little too aggressive for Len's liking, but overall the judges are pleased.
Craig says: "What a dynamic routine, fantastic!" They score a good 33 points.
With one dance down, the Strictly couples now face a 'Quickstepathon', which sees them all on the dancefloor together. There are seven points up for grabs, as the judges rank best to worst.
There are rules, and they must perform anticlockwise across the floor and stay in hold at all times. It's a struggle for the male celebrities who have to lead, and Peter and Janette are scored the least by the judges, giving them only one extra point.
Anita and Gleb do well to come fourth, which gives them 35 points in total for this week. On top are Helen and Aljaž who are awarded the maximum seven points taking them to 46 points.
With Anita and Gleb at the bottom end of the leaderboard alongside Peter and Janette, could this be bad news for our favourite couple?
Find out who will survive to dance another day on November 29, 2015, at 7.20 pm on BBC One.