"It cuts across all sections of the audience"
Akshay Kumar has hit back at the critics and those doubting his filmy success by having a massive box-office hit, in his action caper called, Rowdy Rathore.
Rowdy Rathore marks Akshay's return to action films after a long time. This film is a masala film in which seems to be a winning formula within the Bollywood Film Industry. The film has action, comedy, romance, great music by Sajid Wajid and death-defying stunts. All of these elements showcase how versatile Akshay is as an actor. A huge winning factor of the film is the romantic portions with co–star Sonakshi Sinha (Dabaang).
Akshay Kumar who is 44, started his career in 1991. He was most famous for his action films and his death-defying stunts. In 2001, he started a new branch in his life as he starred in the hit comedy film Hera Pheri. Since then he has starred in a numerous number of comedies. Most of these have been hits, however he has seen his share of unsuccessful films.
Kumar had five unsuccessful films in 2009 and most people started to write him off. However, he fought back in 2010 with Sajid Khan's em>Housefullwhich was a blockbuster, and also Akshay's highest grosser.
In an interview in 2011, the director of Housefull Sajid Khan said: "2012 will be Akshay's biggest year an actor." At the time the director was not taken seriously until April 2012 when Sajid Khan's Housefull 2 starring Akshay Kumar was released and grossed over 175 crore at the box office, proving to be Akshay Kumar's biggest ever hit of his career.
In a recent interview Akshay was questioned about some of his films failing at the box office previously, he replied: "So what if four or five of my films didn't work? Every successful person has faced this kind of negativity. There have been times when Sachin Tendulkar was written off until he scored a 100 again; then the people criticising him will go ga-ga over him again."
It was after Housefull 2 he was taken seriously as an actor. In June 2012 Prabhu Deva's Rowdy Rathore released and broke all box office records and grossed in Rs66.5 crore(£77,80,500) on its opening weekend which again has created a new record. The film had a budget of Rs. 48 crores which meant the film began making a profit after the second day of release.
Here's the official trailer to the smash hit.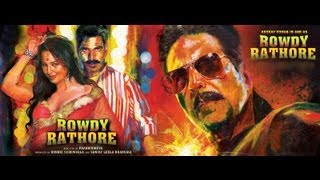 From the release date of Rowdy Rathore, the total global collection of the film has exceeded Rs113 crores (£12.9 million) which makes the film the blockbuster of 2012. When the film took an impressive Rs 15.10 crores on its opening day Akshay thanked his several fans on Twitter and tweeted:
"I owe a HUGE thank you to my audience! You are the only reason behind the biggest opening weekend of my career! Love Rowdy."
Critics also praised the film and Trade Analyst Taran Adarsh, who gave Rowdy Rathore a 4 star-rating, tweeted "#RowdyRathore collected Rs. 22 cr nett in Wknd 2, taking the total to Rs. 101.5 cr nett. Breakup:- Fri 5.1 cr, Sat 6.4 cr, Sun 10.5 cr +"
Rowdy Rathore is directed by Tamil choreographer and director, Prabu Deva (Wanted, Pukar) and also features the talents of producer Sanjay Leela Bhansali, who is famous for his directing credits for Black, Devdas, Hum Dil De Chuke Sanam and Saawariya. The film marks Sanjay Leela Bhansali's first attempt into the action genre.
Bansali said: "Luckily, all kinds of films are being made today. But the one genre that continues its successful run is the potboiler. It cuts across all sections of the audience."
The film had its problems. During the fliming of Rowdy Rathore, while shooting for an action packed climax scene, Akshay picked up an injury by hurting his shoulder.
Also, it was revealed that police denied permission for filming of Rowdy Rathore at the World Heritage Site 'Hampi,' following major protests from local activists and artists. Many people opposed shooting of a song and dance sequence, featuring Akshay and Sonakshi, along with many dancers, at several heritage sites including the Vijaya Vittala temple, Lotus Mahal, and Maha Navami Dibba.
Talking about action and fights, when he was questioned about some of the recent incidents involving Bollywood actors such as Shahrukh Khan's controversy at the Wankhede Stadium or Saif Ali Khan's controversy at the hotel with the South African businessman, Akshay said: "All controversies happen at night." He added: "There must be some reason behind what happened. We don't know whether it was right or wrong. There is always a reason for a brawl."
So we wonder if 2012 will be Akshay's most successful year? Will Akshay's next films be as successful as Rowdy Rathore? Like any success, once you make it you have to sustain it and in the Bollywood world, you have to beat it.
What did you think of 'Rowdy Rathore'
Mind Blowing (81%)
Liked It (12%)
Waste of Time (7%)
Loading ...