A story of unconditional love, music and comedy, this looks to be an unmissable feel-good film of 2018.
The official trailer for the upcoming Hindi musical Fanney Khan has released and is trending on Twitter as the buzz around the film grows.
Directed by Atul Manjrekar, the film stars the stunning lead actress and model Aishwarya Rai Bachchan, alongside the likes of Rajkummar Rao and Anil Kapoor.
Since Taal (1999) Aishwarya will be acting with the dynamic Anil Kapoor on the big screen for the first time in 17 years, and it's clear from the trailer that the three lead actors are at their very best for the film.
In the trailer, Aishwarya shows off her impeccable dance moves, expertly owning the stage as she is supported by a group of backup dancers for her role as the star singer Baby Singh.
The official Twitter account of the upcoming movie posted the trailer alongside the caption:
"Sapnon aur umeedon ki ek anokhi udaan bharne aa raha hai."
Sapnon aur umeedon ki ek anokhi udaan bharne aa raha hai #FanneyKhan! #FanneyKhanTrailer out now – https://t.co/rjDjClZ5Is @AnilKapoor #AishwaryaRaiBachchan @RajkummarRao @divyadutta25 @ItsAmitTrivedi @Irshad_Kamil @TSeries @RakeyshOmMehra @ROMPPictures @AtulManjrekar

— Fanney Khan (@fanneykhanfilm) July 6, 2018
Before now, we had only seen the advertised poster for the film. The poster showed Aishwarya's character, Baby Singh, looking perplexed whilst tied up to a chair.
She seems to have been kidnapped by Anil and Rajkummar's characters who are standing behind her looking just as confused about the whole situation, attempting to hide their identities.
Now we have confirmation from the much more detailed trailer regarding what exactly is going on in this poster.
In the trailer, we can see that the plot of the film surrounds a middle-class family man (titular character Fanney Khan), played by Kapoor, who dreamt of becoming a singing sensation in his youth.
Now his daughter wants to take to the stage, he does all he can to help her get there. He encourages her to pursue her dream, one that he will never get to live. However, it is not long before his daughter begins to question herself.
Once on stage for a singing contest, she is met with negative comments about her weight from the audience. The character begins to lose confidence in herself and her singing abilities.
To add a comical twist to the story of determination, Kapoor's character comes across the superstar character of Baby Singh and kidnaps her.
In a moment of madness, he spontaneously decides to kidnap the singer. With the help of Adhir (played by Rajkummar Rao), they take the actress hostage.
Baby Singh looks unimpressed with the amateur attempt at kidnapping. She deals with them in a calm yet slightly annoyed manner as the two kidnappers naively discuss how much money to ask for, giving off comical vibes.
However, it's not long before we begin to see this film take another turn. With Baby Singh and Adhir left together, the two seem to grow closer, showing hints of chemistry. Perhaps this comedy will be more of a rom-com in parts?
Billed as a unique flight of dreams and expectations, there's no doubt that the popularity of this upcoming movie will demand that it live up to those expectations.
A roller-coaster of genres and emotions, this musical film has something for everyone.
Check out the Official Trailer for Fanney Khan below!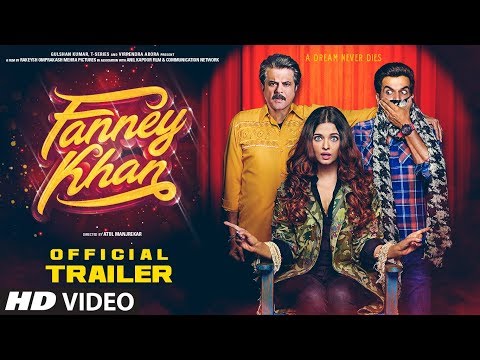 Whilst the trailer is much more of an insight into the film than the previously released teaser and poster, we are still left wanting more!
A remake of the 2000 Belgian satirical comedy Everybody's Famous!, this is a truly heartwarming story. It shows exactly how far a father will go to help his daughter reach her dreams.
A story of unconditional love, music and comedy, this looks to be an unmissable feel-good film of 2018.
Directed by Atul Manjrekar, Fanney Khan is set to be released 3rd August 2018.