Chutney has always been a popular condiment in Desi dishes
If you're a foodie or like keeping up with the most recent food trends; then it will come as no surprise that summer 2017 has brought a flurry of food crazes.
Picnics and alfresco dining are all the rage when it heats up. Who doesn't want to impress with fancy food at their BBQ? Especially if you're entertaining friends and family.
Even if you're not planning a get together, these food fads are guaranteed to be a hit within the kitchen too! And the good news? Most of them are healthy and low in calories!
DESIblitz presents some great summer food trends for you to try yourself.
Chutneys, Ferments, and Pickles
The words 'ferments' and 'pickles' probably conjure images of your grandma's pantry. However, these old-school condiments have been making a huge return this summer.
Chutney has always been a popular condiment in Desi dishes. But food magazines and chefs alike are pairing this chunky chutney with pickled and fermented vegetables and popping them on to of burgers, sandwiches, and various cuts of meat.
Fermenting and pickling are both used in countries such as Japan to preserve food. But did you know it can also help with your health? Chutney, ferments and pickles are friendly for your stomach and colon. They help with things like IBS, bloating, low energy, and fertility.
Why not have a go at whipping up one of your own delicious condiments in the kitchen? Pop them on top of your freshly barbequed burgers. Or even try them with things such as lamb shanks or mixed into salads!
The beauty of chutneys, ferments and pickles is that they go with everything! The possibilities are endless.
Decorative Ice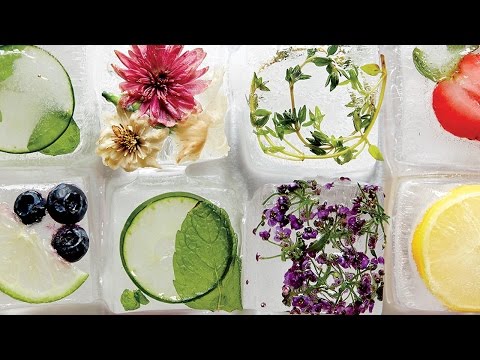 We know, it sounds extremely pretentious. But as summer food trends go, decorative ice has become all the rage.
That's right, ice is no longer just used to keep your drink cool. Food tutorials, glamorous magazine shots, and even recipe channels have showcased how to make and use decorative ice cubes. Granted, it makes every drink you make look dainty and summery but is it just for show?
You can make your own decorative ice at home by adding flowers and herbs to your ice tray. However, dependent on what you pick can infuse your drink beautifully.
Try making mint ice cubes to add to your delicious mojitos, or adding lime infused cubes to a refreshing gin and tonic.
You can also make child friendly ones with different coloured food colouring or fruit juices!
Alcohol Free Mocktails
With a large rise in people saying no to alcohol it comes as no surprise that 'mocktails' are on the rise!
The brilliance of mocktails is they can be made from anything. No matter what ingredient you add to them they are still delicious. And guarantee you won't be waking up with a headache the next day!
Summer flavours include; watermelon, strawberry, and vanilla infused mocktails. They can be made with everything from fruit juice to milk and even ice cream for those extra hot days!
If you're looking for inspiration, or something a little out of the ordinary, check out our top mocktail recipes here.
Root Veg Crisps
Gone are the days where the humble potato was the only vegetable that could produce the perfect crisp.
Sweet potato, turnip, beetroot and even carrots are being used to create crisps now. Most major crisp companies, supermarkets, and health food chains now stock their own takes on root vegetable crisps. Various flavours and types are available almost everywhere now!
Whilst they are a brilliant centrepiece for any buffet table because of their bright and vibrant colours. They also taste amazing and are half the calories!
The oddly coloured crisps are also gluten free and friendly for vegans and vegetarians. A perfect side snack or starter for any BBQ or family lunch!
Check out your local supermarket for the latest range of flavours and vegetables that are available!
Sweet and Spicy Desserts
The sun isn't the only thing heating up this summer.
One thing that has become incredibly popular in restaurants recently is the combination of sweet and spicy flavours.
We've seen it with savoury dishes but how would you feel about it in a dessert?
Whilst a lot of Desi inspired cooking has always combined the heat of spicy with the sweetness of sugars, it has only recently come into limelight in regards to recipe channels and mainstream cooking.
We all know chilli chocolate is a big hit worldwide but why not try combining crepes with strawberries, syrup and black pepper. The mixture of the fruity sweetness and the black pepper kick is a delight for the palette.
Why not give some of your own recipes a go. Try combining chilli with chocolate chip cookies. Or tobacco with ice cream! Guaranteed to be a hit this summer.
So why not give some of these summer food trends a go? Guaranteed to be a conversation starter at any barbeque and keep you bang up to date with the latest food trends of 2017!