"I'm very honoured and very happy to win this again and long may it continue."
The second ever Asian Cricket Awards (ACA) took place at Lord's: The Home of Cricket on the evening of 13th October 2015.
A star-studded event, prestigious guests from the sporting and entertainment world arrived, including former Pakistan opener turned commentator Amir Sohail, England fast bowler Angus Fraser, Manish Bhasin, Noreen Khan, members from the ECB and Ravi Bopara.
To mark the achievements of British Asian talent in cricket, BBC Radio presenter, Nihal Arthanayake was the anchor for the night.
He said: "It is such an achievement for the Asian cricket awards to be able to do this here at Lord's and we couldn't have done it without the support of the English Cricket Board (ECB)."
Singer and songwriter Navin Kundra, who looked extremely dapper in his blue suit, provided the entertainment for the night. The popular British Asian gave a rendition of his new cover song '50 Shades of Grey'.
The significance of the night is to award recognition and achievement to British Asians, who have given their all to progress to the highest standard possible throughout their sporting career.
Every role is taken into consideration whether it is behind the scenes leading up to Lifetime achievements.
Baroness Sayeeda Hussain Warsi, who was one of the guest speakers of the evening started the proceedings.
She was followed by Co-Founder of ACA, Baljit Rihal, who thanked everyone for all their hard work and effort in making these awards a great success:
"The Asian Cricket Awards aim to increase the awareness of the positive impact made by British Asians within the cricket industry."
The first award winner of the night was Dr Harjinder Singh for his 'Behind The Scenes' efforts, whilst Azam Riyard won the 'Grassroots Award'.
Haseeb Hameed who is only 18 and plays for Lancashire CCC and has represented England at U19 won the 'Professional Young Player of the Year' award.
Here are our video highlights from the night: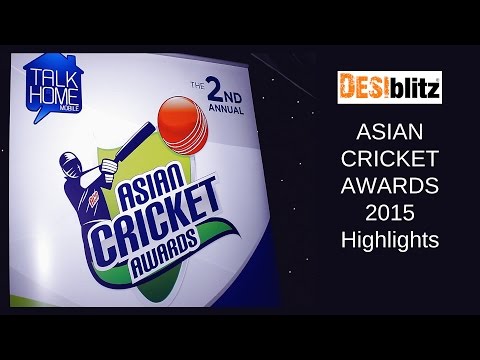 Retuning winner, Salma Bi picked up the 'Inspiration Award' and later tweeted:
"I won!! I'm sooo surprised but such an Amazing Moment! My Husband with me this year, It's been an Emotional Year! ThankYou."
I won!! I'm sooo surprised but such an Amazing Moment!My Husband with me this year, Its been an Emotional Year! ThankYou @ACricketAwards ???

— Salma Bi (@FalmerSalma) October 13, 2015
The 'Woman in Cricket' was awarded to a notably shocked Sonia Odedra, while 'Coach of the Year' was Saba Nasim.
Baron Patel of Bradford, OBE said: "Baljit and Jass Jassal have done a great job creating these awards as it is really difficult to break into an area at this level. These awards are the beginning of a journey to recognise South Asian talent."
In between the awards ceremony there was a short Q&A session on stage hosted by an award winning journalist and author Mihir Bose with Vikram Solanki and former Pakistan bowler Azhar Mahmood.
There were a lot of fresh faces mixing with former and current cricketers and the buzz around the arena was quite electrifying.
Amongst those was last year's winner of 'The Founders Special Recognition Award', Wasim Khan MBE, and newly appointed CEO of Leicestershire CCC.
Khan said: "My aim as the new CEO was to engage more with the Asian community in Leicester which has not been done for years and which is a passion of mine and is something I really want to address."
The Founders Recognition award went to Munir Ali, and former Surrey, Worcestershire and England player, Vikram Solanki.
The Asian awards recognises the vast contribution of British Asian talent in Sport, however there is still a lack of Asian's in the professional arena and this needs to be addressed further.
One of the few British Asians to establish himself in cricket is Ravi Bopara of Essex and England. The Essex all-rounder having played Test, T20 (domestic and international) and ODI's.
Host Nihal interviewed him on stage and the Essex all-rounder revealed he had signed a new two year contract with the club.
The most eagerly award of the night was the 'Professional Player of the Year'.
For the second consecutive year, England International and Worcestershire CCC player, Moeen Ali, walked away with the award.
However due to his England commitments his jubilant and proud father, Munir Ali picked up the award on his son's behalf.
Moeen, who is currently in the United Arab Emirates said: "I'm very honoured and very happy to win this again and long may it continue."
Here is the full list of winners for the Asian Cricket Awards 2015:
BEHIND THE SCENES AWARD
Dr Harjinder Singh (consultant in sport and exercise medicine, Leicestershire CCC, Leicester City FC)
GRASSROOTS AWARD
Azam Riyard (Crawley Eagles CC)
FOUNDERS SPECIAL RECOGNITION AWARD
Munir Ali (Moseley Ashfield CC)
PROFESSIONAL YOUNG PLAYER OF THE YEAR AWARD
Haseeb Hameed (Lancashire and England U19)
WOMAN IN CRICKET AWARD
Sonia Odedra (Nottinghamshire CCC and England)
FOUNDERS SPECIAL RECOGNITION AWARD
Vikram Solanki
COACH OF THE YEAR AWARD
Saba Nasim (ECB 2015 coach of the year)
ECB DIVERSITY AWARD
Ali Abdi – Glamorgan CCC & Cricket Wales
INSPIRATION AWARD
Salma Bi (Worcestershire CCC)
FOUNDERS LIFETIME ACHIEVEMENT AWARD
Mihir Bose
MEDIA AWARD
Nikesh Rughani (BBC Sport, Sky Sports, BBC Asian Network)
ASIAN CRICKET CLUB OF THE YEAR
Attock CC (Birmingham) & Batley CC (Yorkshire)
PROFESSIONAL PLAYER OF THE YEAR AWARD
Moeen Ali (Worcestershire CCC and England)
The second Asian Cricket Awards were a resounding success and a credit to both Baljit Rihal and Jas Jassal for creating these awards.
Huge congratulations to all the nominees and winners of the Asian Cricket Awards 2015 for all their efforts and hard work in getting British Asians recognised in sport.