from the Punjabi city of Amritsar to the stunning mountain views of Shimla
DESIblitz, in association with Network Distributing, is giving away a free copy of the fantastic BBC series, Great Indian Railway Journeys on DVD.
Series 1 of this incredible cultural documentary follows railway enthusiast Michael Portillo as he travels through the hot and vibrant nation of India on one of the world's largest and most intricate rail networks.
From Amritsar to Shimla, and Lucknow to Kolkata, Portillo discovers that travelling on an Indian train is a truly unique experience.
Since they were first introduced to the country, India has held a strong, and sometimes violent, relationship with trains. Incredibly, the first railway journey was recorded in 1853 between Mumbai (then called Bombay) and Thane only 34 km away. A year later came the first passenger train, and over the next 50 years, trains became an integral part of Indian life.
A unifying means of transport between the different states and cities meant that the incredible diversity of communities, dialects and cultural traditions of Indians were able to mix and integrate with each other.
Following the 1947 Partition of India to create Pakistan and later Bangladesh, railways became an even more important way for citizens to cross borders.
Today, millions of Indians will travel on the railways to get from city to city.
From chai wallahs to overcrowded carriages, the true sights, smells and venerable landscapes of this great nation can perhaps only be properly witnessed atop an Indian train, as Portillo finds out on this enlightening cultural journey.
Watch a clip from Great Indian Railway Journeys here: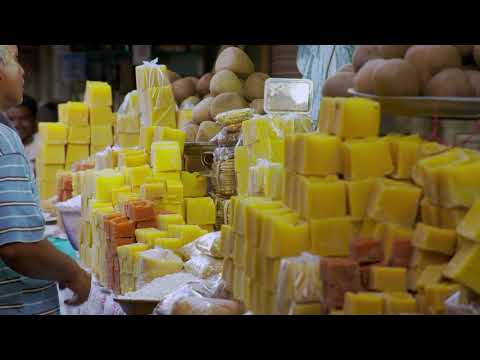 In each of Michael's four railway journeys, he explores a different corner of India. Disc One of the DVD follows Portillo from the Punjabi city of Amritsar to the stunning mountain views of Shimla, the foothills of the Himalayas.
He also travels through the Thar Desert in Rajasthan from Jodhpur to the Indian capital of New Delhi.
On the second disc, we see Michael make his way to India's southern states of Karnataka and Tamil Nadu, as he travels from Mysore to Chennai. His final epic journey takes him from the Mughal heart of Lucknow to West Bengal's Kolkata.
With a 1913 copy of Bradshaw's Handbook of Indian, Foreign and Colonial Travel in his hand, depicting India during the British Raj, Portillo compares how India has evolved and moved on from its colonial past post-independence.
An enlightening and educational voyage of one of the most intriguing nations in the world, Series 1 of Great Indian Railway Journeys is a fascinating and unmissable watch.
GREAT INDIAN RAILWAY JOURNEYS COMPETITION
We have one DVD to give away to one lucky winner.
To win a free copy of GREAT INDIAN RAILWAY JOURNEYS – SERIES 1, first follow us on Twitter or Like Us on Facebook:
Then, simply answer the question below and submit your answer to us now!
One entry will allow you to win one DVD copy. Duplicate entries will not be accepted.
The competition closes at 12pm on Wednesday 9th May 2018. Please read the Terms and Conditions of the competition below before entering.
Terms & Conditions
DESIblitz.com is not responsible for and will not consider incomplete or incorrect entries, or entries submitted but not received by DESIblitz.com for any reason, as potential competition winners.
To enter this competition, you must be at least 18 years old or older.
The winner will be contacted at the "sender" email address or telephone number that was used to enter the competition and the "sender" will be considered as the sole winner.
No more than one entry per email address is permitted and will be considered.
You hereby agree to hold DESIblitz.com and its affiliates, owners, partners, subsidiaries, licensees sponsors and assigns harmless from and against, and hereby waive any right to pursue, any claims of any nature arising in connection with the inclusion in, publication via or display on any DESIblitz.com site or this competition, or any other use authorised under these Terms, of any photo or information submitted to DESIblitz.com by you;
Your Details – In order to claim a winning entry, the entrant supply DESIblitz.com with his/her legal name, a valid email address, and telephone number.
Winner – the winning entrant of the competition will be selected using a random number algorithmic process which will select one number from only the correctly answered entries input serially into the system. If details supplied by any winner are incorrect, then their ticket will be offered to the next random number from the winning entries.

DESIblitz.com will communicate with the winner via the email or telephone provided. DESIblitz.com is not responsible for emails not getting to the user, nor responsible for the quality of the seats, if show times or dates change, and is not responsible for anything that happens before, during, or after the event.
The winner may not request substitutions of winnings. The winner is solely responsible for any and all taxes and/or fees, and all such additional costs that may be incurred after or before they receive the tickets.
DESIblitz.com, nor employees of DESIblitz.com or partners may be held liable for any warranty, costs, damage, injury, or any other claims incurred as a result of any winnings of a prize.
DESIblitz.com is not liable for any loss arising out of or in connection with or resulting from any competition promoted by DESIblitz.com.
DESIblitz.com does not accept responsibility for: (1) lost, late or undelivered entries, notifications or communications; (2) any technical, computer, on-line, telephone, cable, electronic, software, hardware, transmission, connection, Internet, Web site, or other access issue, failure, malfunction or difficulty that might hinder the ability of an entrant to enter the competition.
DESIblitz.com disclaims any liability for inaccurate information, whether caused by the Web site, its users or by human or technical errors related to the submission of entries. DESIblitz.com makes no warranties or guarantees in relation to the prizes.
No purchase is necessary to enter the competition. Details given in the entry to the competition will only be used by DESIblitz.com in accordance with its privacy policy and consent communications from DESIblitz.com
By entering the competition, entrants agree to be bound by these Terms and Conditions which are governed by the law of England and Wales. DESIblitz.com and all entrants irrevocably agree that the courts of England and Wales shall have exclusive jurisdiction to settle any dispute which may arise in connection with these Terms and Conditions and submit all such disputes to the jurisdiction of the courts of England and Wales, provided that for the exclusive benefit of DESIblitz.com shall retain the right to bring proceedings as to the substance of the matter in the courts near an entrant's residence.
DESIblitz.com reserves the right to alter any rules of any contest at any time.