"Music is energy and has the power to transform your life"
Unnati Dasgupta is a talented and proficient musician deriving from an Indian classical musical background.
The British Asian singer is also a music composer and remains hopeful of becoming mainstream and touring her music globally. Being brought up in Finchley, North London, Unnati originates from a musically rich family.
Her late father Nitai Dasgupta (1934-2003) was a great pioneer and a recording artist. Interestingly, he was one of the earlier artists to introduce Indian classical music to Britain.
For instance, in April 2019, his cult LP album 'Songs of Love' (1972) was reissued, allowing his original classics to be heard again on streaming platforms.
As of 2020, Unnati will be hoping to emulate her father's musical success, following the release of her brilliant single 'Ye Raatein' (2020).
Her single is a Duggal-produced Hindi pop ballad featuring various instruments such as guitars and powerful kit drums.
Furthermore, Unnati's debut album 'Indigo Soul' is scheduled to release on February 28, 2020. It is also an exciting opportunity for her to display her musical ability.
Her album will undoubtedly demonstrate her versatility as she challenges many different genres. These include Indian Classical music, Jazz and Pop.
DESIblitz had an exclusive interaction with Unnati as she covers all bases with regards to 'Yeh Raatein' (2020) and her debut album.
Could You Describe Your Journey Into the Music Industry?
I come from an Indian Classical musical family, my father the late Nitai Dasgupta was an Indian Classical vocalist originally from Bengal.
My father moved to London in the 1960s and I was raised in North London.
My earliest childhood memories were all based around music as I grew up training vocally from my father in Indian Classical vocal, bhajan, ghazal, film songs.
Alongside I learnt Indian Classical dance like Kathak and Bharatnatyam. With instruments, I play many including piano, violin, harmonium, tabla and guitar.
I was performing and recording with my father during his UK & European tours from a young age. Also, I was recording with my father during his album recordings from an early age too.
My father recognised I had potential to be a professional singer from a young age and so he encouraged me to pursue it as a career.
So, I've organically become part of the British Indian music industry since I was a teenager.
Singing and songwriting was always innate and so it was a natural progression for me to become a performing and recording artist who songwrites her own songs and tours around the world.
Is There a Story in the Song Ye Raatein?
'Ye Raatein' (2020) is an Indi-Pop song and it is a song about being in love with someone, being in their arms and experiencing a feeling at oneness in this all-embracing love.
I am releasing my album 'Indigo Soul' on February 28, 2020, and this song is my next single I'm releasing from the album.
The vision behind the album is to spread love, light and healing out into the world musically. I have always believed that music is energy and has the power to transform your life.
Many people visit the doctor when they are unwell, I tend to be quite holistic in my approach to medicine and I have always managed to heal my life through music.
"Music for me is medicine for the mind and for the soul.  In a world full of many negativities, music is my haven."
It is where I go to release my emotions where I need solace and it has a sacred place in my life.  For me, writing and performing music is an incredible healing experience.
In that vein, I sing and perform my songs with a transmit that is healing to audiences, through my voice.
What Was the Concept Behind the Visuals of Ye Raatein?
The video was conceptualised and directed by a close friend and celebrity photographer Ram Shergill.
It was his vision to create a video with me at the focus as a musical muse, a fashion icon and a world superstar.
I remember the first time I met him, he said to me:
"I love your voice and your energy, you sing like a superstar, I want to help you to create your brand".
He really believed in me so I asked him to direct my video. So in the video, I was directed to sit and sing my song with a guitar covered in feathers.
Ram wanted to make the video, all about me and my stylist. He really created this amazing iconic look with beautiful jewellery.
A headpiece, with a huge diamonte encrusted earring, was styled to look modern and yet classically graceful. It gives an ethnic feel in an authentic way.
It was to align with the tradition and modernity of my music.
What Is the Significance Behind the Instruments Used in the Song?
With the instruments, I really wanted my music to have an Indi Pop feel to stay true to the genre.
So, the tracks are quite electric and bass guitar-driven with beats and a chilled out vibe to a Hindi song with my vocals upfront.
The choice of instrumentation is modern and brings out the dreamy essence of the song, being that it is a love song!
What Was the Meaning Behind Calling Your Album Indigo Soul?
In relation to the album, the name 'Indigo Soul' (2020) is titled after the colour of the ajana 'third eye' chakra.
It is the site of intuition and generator of creativity. It is also a reference to the concept of 'indigo children'.
Meaning the notion that there are those, more empathic and imaginative than most, who have been put upon this earth to change it.
I have always felt I am part of this tribe of visionary artists wanting to change and transform the world to be a better place.
Does Your Music Involve Jumping Between Different Genres?
My music album is a crossover album; it fuses Indian Classical, Spiritual, Pop and Jazz.
As I am a British Indian artist I have had a varied influence musically and this comes out in my music-making.
My music has been described as Indo Jazz and Indo Pop for that reason.
On my album 'Indigo Soul' (2020), I have mixed Sufi with Jazz, Bhajan with Pop, Gujarati folk with Pop and Rajasthani Folk with an acoustic jazz feel.
"The backbone of my album is 'Ragas' given my Indian Classical training."
'Desh Rain' (2020) is based on the Raga Desh and is all about love in the rain. 'Teri Yaad Aati Hain' (2020) is a Sufi track and has been based on Raga Gurjari Todi.
So, my music represents me as a British Asian with Indian heritage but also as a Londoner with influences of Pop, Jazz, acoustic and chill out music.

Which of Your Songs Stand out From the Album Indigo Soul?
I love many of the tracks on 'Indigo Soul' (2020). For example 'Kesariya Balam', 'Teri Yaad Aati Hain', 'Desh Rain' and 'Om Namah Shivay' are a few.
Each track certainly has a different sound and vibration, so there is always something for everyone.
The album organically flows with peaks and soulful points. My aim with the album was always to create a sonically healing experience for listeners. I hope I've done this!
What Is Your Opinion of the Music Scene Today?
Personally, I think the music scene today is an exciting place but it is still largely dominated by men.
So I feel it is time for festivals, promoters, record labels and venues to actively ensure there are more opportunities for women in music.
We are still largely under-represented with just under 20% of signed label acts being women. I feel as women we face more challenges as artists.
I actively want to help more women into the music industry and mentor talented female acts as I myself have been fortunate to have had good music mentors.
Who Do You Look up to Musically?
There are so many musical artists that inspire me, it is hard to just pick one!
My father Nitai Dasgupta was extremely influential but also Abida Parveen, Nusrat Fateh Ali Khan and Ravi Shankar.
"Not to mention I also admire the likes of A.R Rahman, Dua Lipa, Beyonce & Whitney Houston!"
I have a varied music collection from different genres, which has inspired me to challenge different music styles.
Which Artists Do You Dream of Working With?
If I had the chance of collaborating with a Desi artist, I would definitely love to work with A.R. Rahman & Niladri Kumar.
In terms of Pop artists, I would dream of working with Beyonce, Dua Lipa, Mabel and Sam Smith!
What Is Next for You in Your Career?
The next stage for me in my journey is releasing my debut album 'Indigo Soul' (2020). After that, I'll be touring the UK from May 2020 onwards.
I'll be writing a Pop EP on the road too which I'm really excited about mainly because it is something new for me to take on!
What Is the Ultimate Goal for You?
Ideally, I really want to tour in the likes of the USA and India, for the sake of my music.
"Also, I am aspiring to keep on releasing more new albums and spreading my music all over the world!"
Watch Yeh Raatein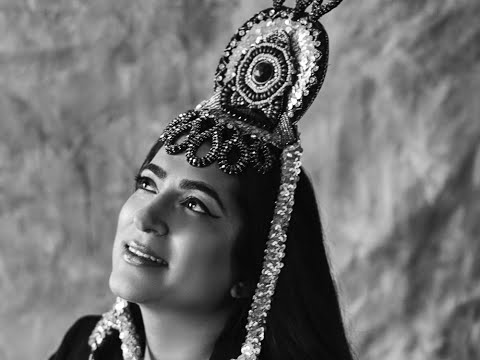 The purity of 'Ye Raatein' (2020) shows early promise for what should be a successful album release. Unnati's capability of mastering her vocals on versatile sounds is certainly appealing to the listeners.
Taking the musical legacy of her late father and tailoring her music with her own contemporary twist, highlights her flexibility as a composer.
Already Unnati has been performing on huge stages showing a tremendous amount of confidence. These include Soho Jazz clubs, Royal Albert Hall, and on the main stage at WOMAD.
Be sure to look out for details about Unnati's new album and music information here.
Or you can keep up to date with Unnati's music on her Instagram, Facebook, Twitter, and Soundcloud.