"Mohit finds himself caught up in his work planning for the future."
Popular Indian video streaming site, MX player release the trailer for the film, Wishlist by International filmmaker Rahat Kazmi.
The trailer made its way to YouTube on December 8, 2020. The film releases through the MX Player platform on December 11, 2020.
The MX Orginal movie features Hina Khan (Shalini) and Jitendra Rai (Mohit) in lead roles.
Wishlist follows the story of a young workaholic couple, burning the midnight oil at their jobs and living for their future.
Their lives turn upside down when one of them finds out they have an incurable disease. Instead of living for one day, they decide to travel the world fulfilling their wishlist before the inevitable.
The trailer of Wishlist is packed with forgotten dreams, heart-warming moments and many realisations about love and life.
Wishlist promises to be an intriguing drama full of twists and turns.
Watch the trailer for Wishlist here: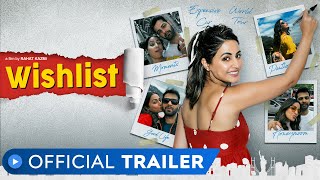 Speaking about the shoot and her director Hina Khan said:
"Wishlist was shot in 2019, all over Europe, alongside the amazing filmmaker Rahat Kazmi."
Hina also went on Instagram to share the release of her film, posting:
Before Wishlist, Hina Khan and Rahat Kazmi had also collaborated on other film projects. This includes the Lines and Country of Blind.
Kazmi is a reputable filmmaker who has made internationally award-winning movies. Many of his films have also made premiers at festivals around the world.
Talking about Wishlist and working with Hina, Rahat exclusively told DESIblitz:
"It has been an amazing experience working with Hina and the team in Wishlist. We have all at some point given up on our dreams and desires for other commitments.
"Through this film, all we want to tell everyone is that it's never too late to find happiness.
"Wishlist is about believing in the individualistic meaning in life and coming to terms with it."
Eminent British-Indian actor Jitendra Rai is starring opposite Hina, playing the lead role of 'Mohit' in the film.
The actor has also done a great job in the film as evident in the trailer. Talking about his role, Jitendra exclusively tells DESIblitz:
"I play the character of Mohit in the film wishlist. Mohit finds himself caught up in his work planning for the future. As a result, a distance emerges between him and his wife Shalini during his daily life.
"Life hits him with terminal cancer with only a couple of months to live.
"At that moment he retrospects and sets out to Europe with his wife to fulfil their forgotten bucket list. Eventually, Mohit accepts death gracefully."
The movie also features for the first time top French producer François d Artemare in a leading role.
The cast for Wishlist also includes Namita Lal. She has also featured in Rahat Kazmi Films, including Lihaaf (2019).
In addition to the Singapore-based actress, Monica Aggarwal, Neelu Dogra and child actor Dhruvin Sanghvi all have pivotal roles.
The film is a presentation of Rahat Kazmi Films, Tariq Khan Productions and Zeba Sajid Films.
Additionally, Wishlist produced by Hiros Faar Better Films and Riaan Rai Productions (UK) and Piku Arts (Singapore). This is in association with Ahmed Abbas Films & Assad Films.