"I need to pave the way for other Indian women."
Throughout the history of World Wrestling Entertainment (WWE), we have witnessed a handful of Indian wrestlers.
Some of these Desi performers have created quite an impact in the world of sports entertainment.
In the late 90s, we were introduced to Tiger Ali Singh who was one of the first prominent Indian performers in the company.
However, it was grapplers like The Great Khali and Jinder Mahal that left their mark. Both men rose to the top of the company after capturing the most prized championships.
It seems women from India are also eager in contributing to the WWE Evolution. This is like a women's empowerment movement to prove such female wrestlers are just as valuable as the men.
Kavita Devi will go down in the history books as the first Indian female wrestler to sign with WWE. She looks to kick down doors for her fellow Indian sisters.
Whilst WWE continues to broaden its roster, we take a look at the few Indian wrestlers who have competed on WWE television.
Gama Singh
Gadowar Singh Sagota from Punjab, India joined his father in Canada in 1963 at the age of 9. Known to the wrestling world as Gama Singh, he excelled in amateur wrestling during his teenage years.
He began his professional wrestling training in the early 1970s under the legend, Stu Hart (CAN).
He spent the majority of his career as one of the biggest villains of Stu Hart's Stampede Wrestling in Calgary, Alberta, Canada.
Here, he wrestled as 'The Great Gama', a reference made to the famous Desi wrestler, Ghulam Mohammad Baksh 'The Great Gama' (1878-1960).
In the early 1980s, he started wrestling for the World Wrestling Federation (WWF).
He performed mainly at untelevised events and during overseas tours as the company were on the lookout for an Indian wrestler to perform in the Middle East.
He made a couple of televised appearances, defeating Juan Rodriguez 'Johnny Rodz' (USA) on WWF Prime Time Wrestling.
Singh made another appearance in an interview with Vince McMahon (USA) on an episode of Tuesday Night Titans during June 1985.
Gama was a solid mat-wrestler, occasionally scaling the ropes. However, he often resorted to dirty tactics whilst the referee's back was turned.
Unfortunately, his WWF career did not take off but his work does not go unnoticed in other promotions. Post-retirement, Singh began working for US promotion, Impact Wrestling.
His role is managing the team, 'Desi Hit Squad,' which includes wrestlers of Indian descent.
Singh's brother Akam (no relation to WWE's Akam) and son, Gama Singh Jr are also professional wrestlers. His nephew is former WWE champion, Jinder Mahal.
Tiger Ali Singh
A second generation superstar, Gurjit Singh Hans, competed under the name 'Tiger Ali Singh.' Singh, an Indo-Canadian wrestler is a son of Indian wrestling legend, Tiger Jeet Singh (IND).
Tiger's ring name takes inspiration from his father and favourite athlete, boxing great Muhammad Ali.
Singh headed for Japan to train in the New Japan Pro Wrestling (NJPW) dojo for six months before moving onto kickboxing training in Thailand.
Tiger teamed up with his father for his in-ring debut in the Japanese promotion Frontier Martial-Arts Wrestling (FMW).
In 1997, Singh commenced a five-year tenure with the WWF where he was managed by his father for a short period.
Tiger's biggest accomplishment with the company is his 1997 Kuwait Cup tournament win. He defeated the late Owen Hart (CAN) in the final.
Singh is remembered for his character of an anti-American rich heir during the popular 'Attitude Era' of the WWF.
During this time, he was accompanied to the ring by his servant named Pablo Marquez 'Babu' (ECU).
He is notable for paying audience members to carry out embarrassing acts like kissing Babu with a mouth full of canned tuna.
US Olympic gold medalist and future 4-times WW(F/E) champion, Kurt Angle (USA) made his WWF debut during a segment featuring Tiger.
Singh instructed Angle to blow his nose into the US flag for $5000. Instead, Angle blew his nose into the Indian flag which resulted in a brawl that Tiger lost.
The combination of his wrestling and kickboxing training make him an excellent striker. Tiger's go-to move is a camel clutch to make his opponent tap-out.
Watch Tiger Ali Singh squash Adam Pearce here :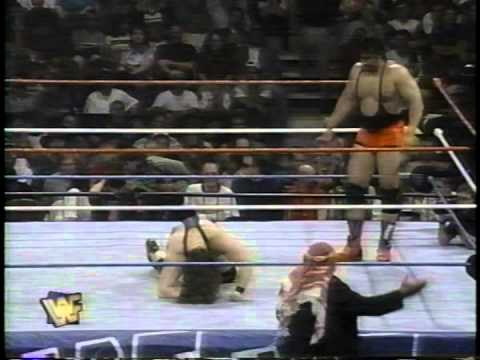 The Great Khali

The most iconic Indian wrestler of all time, Dalip Singh Rana, better known as 'The Great Khali' was born in Himachal Pradesh, India in 1972.
Notable for his height, Khali stands at 7 feet 1 inch (2.16m), making him the fourth tallest wrestler in WWE history. He suffers from acromegaly, which results in his gigantism.
Throughout his career, Khali appeared in numerous Hollywood and Bollywood productions such as MacGruber (2010), Kushti (2010) and Ramaa: The Saviour (2010).
The former Punjab police officer wrestled in Japan and Mexico before signing with WWE in 2006.
Due to his lack of English skills, Khali was managed by his interpreter, David Kapoor 'Ranjin Singh' (USA), who works as a WWE writer.
He won the World Heavyweight Championship in 2007 during an episode of SmackDown in a 20-man Battle Royal.
After losing his championship to Dave Bautista 'Batista' (USA), Khali challenged the new champion to a Punjabi prison match in a losing effort.
He earned the moniker, 'Punjabi Playboy' following his infamous segments, 'Khali Kiss Cam.'
The segments saw him select female members of the audience for a kiss.
Khali's contract expired in 2014, leaving him a free agent.
The following year he established Continental Wrestling Entertainment (CWE) in Punjab. A wrestling promotion and school where graduates include Kavita Dalal 'Kavita Devi' (IND).
He made sporadic WWE appearances between 2017 and 2018. He assisted Yuvraj Dhesi 'Jinder Mahal' (CAN) in his title defence at Backlash (2017) and also appeared at the Greatest Royal Rumble (2018) in the 50-Man Royal Rumble.
The Great Khali often had the size and strength advantage. His signature moves include a two-handed choke-bomb, 'The Punjabi Plunge' and a chop to the head with his enormous hand.
Early in his career, he used a vice grip to squeeze his opponents' head, forcing them into submission.
Watch The Great Khali win the World Heavyweight Championship on SmackDown here: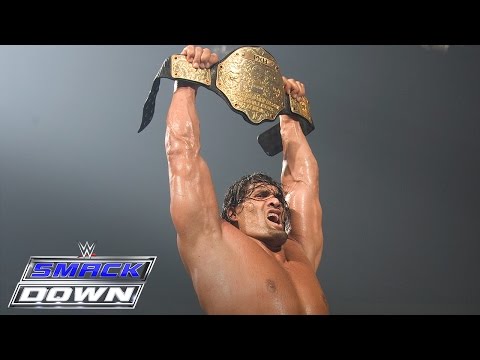 Jinder Mahal
Yuvraj Dhesi, known to the world as Jinder Mahal, is a second generation Indo-Canadian grappler. He is the nephew of the great Gama Singh and the first ever WWE champion of Indian descent.
Between 2002 and 2010, 'The Modern-Day Maharaja' spent time honing his craft in the Canadian independent circuit before heading to WWE.
In his first run with WWE, fans remember him as one-third of the team, Three Man Band (3MB), comprising Heath Miller 'Heath Slater' (USA) and Andrew Galloway 'Drew McIntyre' (SCO).
The team took on the comical gimmick of a rock band where the members played air instruments.
Eventually, Mahal and McIntyre were released by the company in 2014, thus, disbanding 3MB in the process. In 2016, a leaner Jinder returned to WWE.
On the podcast, Talk Is Jericho, Mahal explained his drastic body transformation.
"Two months before I came back, I had hit rock bottom. I was drinking all the time, and I was not watching what I ate. Then one day I just decided to get in shape.
"I stopped drinking and I just started dieting and training hard."
He made a huge turn around when he was drafted to SmackDown Live during April 2017.
In May, Jinder became the number one contender for Randy Orton's (USA) WWE Championship at Backlash (2017).
He shocked audiences when he defeated Orton following interferences from fellow wrestlers Samir and Sunil Singh.
He dropped the championship to AJ Styles (USA) in November 2017. Though this did not stop his momentum.
Mahal again dethroned Randy Orton but this time for the United States Championship at WrestleMania 34.
Jinder likes to use his large frame to overpower his opponents. He utilises his big long limbs to strike opponents with clubbing forearms and stiff kicks.
His 'finisher' is a lifting cobra-clutch slam that he calls, 'Khallas.'
Watch fan reactions to Jinder Mahal's shocking win against WWE Champion Randy Orton: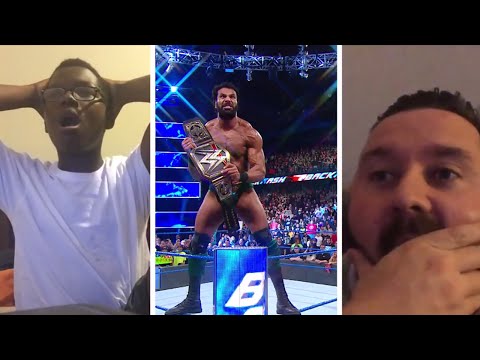 Akam
Sunny Dhinsa, also known as 'Akam,' is an Indo-Canadian wrestler who was signed to WWE after being scouted by WWE legend, Gerald Briscoe (USA).
He is one half of the tag team, The Authors of Pain (AOP), along with the Kosovan Albanian wrestler, Gzim Selmani 'Rezar' (NED). Their in-ring personas appear to be a combination of a SWAT team and military personnel.
Throughout their time in NXT, they were managed by WWE Hall of Famer, Paul Ellering (USA) who is known for managing the Legion of Doom.
The AOP proved themselves as dominant figures in the NXT tag team division from summer 2016 to spring 2018.
They won the 2016 Dusty Rhodes Classic Tournament, defeating the team, TM61 (Shane Thorne and Nick Miller) in the finals.
Shortly after, they claimed the NXT Tag Team championships by beating #DIY (Tommaso Ciampa and Johnny Gargano) at NXT Takeover: San Antonio (2016).
The AOP was promoted to Raw after WrestleMania 34, where they dropped their manager Ellering for 205 Live GM, Drake Maverick (ENG).
Maverick led the duo to claim the Raw Tag titles in a 2-V-1 handicap match against Colby Lopez 'Seth Rollins (USA).
In late January 2019, Akam underwent knee surgery after sustaining an injury following the team's championship loss.
Akam and Rezar are popular amongst wrestling fans. Audiences were stoked upon seeing them become tag team champions.
One Twitter user tweeted:
"FINALLY!!! The Authors Of Pain are Tag Team Champions!"
"They deserved it for the longest time! Congratulations! #RAW"
Akam and Rezar like to finish their opponents with the 'Last Chapter' which is a combination of a Russian Legsweep (Akam) and a Clothesline (Rezar).
Alternatively, they also use a Neckbreaker (Akam) and Powerbomb (Rezar) combination.
Akam has an amateur wrestling background that plays well into his pro-wrestling arsenal. His size, power and grappling ability make him a menacing opponent.
Watch The AOP capture the WWE Raw Tag Team Championships here: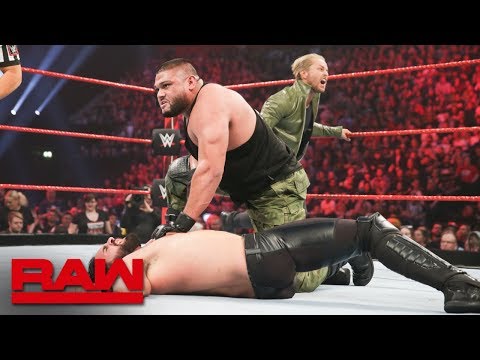 Gurv Sihra/Sunil Singh
Originally from Canada, Gurvinder 'Gurv' Sihra moved to the US for pursuing a wrestling career.
After beginning training with Ohio Valley Wrestling in 2004, he made his debut in 2005. He formed the tag team, 'The Bollywood Boyz' with his younger brother Harv.
His in-ring persona is inspired by his love for Bollywood and bhangra, with a flamboyant attire and energetic dance moves.
Gurv and Harv wrestled for independent promotions for ten years before being contacted by WWE.
One of his goals is to break down barriers and stereotypes for Indians in WWE. He told The Fan Garage:
"We are trying to break the stereotypical 'Gimmicks'. We are bringing something different…"
"Something that has never been done in the WWE. Not the stereotypical Indian characters that we have seen on TV."
The brothers competed in the WWE Cruiserweight Classic in the summer of 2016, representing India. Gurv lost against Noam Dar (SCO).
Gurv showed off his technical wrestling skills but submitted to Dar's heel hook.
The Sihra's rose to prominence when they aligned themselves with Jinder Mahal on SmackDown Live. They played an important role in Mahal's WWE and US title wins by causing distractions.
They spent most of their main roster careers managing the 'Modern-Day Maharaja.' Occasionally, the brothers tagged with him in matches.
Gurv's ring name was changed to Sunil Singh upon his SmackDown Live debut. After his brother suffered an injury, Sunil managed Mahal on his own for a number of months.
Sunil has adopted an all-around style. He is capable of taking his offence to the top rope as well as on the ground.
His striking moves standout such as his crisp wheel kicks and superkicks.
His choice of submission is the sharpshooter, a move associated with Canadians, particularly the famous Hart family.
Watch Gurv Sihra in the Cruiserweight Classic against Noam Dar: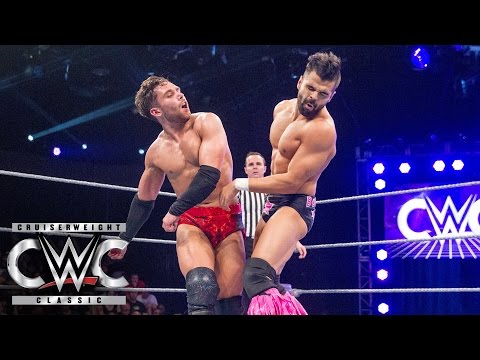 Harv Sihra/Samir Singh
Harvinder 'Harv' Sihra is three years younger to brother Gurv Sihra. He underwent wrestling training shortly after his brother. Since then the two became a successful tag team.
He also shares a love for Bollywood, incorporating it into his character.
Harv appeared in the Bollywood sports film Brothers (2015) as an extra. He appears in a short fight scene with Akshay Kumar.
Harv told The Fan Garage:
"I moved to Mumbai and went to pursue acting. I went to Anupam Kher's acting school, Actor Prepares."
He continues:
"I auditioned for movies and ended up working with Akshay Kumar for Brothers. I was able to work with Akshay and his trainer, Jenifer in his personal gym for three weeks."
He also acted in the Punjabi music video, 'Paani' (2015) by Miss Pooja.
After years of travelling with Gurv around the world, wrestling across Canada, UK, India and the US, the Sihra's made their way to WWE in 2016.
Harv competed in the Cruiserweight Classic against the ruthless Drew Gulak (USA). Unfortunately, he suffered a loss after he submitted to Gulak's Dragon Sleeper hold.
Harv made his debut on SmackDown Live in 2017 by changing his name to Samir Singh. He and his brother assisted Jinder Mahal to many important victories including his WWE title match.
In early 2018, Samir suffered a long-term knee injury. He tore his Anterior Cruciate Ligament (ACL), which took him out of action for ten months.
The style of Singh is quite similar to his brother. The only difference being that he adds more aerial moves to his repertoire including springboard moves.
He does like to use superkicks to knock out his opponents as well as the sharpshooter to make his opponents submit.
Watch Harv Sihra go up against Drew Gulak in the Cruiserweight Classic: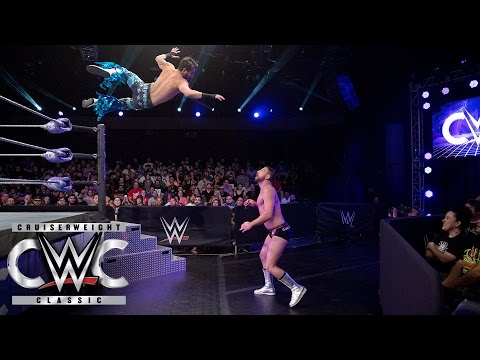 Kavita Devi
Kavita Dalal, known by her ring name Kavita Devi, made history in the WWE as the first female Indian wrestler to sign with the company.
Hailing from Haryana, this lady grappler learned the ropes under the tutelage of her inspiration, The Great Khali.
In February 2016, she joined his wrestling school, Continental Wrestling Entertainment (CWE) in Punjab, India.
She became the 2016 South Asian Games gold medalist, representing India in the 75kg category powerlifting competition. The former powerlifter's strength impressed WWE officials at the 2017 Dubai tryouts.
Devi made her WWE debut at the first Mae Young Classic in 2017, against Cheree Crowley 'Dakota Kai' (NZL) in a losing effort.
During the match, she displayed her powerlifting skills, rag-dolling Kai around the ring.
In just her second televised match, Kavita surprised fans by making her WrestleMania debut at the 34th annual event.
She competed in the women's Battle Royal that featured 20 women from the Raw, SmackDown Live and NXT brands.
Her next televised appearance came at the second Mae Young Classic in 2018. She faced the returning former divas champion, Celeste Bonin 'Kaitlyn' (USA) in a losing effort. Though her improved skills did not go unnoticed.
In an interview with the Hindustan Times, Devi said:
"I feel fortunate that I became the first Indian woman to join WWE."
"But, there is also a bit of pressure because I need to pave the way for other Indian women.
"I want to help them in every way possible and I hope that I will be able to become a role model for all the young girls in this country."
When Devi is not on television, she trains at the WWE Performance Center in Orlando, Florida and competes at untelevised NXT events.
Watch Kavita Devi against Kaitlyn at the 2nd Mae Young Classic here: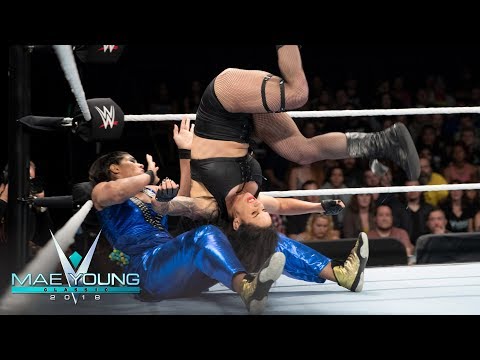 Jinny
Jinny Sandhu, known simply as Jinny, is a mixed-race British wrestler from Knightsbridge, London.
She made history in the British wrestling scene as the first female graduate of the PROGRESS wrestling school, The Projo.
In 2018, Sandhu dethroned her longtime rival, the inaugural PROGRESS women's world champion, Toni Rossall 'Toni Storm' (NZL). The two did clash again during Jinny's televised WWE debut at the 2nd Mae Young Classic in 2018.
She butted heads (literally) again with Storm in the 2018 UK Women's Championship tournament semi-finals.
Despite Sandhu losing in the semi-finals, she did put up a great fight.
The self-professed 'Fashionista' incorporates a love for fashion into her narcissistic wrestling persona.
In an interview with the Daily Mirror, Jinny described her character. She said:
"The actual character is based off Wilhelmina Slater from Ugly Betty, who is just a very bitchy fashion icon.
"She doesn't care and will tell you straight how it is."
"I also did a lot of research to help build the character and people like Cruella De Vil and Catwoman helped to have an influence on Jinny."
Jinny cites Japanese legend, Keiichi Yamada 'Jushin Thunder Liger' as one of her biggest influences.
She also admires WWE legends Patricia Stratigeas 'Trish Stratus' (CAN), Amy Dumas 'Lita' and Lisa Varon 'Victoria' (USA).
She may be 'The Fashionista' but that does not stop her from fighting ugly. Sandhu impresses audiences with her hard-hitting forearm and slick move set.
Jinny likes to finish her opponents with a vicious rolling axe kick, nicknamed, 'A Touch of Couture.'
Her technicality and precise striking ability make her a fierce contender for several championships in the future.
Sandhu can be seen competing on NXT UK on the WWE's streaming service, The WWE Network.
Watch Jinny take on Toni Storm on NXT UK 2018 here: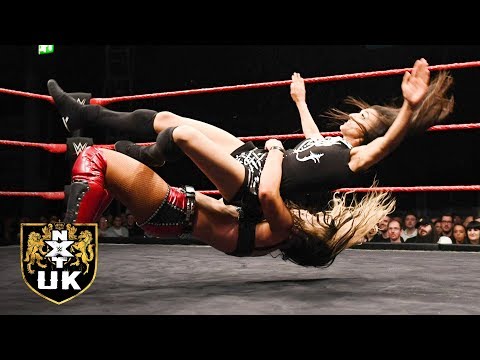 WWE continues to scout the best Indian wrestlers, with tryouts now being carried out in India as of 2019 for the first time.
The NXT brand and the WWE Performance Center are looking for future stars in Rinku Singh, Jeet Rama and Kishan Raftar. They are honing their craft, ready for a television debut.
Whilst Indian wrestlers are shattering the glass ceiling, we have also seen Pakistani wrestlers make their way to WWE. Superstars like Mustafa Ali and Amir Jordan add more representation for the subcontinent.
However, we have yet to see a Bangladeshi wrestler to complete the trio of Desi nations represented in the company.
With such an international roster, WWE could well be on its way in hiring their first.