what is most memorable about Rekha are her super hit songs and beautiful performances
Captivating audiences for decades, whether it was from her early films like Mr. Natwarlal (1979) to her role in Parineeta (2005), Rekha has managed to stay in the limelight.
Her elusive personal life and unique personality have always created fascination for her from both the media and her fans!
Her successful film career has given her a legendary title, but what is most memorable about Rekha are her super hit songs and her beautiful performances.
Timeless and iconic, her vast stellar performances are impressive!
Whether it is a classical mujra in a dazzling anarkali, to a slow romantic song in the arms of a gorgeous hero, Rekha's songs are undoubtedly iconic.
The combinations of breathtaking scenery, heartfelt lyrics and jaw dropping choreography have enabled Rekha to have vast catalogue of truly memorable songs!
DESIblitz looks at the top 5 songs of Rekha's film career!
1. 'In Aankhon Ki Masti' from Umrao Jaan (1981)
Oozing glamour and elegance, Rekha's graceful performance in this number has made it a timeless hit!
Her effortless sultry expressions along with perfectly executed classical dance moves add to the already steaming chemistry between her and her admirers.
The beautiful off white suit, matched with bold yet elegant jhumka and necklace, compliment Rekha's classic Indian demeanour.
Asha Bhosle's melodious voice on Rekha's captivating performance, make it hard for anyone to not become a fan of Rekha's beautiful eyes.
2. 'Salaam E Ishq' from Muqaddar Ka Sikandar (1978)
Encompassing both seduction and poise, Rekha's enchanting performance in this song, have given this track a legendary status.
Looking effortlessly stunning in the bright pink salwar and churidaar outfit, her dazzling jhoomar and tikka give this record a glamorous edge.
Her natural charisma and charm along with Amitabh's enchanting onscreen presence, make this song captivating!
Rekha's flirtatious performance in this song, surely won more hearts that just Amitabh's character in the film!
3. 'Pardesiya Yeh Sach' from Mr. Natwarlal (1979)
This upbeat and catchy tune has become a classic song for any desi girl expressing her love for her 'pardesi' love!
The beautiful native dressing and hair style, along with the setting of the local scenery make this song a treat for the eyes.
The beautiful mountains in the background and green fields, are the perfect setting for Rekha to dance for her love, Amitabh Bachchan.
The playing of the drums, and the infectious energy of her and all the backup dancers are what make this song loveable!
The catchy lyrics accompanied with Rekha's irresistible charm, made this Rekha and Amitabh song a smash hit!
4. 'Dekha Ek Khwaab' from Silsila (1981)
How could one list Rekha's top songs without mentions the classic that is Silsila.
The effortless chemistry between Rekha and Amitabh Bachchan in this song, led to admiration but also much speculation!
They're notorious off screen romance was obvious onscreen.
This beautifully picturised song, was shot in classic Yash Chopra style, with both actors looking lovingly at one another in the beautiful outdoors.
5. 'Kaisi Paheli Zindagani' from Parineeta (2005)
This contemporary classic combines funky jazz beats, with a desi twist and a memorable snap of Rekha's fingers!
This evergreen beauty glows on screen as a mature women, whilst still looking sultry in a lacy red sari.
Her classic red lips, and confident performance give this song the stamp of a classic Rekha song.
Seducing her members of her crowd including Sanjay Dutt, Rekha shows that she has still got it!
This smooth record can make anyone want to sway and even click along to the beat with Rekha!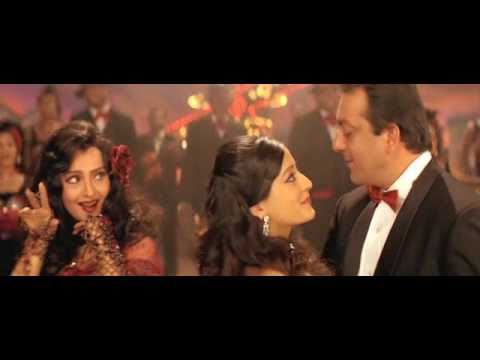 To become as successful as Rekha, along with successful films, is the requirement of a collection of hit songs!
Her songs are timeless gems, because of her evergreen beauty and unmeasurable talent.
Carrying heavy anarkalis with as much ease as she carries light salwar kameez's and lace saris, reflect her versatility and ability to perform the role of any character!
Whether the songs is slow and seductive of fast and energetic, Rekha has done them all with ease!
Easily slipping into various characters, Rekha has mesmerised us with her mujras and her choreography.
Her captivating expressions and onscreen charisma, make her light up the screen and add charm to any song!