"I hope for both of them, Tamasha becomes a high point."
Lights! Camera! Action! Let the Tamasha begin.
The most spoken about off-screen ex-couple, Deepika Padukone and Ranbir Kapoor, put their differences aside to star in the Bollywood romance, Tamasha.
Directed by Imtiaz Ali, the film has all the right ingredients of a blockbuster, with a great star jodi, overseas shoot and a quirky love story.
Tamasha follows the story of Ved (played by Ranbir Kapoor). Fed up of his routine life at the office, Ved decides to take a trip of self-discovery to find who he is and who he really wants to be.
But when Ved bumps into a carefree Tara (played by Deepika Padukone) in France they find they have one thing in common – they are fans of Asterix and Obelix series that was set in the French region.
So when they set off on a trip following the trail of their favourite cartoon, the two promise to just have fun. But after the trip and going their separate ways, the two realise they've fallen in love.
However, realising that Ved isn't who he was during the trip Tara has no choice but to suppress her feelings.
But will Ved be able to break the shackles of ordinary existence, escape the corporate rat-race and become the way Tara sees him?
Find out what happens in this rather quirky film full of fun, frolic and laughter!
This is not the first time that both Ranbir and Deepika have worked with director Imtiaz.
He was recently asked about the growth he has witnessed in both the actors, and said:
"Deepika is much more confident today than she was during Love Aaj Kal. I have always felt that she has a personal issue with shyness."
"She has handled that now and it doesn't interfere with her performance. That is why she is suddenly being recognised as a great actor, which she is. And she is only going to go places from here on. She is in full bloom in our film."
Ranbir commented about Deepika as an actress, saying: "She has improved not twice, but tenfold. When we worked in Yeh Jawaani Hai Deewani, I was so surprised by her.
"As an actor, I was intimidated by Deepika. I feel proud of her," which was quite a statement made by Ranbir considering they both debuted at the same time.
Imtiaz also said of Ranbir: "I've known him really well personally having worked with him earlier in Rockstar as well.
"Yet, he manages to surprise me with the freshness that he brings to the screen each time. He is that pure as an actor. Ranbir is made of the material that makes the best actors in the world."
Now as we all know, after a promising start, Ranbir Kapoor's career has hit rocky ground.
There is speculation that Ranbir is really feeling the pressure to produce a credible film after his last three debacles, Besharam, Roy and Bombay Velvet.
Ranbir has put all his eggs in the basket, and is hoping for Tamasha to bring some light into his career. However speaking about his career journey, Ranbir explained how he dealt with the whole situation:
"I feel the pressure with every film. But to be honest, my first film didn't do very well at the box office, so I have a certain acceptance of failure. I have seen failure more than I have seen success."
Hoping to show that he still got it in him, audiences are hoping to see Ranbir make a wild comeback.
Adding to that, Imtiaz said: "These things are far too transient. The career graph is just a dot in the timeline, it changes all the time. I hope for both of them, Tamasha becomes a high point."
And it seems that Ranbir has found his high, as critics have applauded his acting, with many saying that he has given the performance of his career.
Watch the trailer for Tamasha here: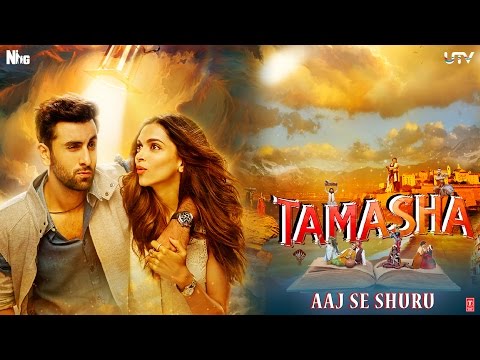 Making magic once again, musical legend, A R Rahman creates another musical heaven with Tamasha.
The nine-track album, takes you through a rollercoaster of emotions.
The fun song 'Matargashti' reminds you of the 60's with the fast tempo. Track, 'Heer Toh Badhi Sad Hai' gives a fun twist to the stereotypical sad songs, making you want to rather dance then feel sad.
'Agar Tum Saath Ho' is one of the most emotional songs of the album, focusing on the separation between Ved and Tara. The sweet voice of Alka Yagnik touches your heart.
'Wat Wat Wat' has a crazy zingy funky beat that automatically sticks in your head after the first listen, with Arijit Singh and Shashwat Singh join forces for the song.
It's an interesting mix on the album, and other tracks include, 'Chali Kahani', 'Safarnama' and 'Tu Koi Aur Hai'.
The film is already proving to be a hit with Ranbir and Deepika fans, grossing Rs. 20 crores in the first few days.
So are you ready to witness this Tamasha? The film released from November 27, 2015.