"I told Milap I was not comfortable with the dialogues and scenes"
The sensual Sunny Leone tickles your ribs with her new sex comedy, Mastizaade.
Playing a double role in the film, the bombshell beauty co-stars with Tusshar Kapoor, who also featured in the recent sex comedy, Kya Kool Hai Hum 3.
The two are joined by fellow funnyman Vir Das, who is known for his hilarious role in Go Goa Gone.
Directed by Jaane Kahan Se Aayi Hai director, Milap Zaveri, audiences have been excited to see this fresh trio in a sexy avatar on the silver screen.
Mastizaade follows the story of the two Casanovasex addicts, Sunny (played by Tusshar Kapoor) and Aditya (played by Vir Das) who both have an irrational fear of commitment.
They believe it's best to have some fun and disappear before things get serious!
But true love strikes when Aditya and Sunny meet the two twin sisters Lily and Laila (both played by Sunny Leone) who sweep them off their feet.
Aditya falls for Lily while Sunny falls for Laila and both men have a change of heart. However, just like every love story there's a catch – Lily is engaged to be married to Deshpremee Singh who is paralysed and in a wheelchair.
Meanwhile, Sunny tries to curb Laila's not-so-sweet intentions and convince her that true love is worth getting married for.
With all this confusion, consequently a comedy of errors is created. So will Lily leave Deshpremee Singh for Sunny? And will Sunny be able to convince Laila to get married?
Audiences and fans have been eagerly anticipating how Sunny Leone's comic timing plays out on the big screen, for this adult comedy.
However, Sunny Leone has confessed how she felt uncomfortable doing some scenes in the movie:
"When I read the script, there were certain things which I told Milap that I cannot do because I was not comfortable with the dialogues and scenes.
"The best thing was Milap and my producer [Rangita Pritish Nandy] were accommodating and they made changes in the script and discussed options with me," Sunny Leone says.
She also adds her views on the adult comedy genre within Bollywood and how audiences should accept it with a more open mind:
"People should soften a little towards such comedies as they feel these films are all about dirty jokes. Filmmakers should come make more films in this genre and it would help solidify it."
However, with the adult comedies becoming an increasingly profitable sector in Bollywood, we will definitely be seeing more films coming out from this genre.
An interesting addition to the cast is Vir Das. Previously seen in films such as Go Goa Gone and Delhi Belly, he spoke about his experience in working in an adult comedy for the first time:
"I have been a stand-up comedian, and essentially I have done the same kind of roles in the few films I have done."
He adds: "I wanted to challenge myself in a different zone of humour and see how good I will be in such an out-and-out commercial film. Let us see if my fans like me!"
Carrying on the trend of an assortment of musical collaborations for one album, Mastizaade has an interesting mix of music directors.
They include Meet Bros Anjjan, Amaal Mallik and Anand Raj Anand. The five-track album has an interesting variety of music that really projects the fun and entertaining film.
'Dekhega Raja Trailer' is the quintessential desi item. Filled with the "thumkas" the upbeat track is one that will get everyone dancing. 'Hor Nach', being the fun Meet Brothers track, will definitely be played at every party. Adding that Punjabi tadka to it, it is definitely one of the best tracks of the album.
'Rom Rom Romantic' is a catchy rhythmic tune, it feels as though it came from a beach on Goa, and the track is nicely complemented with Mika Singh's vocal.
The title song, 'Mastizaade', again composed by the musical duo Meet Brothers, really reflects the naughtiness and bold subject through an upbeat dance number. The party song is another favourite from the album.
Watch the trailer for Mastizaade here: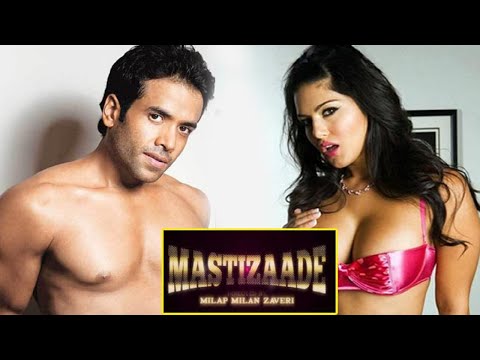 2016 seems to be the year of sex comedies, and Mastizaade is no exception. With many more to look forward to in the coming months, the adult genre is officially blossoming.
So would you like to be part of the Masti? Mastizaade released from January 29, 2016.