"I didn't know whether to laugh, cry or get scared."
Romance takes an idiotic turn in Bewakoofiyaan, from Yash Raj Films. Director Nupur Asthana has carefully picked out the right cast for Bewakoofiyaan, with young hot couple Ayushmann Khurrana, Sonam Kapoor and over-protective father, Rishi Kapoor.
Mohit (played by Ayushmann Khurrana) is a Senior Marketing Executive who has everything he could wish for in life; a job, a beautiful girlfriend (played by Sonam Kapoor) and a wonderful life. Things are going smoothly for Mohit and he decides to propose to Mayera.
She is head over heels in love with Mohit and accepts his hand in marriage. Mohit is now faced with a dilemma of facing her father V.K Sehgal played by legendary veteran actor, Rishi Kapoor.
Mayera's father checks if Mohit is good enough for his daughter by checking where he works, his position, how much he earns and his status as V.K Sehgal believes his daughter has to marry a rich guy in order to keep her financially stable and happy.
Mayera however believes that no matter what the financial status is of a person love is the biggest happiness that can be offered and that it is possible to only survive with love.
Things go downhill when Mohit is made redundant and loses his job. Since Mayera is all set on Mohit trying to impress her father she comes up with the idea to lie and cover up the fact that Mohit has lost his job and is now unemployed.
Bewakoofiyaan is about Mohit trying his best to win over Mayera's father in order to marry her and he will go to all extents to prove that Mayera getting married to a rich man won't make a difference to her life however he will prove through stupidity, madness and a set of lies that love is the answer to survive. As Nupur says:
"The story was written by Habib Faisal and I just loved the idea of a love story in times of recession. It is something not attempted earlier. We did make certain changes to the storyline to make it more entertaining for the audience."
She adds that she was adamant to get Sonam and Ayushmann together: "It was relatively easy to get them on board for this film. Both understood the plot well and their characters. The film has a story which is relatable not only for lovers, but their families as well," she adds.
To promote the film, Ayushmann went out to the Mumbai streets to do a flash mob. He played as his character holding a sign that said, 'Hire Mohit'. Alongside Ayushmann there were about 24 dancers were also holding signs and dance to the film title song, 'Bewakoofiyaan'.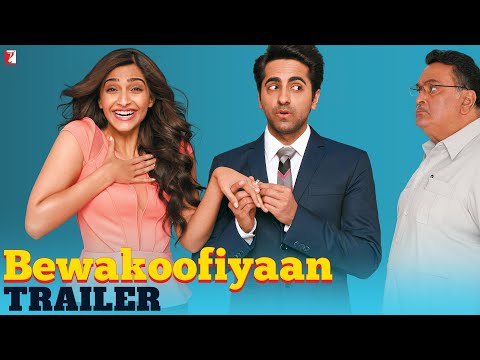 With only three characters, the shooting of Bewakoofiyaan became an interesting one around the Kapoor clan. During one of the scenes where Ayushmann proposes to Sonam and she takes him home as she's late, the crew were doing all of Rishi Kapoor's close ups. Sonam mentioned: "I don't think he likes to shoot after a certain time."
As she had mentioned that whilst doing their combination shot, Sonam wanted to do 2-3 more shots. Rishi then got really upset and asked why she needed to take more shots, as she is Anil Kapoor's daughter. Sonam said: "I didn't know whether to laugh, cry or get scared."
Another moment during the filming of Bewakoofiyaan, there was a point in the scene where Ayushmann buys his first car. During the take, Sonam showed everyone how she was unable to drive a manual car as she doesn't drive manuals.
Whilst they were shooting the scene they were on the highway and when Sonam needed to change gears, people that were around were getting annoyed with the noise and looking to see who was in the car only to find Sonam Kapoor driving.
Ayushmann explains: "Suddenly they said oh it's Sonam Kapoor hello 'mam', it was supposed to be all 'lovey' but it was very difficult to act at that time."
But as always food made everything better. Ayushmann adds: "Sonam and Rishi Kapoor used to feed all of us. They used to get these huge dabbas full of food and being a Punjabi, I really loved that. When we were shooting in Delhi, the food used to come from Rishiji's daughter Riddhima's house. Even Nupur and others used to join us in the van for lunch."
Bewakoofiyaan is set to make an overall box office collection of 85 Crore (£836748.05); on the opening day it is estimated to collect 9 Crore (88596.85).
With the excellent story and great music, the film could make almost double on the second day of screening of 15 Crore (£147661.42) and the first week collection could be seen to make 35 Crore (£344543.32) if the film performs well.
The contemporary slice of life love story is ready to roll, join the stupidity of love in Bewakoofiyaan which releases from March 14th.