"I am creating my own thing in the industry as per the best of my ability."
Shahid Kapoor's new upcoming release, R…Rajkumar has been getting us all excited ever since the trailer was unveiled on October 1, 2013. Starring Shahid in the lead role with Sonakshi Sinha at his side, the film will release in cinemas on December 6, 2013.
R…Rajkumar, which was originally dubbed as Rambo Rajkumar, is about a useless youth called Rajkumar, played by Kapoor.
Rajkumar works for drug dealer, Shivraj, who has given him a task to kill another dealer, Manik Parmar. However Rajkumar's attention is averted by a beautiful educated girl called Chanda, played by Sonakshi.
Rajkumar is unaware that Chanda is an orphan who has been raised by her uncle, who coincidentally is Manik Parmar.
His effort to woe Chanda pays off when she blossoms in his love. His mission now is to destroy the drug scandal between Shivraj and Manik Parmar, of which they have a duty towards.
Ajit Taaka, a Mafia don, is in control of the drug operation, which takes place outside of Malaysia. Rajkumar has to stop it and then get back to Chanda in order to marry her.
The film sees a fantastic cast and is directed by the great Prabhu Deva. It stars Sonu Sood as Shivraj, Poonam Jhawer, Ashish Vidyarthi as Manik Pramar, Mukul Dev, Asrani, and Srihari as Ajit Taaka, with special appearances of Charmy Kaur, Ragini Dwivedi and Scarlett Mellish Wilson.
In the run up to the film release, Shahid has been pretty vocal about his recent record of Box Office flops:
"I want lot of luck and want all my films to be really super hits. I don't want to hear that the film is not good but you did a good job. I am tired of hearing that.
"I am hoping for little luck so that my films do really well. Now I am at that stage where I want a little luck… want a super-hit film… the desire is there," Shahid says.
"I've had a lot of fun making this film, and people seem to be responding really nicely to the songs and the dialogues, which is a very good sign always. It has all the elements of a Prabhu Deva film. For me it's the first time entering this space so I'm happy that people are enjoying me in this kind of world," he adds.
Sonakshi is also hopeful that she has what audiences are looking for: "I am creating my own thing in the industry as per the best of my ability. There is something that audience can identify with me. This is what I try and give."
The music launch of R…Rajkumar left everyone buzzing as Prabhu Deva, Shahid, Sonakshi and Sonu gave some amazing performances, dancing to tracks from the film, including 'Kaddu Katega' and 'Saree Ka Fall Sa'.
Producer Viki Rajani and music composer Pritam were also present with the cast and crew to release the album. Music Composer Pritam smiled and stated: "I was emotionally blackmailed into coming!"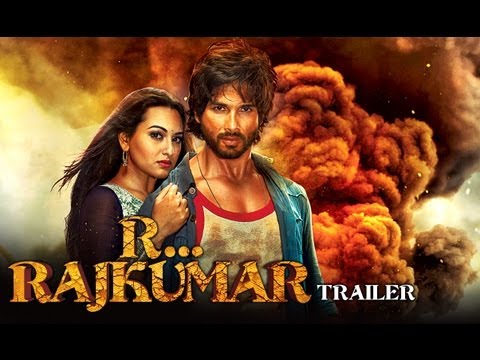 Pritam felt privileged that he was able to work with such a brilliant combo in dance like Deva and Kapoor. The album has been packed with six amazing tracks, as well as a dhamakedar item song featuring Charmy Kaur, Ragini Dwivedi and Scarlett Mellish Wilson.
The first time Shahid and Sonakshi shot together, Sonakshi slapped Shahid whilst he blew her a kiss.
Sonakshi admits she felt unsure about working with Shahid Kapoor and Prabhu Deva in the dance for the song, 'Saree Ke Fall Sa':
"I was a little bit nervous, but we started out on the right note, we got on really well and he's very good to work with," she says.
During the production of the film, there were a few changes that had to take place. As the film was initially given the name Rambo Rajkumar, due to the word 'Rambo' having copyright, the title of the film had to be changed.
Since it was already known to everyone as Rambo Rajkumar, letters were knocked off giving the new title of R…Rajkumar, which surely gives a brilliant statement for this action packed drama.
It has been said that Sonakshi will be seen in action showing off her skills in some fighting scenes. When asked if she had beaten up anyone in reality if they had misbehaved with her, Sonakshi said:
"Yes, in school I used to beat up some boys, when they used to irritate me."
Shahid and Sonakshi had a lot of fun smashing beer bottles around peoples head for the action film scenes.
Box Office predictions are on the table, and it is thought that on the opening day of the film R…Rajkumar could make 8 crore, with weekend predictions of 26 crore and the first week opening predictions of 40 crore.
Movie goers can expect some action, drama and romance when R…Rajkumar hits screens on December 6, 2013. Let's hope the movie brings Shahid Kapoor the Box Office success that he 'desires' and most definitely deserves.