"The whole team of 'Sade Munde Da Viah' just rocked."
Featuring an unmissable viral star, Dilpreet Dhillon's latest track, 'Sade Munde Da Viah' is proving to be a massive success.
The song combines the vocals of Dilpreet Dhillon and Goldy with music by Desi Crew for an incredibly catchy result.
And if you add the beautiful model-actresses Himanshi Khurana and Oshin Brar, that's a lot of star talent.
Since its official release on September 26, 2017, 'Sade Munde Da Viah' has over 6 million views on YouTube.
But how much of that owes to the hilarious talents of the viral superstar, Jassi Deol?
DESIblitz explains and shows you what makes Deol such an internet sensation. Then you can watch the official 'Sade Munde Da Viah' music video to decide for yourself.
Who is Jassi Deol?
Jassi Deol first went viral in June 2017 when a comical video of him went online.
The original video shows Deol sitting in some kind of hall before shouting "Apne munde da viah".
But the real hysterics come in the high pitched screams which follow!
He begins with a rather excited sounding "Whoooo" to show his happiness. But that soon turns to what can't be described as much more than a scream.
You simply have to watch the hilarious clip to understand, and you can see it here:
Since the release of this video, it has been spread all over the internet and social media. Now, with Jassi Deol being such a viral sensation, he also has his own Public Figure Facebook Page.
But how did he come to star in a hit bhangra music video just three months later?
 'Sade Munde Da Viah'
Dilpreet Dhillon and his team somehow came across the video of Jassi Deol and saw his star potential. But could they make Deol's unique talent work in an actual song and music video?
Well, the response so far to 'Sade Munde Da Viah' seems to suggest so. Ahlan is one of the happy fans, he says:
"I really like the Uncle [Jassi Deol] – whooooooo! He is absolutely hilarious. 'Sade Munde Da Viah' is a very nice song. With the smooth moves and neat video production, I just love this song. I'm listening to it again and again, whoooooo!"
With music by Desi Crew being supported by the vocals of Dilpreet Dhillon, Goldy, and, of course, Jassi Deol, it makes for an extremely catchy track.
You will not be able to stop yourself from bouncing your head along or joining in with Deol's famous "Whooooo"!
The beautiful model-actresses Himanshi Khurana and Oshin Brar also add to a very neat music video production by Navjit Buttar.
Manpriya believes the success of the song is a group effort. She says: "The whole team of Dilpreet Dhillon, Goldy, Himanshi Khurana, Oshin Brar, and of course Jassi Deol just rocked. 'Sade Munde Da Viah' is just such an energetic and fun track, I love it!"
But what do you think? Check out the official music video to 'Sade Munde Da Viah' below and decide for yourself: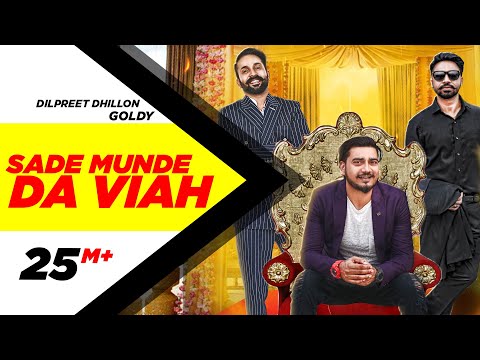 Want to find out more?
Dilpreet Dhillon recently released another song with Goldy and Desi Crew called 'Ghat Bolde'.
Unfortunately, Jassi Deol does not feature on this track but it is still worth checking out!
Do you want to find out more about another music video which went viral? Follow the link to check out how these African-Indian students cover a legendary song by Diljit Dosanjh.
Or, you may want to read about how Dilpreet Dhillon is one of the few artists trying to revive the native folk style of bhangra. Is bhangra all about cars, girls and alcohol now?