At the heart of the play, however, is a love story. Whyman has created a production that will enchant young and old.
The Royal Shakespeare Company (RSC) turns its attention once again to one of William Shakespeare's best-known plays, Romeo and Juliet.
This production, directed by Erica Whyman is a youthful and edgy take on the age-old story. British Asian Bally Gill is a historic casting as a charming Romeo and Glaswegian Karen Fishwick is a perfect Juliet.
Romeo and Juliet is the tragic tale of two star-crossed teenage lovers. Belonging to the rival houses of Montague and Capulet in Verona, the two fall in love before their families drive them apart.
Misunderstandings and conflict lead to the pair ultimately taking their own lives and the remaining members of each house finally understand the grave consequences of their rivalry.
More modern than ever, Whyman carefully balances a respect for Shakespeare's original text, while updating it for contemporary audiences. She asks interesting questions about youth, gender and family today.
A Tragic Tale of a Forbidden Relationship
The opening immediately engages the audience with the cast chanting the iconic lines of "two households, both alike in dignity". Whyman cleverly mirrors this beginning scene at the play's close as the dead haunt the main action.
These ghostly figures emphasise the underlying thematic tensions between respecting the law and loyalty to your family.
For the living, their presence underlines the cost of such an agonising division between family and state. A situation not unfamiliar to some still today.
At the heart of the play, however, is a love story. Whyman has created a production that will enchant young and old, particularly with the balcony scene.
The twinkle of lights makes a picturesque image as a golden band of sunrise prettily glints off Fishwick's red hair. Similarly, Fishwick and Gill demonstrate great chemistry under these stars and sun.
Their romance pairs nicely with the various different heights created on stage by a rotating cube and various ladders. The constant movement of running and jumping adds to the urban feel of the production, without thankfully veering into parkour.
In addition, by playing with heights, the lovers are always just outside of each others' reach physically as well figuratively.
This wins the audience's sympathy as we visibly see how their fingers strain to grasp each other and how far they go to steal kisses.
The Comedy of Young Love
Still, Whyman excels in plucking out comedic moments from the original text. While Juliet utters the famous lines "wherefore art thou Romeo", Gill's Romeo is endearing in his nervousness.
He exclaims that he will answer her calls. Yet, when running to the balcony, he veers off in a panic at the last second. With a rueful smile playing on his lips, he bashfully tells the audience "I am too bold".
Indeed, Juliet is naturally very young in the play at only 13 years old. Nonetheless, Whyman doesn't forget how Romeo is a teenager too.
Gill dramatically sighs over Juliet's balcony speech to emphasise his eagerness to be with his love and his exasperation.
Similarly, Fishwick's Juliet is incredibly impatient to hear news of whether Romeo will marry her. Because of this, she's hilariously caught in the act of mocking the couple's main go-between, her beloved nurse (Ishia Bennison), by the nurse herself.
However, Whyman and the actors ensure Romeo and Juliet's urgency endears the audience. Serving as a reminder of the impatience of youthful passions, it is a love ruled by the heart rather than the head.
Setting the Stage for Romance
In fact, Friar Lawrence (Andrew French) cautions the tempestuous Romeo to move "wisely and slow – they stumble that run fast". He even grabs hold of the eager bridegroom, about to bound off.
Yet the Friar's cell presents an idyll for the lovers. The box creating Juliet's balcony swivels around to reveal the interior of his cell. We also see the back walls pull apart to display lush green tree foliage.
In contrast to the sweet chirping of birds, composer Sophie Cotton creates heavier and eerier soundscapes. The latter noises become more frequent as our hero and heroine meet their tragic end. Therefore, this auditory corruption of their safe haven subtly reinforces how outside forces of familial duty destroy their youthful romance.
But Tom Piper's and fellow RSC creatives' set design is especially effective for the Capulet's ball.
The Montague group decide to crash the party. Here lighting designer, Charles Balfour, enchants with his fairy lights descending along the backdrop – remedying the party-crashers' unromantic motivations.
As the group enter the party, more come to twinkle down over the whole stage, contrasting against the rock and electronic soundtrack complete with band. It's an unusual sound choice but useful when it quiets, creating an ethereal atmosphere for Romeo and Juliet's first meeting.
The background characters dance languidly in a blue dream-like light and only Juliet shines in a more natural glow. From this, the audience experience how the rest of the world has ceased to exist for the love-struck couple.
Indeed, the staging of this production has an impressive filmic quality.
It retains all the benefits of the theatre such as the cast's capable delivery of Shakespeare's evocative language. Romeo and Juliet's first meeting is particularly moving as they tentatively exchange couplets until finishing their sonnet with a kiss.
Still, this staging coupled with thoughtful costuming means that it's easy to imagine this production moving from stage to screen.
Keeping Costuming Contemporary
There's careful consideration of the dynamic movement of characters and the urban edge of their world. Clothes are in dark colours and various textures ranging from mesh to silk. Layering then creates silhouettes that both allow and emphasise movement.
Moreover, the pairing of trainers with dresses or single splashes of bright prints conveys a contemporary feel, which reflects real life fashions of stylish teens.
But the visibility of sheaths and scabbards acknowledges city life's negatives like the pressing issue of knife crime.
Costume supervisor, Janet Bench resists the temptation to overly prettify Juliet. While she appears feminine in her black party dress, black leggings and trainers offset this. Her other attire is equally sporty as an understated romantic heroine for today.
Gender and Dressing
Bench has skillfully reflected ideas on gender in the RSC's latest production of Romeo and Juliet.
The gender-swapped Escalus, Prince of Verona (Beth Cordingly) and Mercutio (Charlotte Josephine) balance conventions of masculinity and femininity.
They respectively demonstrate authority or swagger from Cordingly in a sweeping black coat and upturned white collar. Whereas Josephine sports a leather jacket.
However, Cordingly's heels and Josephine's skinny jeans and bralette nod to mentions of their gender during their onstage speeches.
This is a fascinating portrayal since both characters defy stereotypes around gender roles, but they're simultaneously in opposition too.
Gender-switching distances the female Escalus when admonishing the men for their violence and disturbing the peace of Verona. In comparison, Josephine somewhat perpetuates ideas of male violence.
The Montague group often appear as a gang of 'lads'. Nevertheless, Mercutio is the most explicitly so as an Artful Dodger-like leader.
She punctuates Mercutio's sexualised language by strutting, thrusting and shadow-boxing onstage.
In comparison, Benvolio (Josh Finan) is the most sensible. Although, Whyman interestingly brings out the homoerotic undertones to Benvolio's relationship with Romeo.
Romeo excitedly greets his friend with a kiss after confirming his marriage plans. After, Benvolio stands in a daze, a dreamy and pleased expression on his face. Meanwhile, Romeo and Mercutio more explicitly flirt and joke with each other.
Here, rather than emasculating Benvolio, Whyman reveals a different side to male affection – one that is decidedly less dominating.
This same contrast is clear with Romeo's parents. The redistribution of lines means that Romeo's mother (Sakuntala Ramanee) comes across as the more domineering parent.
Instead, the besuited and traditionally masculine Lord Montague (Paul Dodds) cries to Paris, begging for mercy for Romeo. Then, ultimately the exile of his son and the loss of his identity as a father, causes Lord Montague to die of woe.
In short, Whyman's characters are as multi-layered as their costumes.
A Diversity of Talent
As mentioned, Gill and Fishwick are excellent as the iconic pairing of Romeo and Juliet.
Bally Gill demonstrates great range in skilfully moving between the tempestuous Romeo's changeable emotions. From one moment to the next, he's mournful, passionately in love, seeking peace, murderous and then regretful.
Karen Fishwick displays the same talent. In a striking image, she frustratedly smashes a bouquet of red roses from Tybalt's funeral. Mirroring the stab wound on Tybalt's white shirt, the crimson petals scatter like a pool of blood, foreshadowing more death.
Here, Fishwick convincingly shows the internal struggle of Juliet, especially as Michael Hodgson's Lord Capulet threatens violence towards his daughter.
In fact, Hodgson is particularly frightening here. He may win chuckles when teasing Paris (Afolabi Alli), but his abuse reinforces the concern about male violence.
Most interesting is Mariam Haque's Lady Capulet and her foil of Bennison's more maternal Nurse.
Bennison's accent lends even more warmth to her affectionate relationship with Juliet. Indeed, her bawdy laugh is incredibly infectious and charms the audience, even when terrorising her poor escort, Peter (Raif Clarke).
In contrast, Lady Capulet may love her daughter but Haque shows her more withdrawn and uncertain nature. This stands in stark contrast to the Nurse's directness, who becomes quickly familiar with all. She's an excellent comic character seen when repeatedly hitting Romeo with her fan and threatening him against hurting Juliet.
Watch our full interview with Bally Gill and Karen Fishwick here: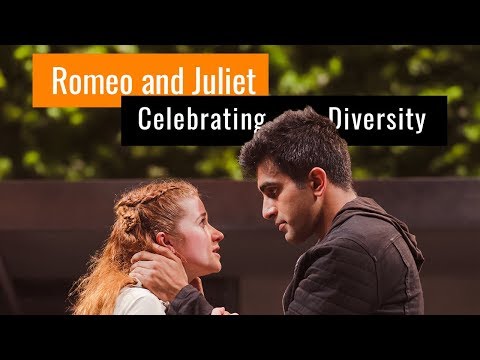 Final Thoughts
Because of its focus on today's youth, more could have been done more to examine generational differences than Lord Capulet. It's quite a surprise to see Lady Capulet's dance moves, but there's a lack of any age divide between its characters.
However, all of Whyman's characters are engagingly complex, constantly overcome by their emotions or attempts to master them.  Thanks to her open-minded approach to gender, race and sexuality, the multitude of accents and origins complement the range of three-dimensional characters.
Some purists may take issue to this approach to the Bard's poetry. Nevertheless, wouldn't being adaptable be more faithful to Shakespearean history?
Romeo and Juliet is a great example of how Shakespeare's plays influenced the English language. His works helped coin terms like "wild goose chase" or "star-crossed lovers".
Whereas, today it's arguably regional dialects or the influx of different accents from around the world that has had the biggest impact. Our multicultural society fascinatingly causes our everyday speech to evolve or brings different qualities to words.
So why shouldn't the Shakespearean stage pay heed to this? It adds such a richness to characters like the increased approachability of Bennison's Nurse or the unaffected swagger of Gill's Romeo.
Even the younger cast's sometimes more casual delivery helps to create a contrast with the clarity of their elders' enunciation. The Friar is deliberate in both speech and action, whereas Mercutio spits out her words as fast as she acts.
Indeed, this production feels like a groundbreaking step from the RSC to bring more diverse voices to the theatre. After all, to ensure that younger generations continue to appreciate the Bard, it's useful for his words to be spoken in their language.
Both frequent theatregoers and newcomers to Shakespearean theatre will delight in the latest RSC production of Romeo and Juliet. It's a visually striking staging with a talented cast who are all immensely successful at helping the play feel as if it were written today.
Romeo and Juliet will run at the Royal Shakespeare Theatre, Stratford-upon-Avon until 21 September. For tickets please visit the RSC website here. Then at the Barbican, London from 2 November to 19 January 2019. For tickets please visit the Barbican website here.
Romeo and Juliet will also be broadcast live into cinemas on Wednesday 18th July 2018 at 7:00pm. More details can be found here.