"It was lovely to romance Katrina on screen"
The Katrina Kaif and Aditya Roy Kapoor starrer Fitoor, based on the popular Charles Dickens novel, Great Expectations.
Director Abhishek Kapoor presents a Bollywood version of the great piece of literary work.
Remembered as a gothic love story, audiences can expect to see the fresh pairing of Katrina and Aditya on screen, with a surprising addition of the talented Tabu.
Adapted from Great Expectations, Fitoor follows the story of a young Kashmiri boy, Noor (played by Aditya Roy Kapur) and his muse Firdaus (played by Katrina Kaif).
Growing up in the mountains of Kashmir, young Noor falls in love with Firdaus.
However, both coming from different world, Noor decides to move to Delhi in order to build his career as an artist in order to be accepted into the sophisticated social circles that Firdaus is a part of.
Nevertheless, just as the tagline says, 'Yeh Ishq Nahin Aasaan (This love isn't easy)', Noor's love story isn't that simple.
Firdaus is the daughter of Begum (played by Tabu) who has raised her to break hearts.
Having a cynical view on love, Begum is determined to sabotage this love story. Will Noor and Firdaus find a way to be together, and will Begum change her view on love?
A notable buzz surrounding the film was down to the casting mishap of Tabu's character, Begum.
Abhishek explained his creative differences with the veteran actor Rekha, whom he had initially casted as Begum:
"Rekhaji started portraying the character in her own way, she is a veteran actress and I respect her a lot but I wanted the character in my way.
"We had our creative differences but before we get indulge deeper in the film we decided to part away peacefully."
Abhishek also expressed how he felt working with the talented Tabu: "Fortunately, Tabu was available at that time and she came on board. She read the script and liked it immediately. We have known each other for many years.
"Someone else would have taken a lot of time to prepare for the role. I have to give it to Tabu for coming on board and trusting us so easily and stepping into the film."
Knowing she is just some years older then Katrina, Tabu has once again proven herself as a creative yet risktaking artist.
Fans of the lead stars have been eager to know how Aditya and Katrina felt sharing screen space for the very first time. Aditya said:
"It was lovely to romance Katrina on screen. When you have someone who looks so beautiful opposite you, it becomes very easy to convince yourself that you need to romance her."
He adds that the pair were forced to jump straight into character as they shot the end of the film on their first day:
"We shot for the climax on the first day shoot of the film. So on first day, we had to act as if we have lived the entire film together and we had to deliver right on the first day," Aditya explains.
As with any Bollywood drama, music plays a vital part in Fitoor, and national award winning composer, Amit Trivedi, has made sure to continue the trend of his fantastic work.
The seven-track album sees a mixture of soulful songs that can definitely make it the album of 2016.
'Fitoor Mera' is a mix of jazz and rock that makes it a perfect combination to jam to. Adding the extra USP vocalist Arijit Singh takes the track to a whole new level.
'Pashmina' is a soulful song that features a grand melody of violins.
'Tere Liye' is a lovely rock ballad and one of the most romantic songs of the album, with meaningful lyrics flowing beautifully with the instrumental. It is definitely one of the best tracks.
'Haminastu' starts off with Emperor Jehangir's Persian couplet about Kashmir, mixed with the oud. The song gives us the authentic vibe of Kashmir and its culture.
Watch the trailer for Fitoor here: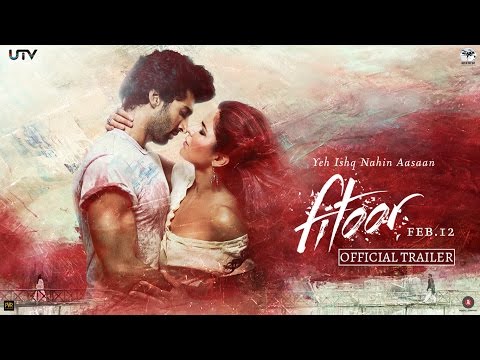 The cast and crew of Fitoor believe audiences will love the film for its intensity and all consuming passion. It's a perfect Valentine's Day treat.
So, are you ready to add dose of passion in your life? Fitoor released from February 12, 2016.