Among a flood of support for Robert is a request to strip Krishnan of his degree from Oxford University.
After offending Oscar-winning director Quentin Tarantino in 2013, Krishnan Guru-Murthy has crossed the line with another Hollywood megastar.
The Channel 4 presenter caused actor Robert Downey Jr. to end his promotional interview for The Avengers: Age of Ultron (2015), after just seven minutes.
Krishnan kicked off by asking Robert about his character in the latest Avengers instalment, to which the actor was more than happy to answer.
The atmosphere turned awkward when Krishnan highlighted how Robert, like 'Iron Man', had become 'a better man'.
The actor maintained a polite smile while trying to answer Krishnan's irrelevant and uninformed questions about the film, his political view and personal life.
But when Krishnan brought up his 'incarceration', the Sherlock Holmes actor decided to take his stance.
Robert replied: "I'm certainly not going to back-paddle on anything I've said. I wouldn't say whether I'm a Liberal, Republican or Democrat.
"I was talking to the person who was doing the interview that day, and that just happened to be my opinion."
Following this up with more personal questions, it must have puzzled Robert whether Krishnan meant to disrespect or failed to take a hint.
At the mention of the actor's past brush with addiction and relationship with his father, the camera zoomed in, clearly anticipating for a dramatic reaction.
The seemingly nervous presenter then asked: "I just wondered whether you think you are free of all of that?"
Robert challenged the purpose of the interview and bid him goodbye with a smile, while removing the microphone.
As he exited the room, Robert said: "It's just getting a little Diane Sawyer-y in here."
You can watch the full interview here: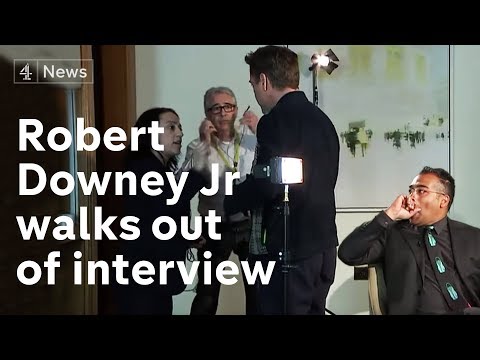 The public is split over siding with 'Tony Stark' or the prominent Asian presenter for a TV channel known for its taste for controversy.
Some believe Krishnan did nothing wrong. Jack Stride, a YouTube user, felt Robert overreacted as the presenter had offered him the option not to answer his question.
Others dismiss Krishnan's poor practice:
Saw the #RDJ #walkout and I think he was justified. The interviewer crossed the line and all things considered, Downey was nice about it.

— Jason Richter (@JasonRichter_) April 23, 2015
Among a flood of support for Robert is a request to strip Krishnan's degree from Oxford University:
@krishgm, shame on you, the University of Oxford should remove your degree from you for that benighted interview.

— Damian Gordon (@damiantgordon) April 22, 2015
British journalist Piers Morgan has joined the other side of the debate:
Have to say I agree with @piersmorgan in his column. Storming out is infinitely more negative than any answer he could have given. #RDJ

— Oisin McKibbin (@omckibbin) April 23, 2015
It was also refreshing to find a neutral perspective from another YouTube user, slevinbaddog, who believed both parties were at fault.
The comment read: "RDJ shouldn't have walked away and that journalist should've sensed that he didn't want to answer these questions and just keep it light and focused on the movie."
Krishnan is no stranger to losing control over his interviews with celebrities.
Despite having covered many political issues and controversial topics for Channel 4, he has not come across as the right candidate for entertainment interviews.
In 2013, Krishnan probed in all the wrong places with critically-acclaimed director Quentin Tarantino, who is responsible for cult classic such as Reservoir Dogs (1992) and Pulp Fiction (1994).
Watch Tarantino's reaction here: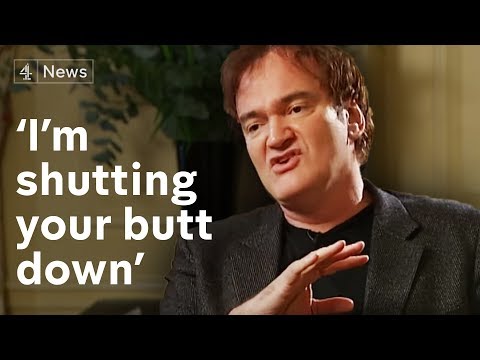 The Avengers: Age of Ultron premiered in the UK on April 21, 2015 and will be screened nationwide from April 23, 2015.