"it works is because of its simple story telling style that appeals to kids"
Rajiv Chilaka is creator of the iconic and lovable Indian animated series, Chhota Bheem and founder of one of the leading animation studios in India.
The creative artist is largely regarded as one of the leading pioneers of animation in India and is the well known CEO of Green Gold Animation Pvt. Ltd, which is based in Hyderabad.
Interestingly, Rajiv's career in animation came almost by chance, after being inspired by great western animators like Walt Disney. He studied computer science at university in the US, before eventually switching his career to pursue animation.
In his youth, Rajiv Chilaka looked up to Bheem from the Mahabharata, the mightiest of the Pandava brothers in Indian mythology.
He used this as a starting point to create Chhota Bheem, an animated series based around a village boy who adored laddoos and was confident enough to take on anyone.
Despite animations usually being predominantly from western countries, Chilaka decided to stick with his Desi roots and give his Chhota Bheem character traits that come from his Indian heritage.
His success on television even led him to the big screen. Chhota Bheem and The Curse of Damyaan was a huge success, and with a budget of Rs. 4 core, it managed to make Rs. 2.5 core in the first week alone.
Dubbed the first home-grown TV series to land a feature film, Chhota Bheem still resonates with young children today.
In an exclusive gupshup with DESIblitz, Rajiv Chilaka tells us about his behind inspiration for Chhota Bheem, and how it feels to be leading one of the top animation studios in India.
What inspired you to get into animation?
While I was doing my masters in Computer Science at the University of Missouri, Kansas City, I learnt that Walt Disney himself has designed our University Logo (Kasey the Kangaroo) at the beginning of his career.
While I was working at the University Library, I chanced upon some books on the life of Walt Disney. I read them, enjoyed them and they inspired me greatly.
I immediately felt that I must try to emulate his success. I decided that I would pursue animation as a career in spite of me being a below average Artist.
What did you study at university?
Few years after I completed my Masters in Computer Science from the University of Missouri, Kansas City, I went to learn Animation at the Academy of Art University at San Francisco. Here I took classes for 2D Animation, 3D animation, Storyboarding and Storytelling.
Was it challenging as an Indian to break out into the animation industry?
Animation Industry anywhere in the world is a tough business to survive. The first 7 years of our Studio were very very tough, but post Chhota Bheem, our most successful property, things became better. Today, we are one of the top studios in India.
What drove you to start your animation studio, Green Gold?
Well I saw an opportunity to do new shows for Indian Domestic market, as no one before had attempted it.
While there was no such opportunity back in 2001 when I started, but I knew that India would need such shows.
What does it feel like being the top animation studio in India?
Well its great to be at the top, but honestly I feel that we are meant for bigger things and we have still a very long way to go.
Chhota Bheem is your most successful and well loved creation, where did you get the idea from?
I had a deep desire right from my childhood to create Super heroes for Indian Kids. I felt that they would connect more with Indian Characters and also felt they need a role model.
The idea of Chhota Bheem came to me in 15 minutes, I felt, what if a village kid has the strength of Bhima of Mahabharata… What are the possibilities?
Chhota Bheem works for many reasons but the most important reason it works is because of its simple story telling style that appeals to kids.
Did you ever envision how successful and groundbreaking it would all be?
I always knew that the show would be successful but I never imagined that it would go on to become a phenomenon.
Was there any backlash to Chhota Bheem?
We did have some issues with the show, some complained that there was too much action, some said Chhota Bheem doesn't go to school etc.
We have toned down the action immediately, and also fixed a lot of things which we felt would be good for the show.
What advice would you give to anyone wanting to go into animation?
Its the right choice if you have the skill set. But be prepared to work hard and to be patient.
What are you currently working on?
We have a lot of plans and ideas, besides New TV Shows and Movies for India and World market we also want to launch Green Gold Experience Centres that would use the latest technology with which people can interact and play with our characters.
Watch the trailer for Chhota Bheem Himalayan Adventure here: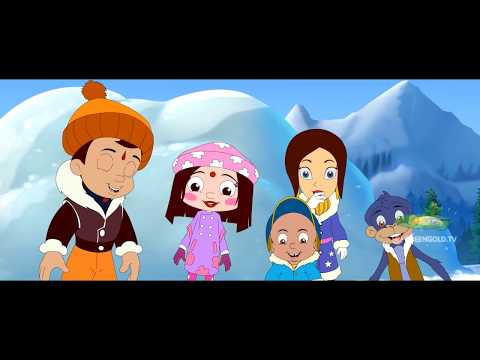 Rajiv Chilaka has changed the Indian animation industry for the better.
From being primarily westernised, Rajiv has created Indian-centric animations that better resonate with local audiences, particularly children.
Through doing so, he has instilled a new kind of storytelling among young creative talents across India.
Considered as a pioneer of animation in India for good reason, Rajiv Chilaka has inspired many to follow in his footsteps.