"This is feeling less like an exam and more like the last 10 minutes of Saw."
The seventh episode of Quantico lives up to its title 'Go' and gives it a dense double meaning.
At the FBI training academy in Quantico, the recruits are put through their first exam which ends in a huge elimination.
What they assume to be a written assessment turns out to be an intense challenge, designed to gauge their loyalty to their country and willingness to sacrifice.
First, the recruits figure out Brendan Fletcher is the odd one out.
Brendan is the only one in the entire group not being handed the assessment paper, and runs off thinking this is how Quantico kicks him out.
As soon as he exits the room, the recruits are locked up in the lecture room. Meanwhile, Elias Harper pulls out a countdown timer underneath Brendan's seat.
At Alex Parrish's suggestion, the group decides to interrogate Nathalie Vasquez, who is romantically linked to Brendan.
The headstrong Nathalie is uneasy with discussing her personal life at first, but eventually gives in and shares Brendan's whereabouts the night before.
Simon tracks down a surveillance footage that shows Brendan sneaking into the lecture room on that night, and places a bomb that is enough to wipe out the academy grounds.
Sending everyone into a manic panic, the discovery of the bomb also divides the recruits into two camps – those who think it is part of their exam and those who believe Brendan means to blow them up.
As Elias says: "This is feeling less like an exam and more like the last 10 minutes of Saw."
The heat continues to crank up in the room with little ventilation, Caleb Haas gets very edgy while Simon Asher attempts to disarm the bomb.
Just when he manages to stop the timer and unlocks the door, a second trigger is set off when some recruits run out of the room with only one thing on their mind – their own safety.
The speed of the countdown doubles up and Simon is drenched in sweat of stress, holding the wires together so it does not explode just yet.
More recruits run for their lives, but many others choose to stay behind and stick together as a team.
Alex, Ryan, Nathalie, Shelby, Nimah and even Caleb are determined not to let Simon go through this alone, and help him disarm the bomb one more time.
But nothing works and the sound of a ticking bomb is making our hearts pound loud and hard.
Time's up. The lights come on. Doors open. Miranda Shaw walks in and announces: "Congratulations. Your country appreciates your sacrifice."
Brendan merely follows her command to play his part in the situation, but it is a big turn-off for Nathalie.
Miranda also reveals that those who stay have passed the exam, whereas all the others, including Elias, who fled have failed and are sent home.
Despite his father agent Clayton's attempt to manipulate Caleb into failing the exam, he excels and impresses Shelby. What's more, he rejoins the agent training program.
With what seems like just half the class left, Miranda lets them in on her secret project with Nimah and Raina and asks everyone to safeguard the secret.
And they continue to do so in the present day storyline where Alex is being hunted by the nation for allegedly masterminding a terrorist attack on Grand Central Terminal.
The twin sisters have infiltrated a terrorist cell, believed to have links to the deadly attack in New York.
Alex and Simon help them keep up their covers in order to catch the cell's leader, Hamza.
But the FBI turns up in search of Alex and alarms the terrorists at the same time, resulting in shots being fired and Ryan taking a bullet.
Nathalie, who is initially on the FBI's side, has a change of heart and lets Alex and an injured Ryan escape.
Where can they go now that Shelby and Simon have been captured by the FBI? And why is Ryan with Nathalie if he is on good terms again with Alex after their Quantico exam?
Watch the promo trailer for the next episode here: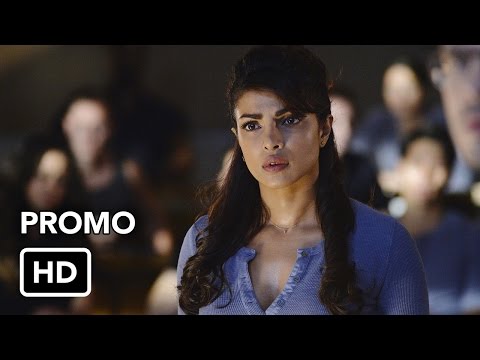 Catch the eighth episode of Quantico on November 15, 2015 at 10pm (US time) on ABC.