Aloo paratha is a Desi classic. This is everyone's favourite paratha!
The famous paratha first originated in the Indian subcontinent. It has always been a great alternative to the simple roti.
The word paratha simply means layers of cooked dough. It's multi-layer base combined with either butter or ghee, makes the paratha both filling and flavoursome.
And the method is pretty simple. Parathas can be made in either two ways.
Either by creating two separate dough discs, and spreading the filling over one, before conjoining with the other half, and frying.
Or alternatively, placing the filling into the centre of the dough, gently rolling into a ball, before rolling it out, and frying.
The variations of parathas are never-ending. With flavours and recipes ranging from all parts of the Indian subcontinent.
Parathas can be enjoyed simply, or filled with meats, vegetables, seafood, cheese and a whole array of other ingredients.
A South Asian delicacy, the paratha has always been an essential part of Desi cuisine. Take a look at some of these very tasty recipes and find out how to make layered paratha yourself.
Aloo Paratha
Aloo paratha is a Desi classic. This is everyone's favourite stuffed paratha. Perfect for a cold winter's day, this recipe can be both mild or spicy. For added heat, throw in a couple of freshly chopped chillies or alternatively chilli flakes.
Aloo Paratha tastes even better alongside a sweet chutney or peppery raita.
To serve, cut your paratha into triangles and dip into an assortment of saucy sides – to make this meal extra special.
Ingredients:
Dough:
2 cups (240g) maida or wheat flour
1 tablespoon (15 ml) oil
Adequate water
4 tablespoons of butter
Filling:
4 boiled potatoes, peeled and mashed
Salt to taste
Zeera Powder
Red Chilli powder to taste
1 onion very chopped
Method:
Knead the dough with 1/2 tablespoon oil and enough water. (The dough should be a slightly tough).
Allow the dough to sit for 30 minutes.
Add all the dry spices, finely chopped onions, and salt to your mashed potatoes and mix it all together.
Begin with your dough. Sprinkle some flour onto a rolling board.
Make balls from the dough, and roll one at a time into a thick small circle.
Place the mash inside and roll the dumpling so that it becomes round again.
Sprinkle some flour on the dough ball and rolling board, and place the ball, down with your rolling pin.
Gently press to make a plus sign, ensuring the stuffing is spread evenly.
Very gently roll the ball into a flat circle (ensure it is not too thin).
Heat a skillet to medium temperature.
Grease it with butter, then cook both sides of the paratha, by flipping it over, so that both sides brown properly.
Plain Paratha
You can't go wrong with this one! The buttery paratha is a great replacement for the ordinary roti. Plus, it's a great accompaniment to most curries. It tastes delicious with chicken, dal, and fish curries.
Or you can enjoy it as a great hot snack to devour just by itself.
The plain paratha is an absolute must-know. It is easy to master, and practice makes perfect!
Ingredients:
Dough:
2 1/2 cups (300g) whole wheat flour
1 teaspoon salt
1/2 (110g) cup butter
Lukewarm water (to knead the dough)
Method:
Add 2 cups of flour to a mixing bowl, and salt and keep 1/2 cup aside for mixing the dough.
Mix together, and knead the dough with lukewarm water.
Let the dough sit for about 30 minutes.
Take a little dough and make a ball the same size as a golf ball.
Take a rolling pin, and roll out a small circle.
Apply butter, fold it, apply butter again and then fold it again to form a triangle shape.
Roll the dough out to make it around 5 inches in diameter.
Heat the griddle, and cook for about a minute.
Add oil to the edges of the paratha and cook for a minute, before flipping over, and doing the same on the other side, until golden brown.
Dal Paratha
Dal paratha is perfect for snacking on throughout the day. It can be made using a variety of different dals. Aside from yellow dal, you could go for a green dal instead.
When making this recipe you want to ensure that the dal does not cook to a watery consistency but has some dryness to it, making it easy to work with.
This paratha tastes delicious on its own but tastes even better dipped in a sweet mango chutney.
Ingredients:
Dough:
1 1/4 cups (150g) whole wheat flour
1 tsp oil
Salt to taste
Filling:
1/2 cup (100g) yellow moong dal (split yellow gram)
2 tsp oil
1/2 tsp cumin seeds (jeera)
1/4 tsp asafetida (hing)
1/4 tsp turmeric powder (haldi)
1/2 tsp chilli powder
1/2 tsp coriander-cumin seeds (dhania-jeera) powder
Salt to taste
Method:
Combine all the ingredients in a bowl, mix well and knead into a soft dough using enough water. Then place aside.
Wash and soak the dal in a bowl of water for about 15 minutes, and drain well.
Combine the dal and water in a non-stick pan. Cover, and cook on a medium flame for 8 to 10 minutes.
Heat the oil in a broad non-stick pan and add the cumin seeds.
When the seeds crackle, add asafetida, cooked dal, turmeric powder, chilli powder, coriander-cumin seeds powder and salt.
Sauté on a medium heat for 2 minutes.
Allow the mixture to cool, and divide the dough into 8 equal portions.
Roll into 100mm and place the stuffing in the centre.
Fold in the stuffing, seal, and roll out.
Heat a non-stick griddle with oil and cook the paratha until golden brown on both sides.
Egg Paratha
This is a wonderful breakfast recipe and will leave you feeling full and happy, on those lazy Sunday mornings.
This recipe is easy to make and is full of flavour. You can leave out or include ingredients to your liking.
Great alongside mayo or ketchup, and tastes best served immediately.
Ingredients:
Dough:
1 cup (120g) whole wheat flour
1/2 teaspoon Ajwain seeds
1/2 teaspoon Cumin seeds
1 teaspoon Chilli powder
Salt to taste
Filling:
3 Eggs
2 tablespoons Oil
1/2 Cumin seeds
1 Onion
1 tablespoon Ginger garlic paste
1 Green chilli
Pinch of Turmeric powder
1/2 teaspoon Coriander powder
1/2 teaspoon Garam masala powder
A few drops of lime juice
Chopped coriander leaves
Salt to taste
Method:
In a mixing bowl, add whole wheat flour, salt, ajwain, cumin seeds, red chilli powder, and mix well.
Add a small amount of water and knead it into a smooth non-sticky dough, and keep aside for 20 mins. Then roll the dough into balls.
Heat oil in a non-stick pan, and add cumin seeds, chopped onion and sauté until it becomes translucent.
Then add ginger, garlic paste and finely sliced green chilli and sauté.
Add turmeric, red chilli, and coriander powder and fry for 2 minutes.
Break the eggs into the pan. Mix and scramble, and add salt and chopped coriander leaves, garam masala powder and lime juice. Mix and turn off heat.
Take the dough and add 2 teaspoons of oil and knead for two minutes, and divide into equal sized balls.
Take one ball, dip it in flour and roll out. Apply oil and flour on it, and add 2 tablespoons of egg stuffing inside.
Close the edges and make it into a ball, then sprinkle over some flour and roll out.
Heat a skillet or tawa. Add the paratha, and drizzle oil around the sides, cook until both sides turn golden brown.
Alternatively, watch this great video tutorial with Madhura's Recipes here.
Mixed Veg Paratha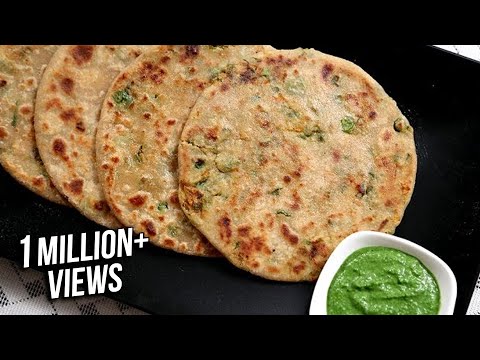 A wonderful way to eat your five a day. You can use whatever veggies you enjoy most with this recipe.
A full, filling dish that will leave you feeling like you've eaten a good hearty meal.
This stuffed paratha recipe is great for those who are not so great at eating their vegetables and should appeal to even the pickiest of eaters.
Ingredients:
1 1/2 cup (180g) Wheat flour
1/2 cup (70g) shredded cabbage
1/2 tablespoon Ginger
1/2 tablespoon powdered turmeric
1 tablespoon coriander leaves finely chopped
1/4 tablespoon Garam masala powder
1/2 tablespoon red chilli powder
1 tablespoon Salt
1/4 cup (110g) shredded carrot
1/2 cup capsicum (green pepper) finely chopped
1/2 tablespoon garlic
1/4 cup mashed peas boiled
1 green chilli chopped
1 tablespoon coriander powder
1 tablespoon refined oil
4 tablespoon boiled peas mashed
Method:
Heat 1 teaspoon oil in a non-stick pan. Add carrot, cabbage, capsicum, spring onion, fenugreek leaves along with crushed ginger and garlic.
Sprinkle salt and turmeric powder over it and sauté over a medium flame for 3 to 4 minutes or until vegetables are tender, then add boiled and mashed green peas into the mixture.
Let the cooked mixed vegetables cool for 5 minutes after cooking.
Take 1 cup wheat flour, 1 teaspoon oil and salt in a bowl. Add the chopped coriander leaves, chopped green chilli, red chilli powder, garam masala powder and coriander powder.
Knead until smooth by adding small amounts of water. Grease its surface with little oil, cover and let it rest for 10 minutes, then divide the dough into 8 equal parts.
Take one dough ball, flatten it like patty and dust dry wheat flour over it. Roll out and add the filling.
Place it on a hot tava/griddle and cook over medium flame. When tiny bubbles start to rise on the surface, flip it and reduce the flame to low.
Spread 1/2 teaspoon of oil around edges and spread over the paratha. Flip it again and spread 1/4 teaspoon oil around over it.
Let it cook over a medium flame until golden brown on both sides.
GET COOKING CREATIVE – Why not have a go at creating your very own filling!
Pizza Paratha
A modern touch to the traditional Desi paratha. Who doesn't enjoy pizza?
This scrumptious paratha is not too complicated to make and is actually pretty similar to a calzone. It can be mild or spicy, according to your preference, but tastes divine every time.
This recipe is a great to share with friends and family. Cut into triangles and serve melting hot. Absolutely delicious!
Ingredients:

1 3/4 cup (210g) wheat flour
Some water
Salt as needed
1 to 2 tablespoons oil
1 to 1 1/2 cup (115g to 170g) mozzarella cheese
1 tablespoon of Italian herbs or coriander leaves
1 tablespoon red chilli flakes
2-3 tablespoons pizza sauce (thick)
1 medium onion chopped
Olives
Method:
Add flour and salt to a mixing bowl. Pour in a bit of water to mix.
Add 1/2 tablespoon of oil and knead the dough until it becomes soft.
Place some flour on a rolling board and divide the dough into 6 parts, flatten each ball and dust flour over both sides.
Begin to roll out (not too thin or thick).
Spread pizza sauce over each roti and layer chopped onions and olives (anything else of your choice).
Place another roti over the first one, and seal the edge. Heat the pan.
Once hot, place the roti in the pan and cook until golden brown on both sides.
Once cooked, spread some grated cheese over the top and cook on medium heat, until the cheese melts, then sprinkle with some herbs and chilli flakes, and you're all set to devour!
Sweet Paratha
Bringing together the best of both savoury and sweet. It's not only tasty but makes a great sweet and filling snack.
This paratha is a perfect dessert after dinner and is best enjoyed on its own. Cut into triangles and devour. A little piece goes a long way!
Ingredients:
2 1/2 cups (300g) wheat flour
1 cup (235 ml) water
1 to 2 teaspoons of ghee
A few tablespoons of sugar
A little salt
Method:
Mix the salt with the flour, and add the oil and water.
Knead into a dough and add more water if needed.
Keep the dough covered for 15-20 minutes.
Divide the dough into balls, and dust some flour over a rolling board.
Roll the ball into 3.5 inches and sprinkle some sugar over (to taste).
Bring together the edges and press them into the centre.
Roll again into a ball, and roll out to a disc of 6 inches.
Cook in a pan of ghee until both sides are golden-brown.
And there you have it, a roundup of the best parathas to make and enjoy!
Why not try your hand at one of these wonderful paratha recipes? Perfect for breakfast, snacking, lunch, dinner, and even dessert!
From sweet to savoury, the paratha is an all-rounder! Enjoy!