These are staple Desi dishes that only your mother can cook the best
There's something about Desi dishes. Whether it be the explosion of flavours in your mouth or how comforting they are to eat.
We all know that our mum's classic Desi dishes are worth the wait, whether it's three hours or 30 minutes. You know whatever the dish, it is going to taste heavenly.
With that being said, DESIblitz presents seven staple Desi dishes that only your mum can make the best.
Saag
Nothing speaks of comfort more than light, fluffy saag with makki di roti. Primarily made from spinach and mustard leaves, this is a staple dish of Punjab.
Commonly eaten with either roti, naan or even makki di roti, saag is simply heavenly. The mere power saag has to indulge the taste buds is amazing.
The contrast of the vibrant green saag with a piece of melting butter in the middle of the bowl makes the dish a mouthwatering classic.
Also, as part of tradition, during Lohri, saag is often made to indicate lots of health and togetherness.
Try the classic Punjabi dish using Chef Sanjeev Kapoor's recipe here.
Aloo Gobi
This delicious Desi dish is one that will take you back to your younger days.
The light, fluffy texture of the dish is beautifully complemented with the aromatic scent it radiates. The ever so tender cauliflower bursts with nutrition and spice.
Normally when you think of vegan food, aloo gobi doesn't come instantly to mind. But it is one of the most common sabjis that you will find in India and Pakistan.
Try the amazing recipe here.
Biryani
Only mothers understand the intricacies behind the iconic biryani, which dates back to the 17th century.
Each household has their own method of making this classic dish and there are many variations.
Biryani is a dish that needs time to prepare. As with a lot of traditional Desi dishes, the preparation is the most important step. It sets up the dish into what it's going to eventually become.
What makes biryani so special is that it is cooked in a handi for an authentic taste.
Biryani isn't just for meat lovers. It can also be made for vegetarians, by substituting the meat for vegetables.
Watch how to make a classic chicken biryani in VahChef's video tutorial here: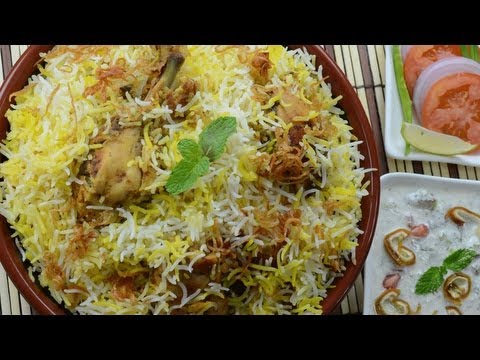 Makhani Dal
It is widely thought that Kundan Lal Gujral, founder of Moti Mahal, first made dal makhani.
The staple dish is one of the most renowned dishes in Punjab if not, India.
Although, the total time for this dish can be anywhere up to nine hours! The eight hours prep time is really what makes or breaks this dish, as the dal needs to be soaked in water – ideally overnight.
The combination of flavour, spice, and a mother's special touch are what separate this dish from others.
Try making the tasty dish here.
Aloo Paratha
Aloo parathas really are something else. They're magical, and only mums know how to make them perfectly crispy. Aloo parathas are essentially roti stuffed with spicy potato.
Ingredients: 
2 Potatoes (boiled peeled and mashed)
2 cups Wheat Flour
3 Green Chillies – diced
Salt
1/2 tsp Masala
Method:
Peel, wash, dice, boil, drain and mash the potatoes.
Add masala, salt and chill to the mashed aloo. Mix it thoroughly. Put the aloo aside.
To make the atta (dough), add water in moderation to the flour until it becomes dough-like, make sure you're kneading it. Once it's become dough-like. Set aside for 30 minutes.
Preheat the tawa, put it on high heat.
Take a palm full of dough and roll it out like you're making a roti. Once evenly rolled, dab a fingertip of butter across the atta that is rolled out. Add 2-3 teaspoons of the mash in the centre of the rolled out dough. Fold the dough over itself to make a compact square. Sprinkle flour over the square dough.
Roll it out and flip it between your hands to get rid of excess flour.
Butter the tawa. Put the paratha on the tawa and flip when one side is golden brown. You may want to spread butter across the paratha whilst it's cooking.
Once made, put butter on it to serve. You can also serve with yoghurt and/or achar.
Kheer
Kheer is a rice pudding that emerged from South Asia.
This traditional Desi delicacy makes an amazing creamy dessert.
This dessert is perfect for sweetening the palate after a curry! The rich flavours make it adored by many Asians across the world.
Try the tasty dessert using the recipe here.
Kadhi
Kadhi with white rice is a Desi household staple dish. Although it is very heavy, you don't want to stop eating as the variety of flavours are truly indulgent.
The pakoras add a soft and chewy texture to the thick yoghurt dish. The dish is made on a low heat until it becomes smooth and creamy.
Find out how to make it here.
These are staple Desi dishes that only your mother can cook the best.
They symbolise true comfort food – dishes that touch the soul. That is the power that your mum's Desi dishes have.