Indian food is all about spices and flavours, however one of the biggest highlights is the endless variety.
Breakfast is the most important meal of the day.
It is the fuel that charges you and keeps you going for the rest of the day, and Indian breakfasts top the chart when it comes to nutrition.
It's true that Indian food is all about spices and flavours, however one of its biggest highlights is the endless variety.
With the vast selection of cuisine available in India, tastes and cooking styles vary from state to state, enough to make any foodie drool.
Those living in different Indian states eat authentic dishes on a daily basis. From wholesome dosas to fluffy idlis and and filling parathas, there is a huge choice to choose from.
DESIblitz brings you a list of nine very delicious breakfasts from nine different States in India for you to wake up to.
Goa ~ Bhaji Pao
Usually enjoyed at breakfast, Goan Bhaji or Chana Cho Ras can be served as a snack or even light lunch or dinner. 
This popular chickpea and potato dish is available in carts and local restaurants all over Goa and is considered a street food.
The spicy vegetarian dish includes fresh grated coconut, soft boiled potatoes, chickpeas and a delicious gravy.
It is served with a bread roll called pav to scoop in the thin but rich and flavoursome gravy. For best results, soak the chana or chickpeas in water overnight.
To give this simple but delicious meal a try, read the full recipe from The Mad Scientist's Kitchen here.
Gujarat ~ Dhokla
Gujarat is known for their low calorie recipes and Dhokla falls under that category.
Known as the pride of Gujarat, Dhokla is a soft and spongy mildly spiced steamed cake, often served with chutney.
Made with rice and chickpeas, this light dish is healthy and rich in protein.
Various different types of Dhokla's can be eaten as an evening tea time snack, but is most popularly enjoyed as a light breakfast, especially when served with a hot cup of tea.
To try out this simple and wholesome breakfast, view the recipe here.
Kerala ~ Puttu
Puttu arguably the most iconic and traditional breakfast dish of Kerala. This has been a breakfast delicacy in Kerala for so many centuries and is still a breakfast staple eaten all over the state.
The basic ingredients used in Kerala cooking are rice and coconut, both of which are added to this dish, showing Kerala food at it's best.
This delicious dish is commonly served with a rich kadala (chickpea) curry, or can be enjoyed when simply squeezed and crushed with banana and sugar.
This simple and traditional steamed rice cake breakfast is considered healthy because of the way it is cooked. Made in a special Puttu maker called. 'Puttu Kutti', the ingredients are cooked in steam.
Give this authentic breakfast a go here.
Punjab ~ Aloo Paratha
Paratha is an irresistible part of Punjabi cuisine and is the staple breakfast of Punjabi households.
Aloo paratha is deliciously shallow fried Indian  whole wheat bread stuffed with a spiced potato mixture. In Punjab the parathas are made with lots of ghee and served with dollops of white butter.
This breakfast is usually served with plain yogurt or pickle, and a glass of hot masala chai is the best accompaniment with this filling breakfast.
Try this recipe for this wholesome breakfast to be fueled for the whole day.
Rajasthan – Mirchi Vada
Mirchi Vada is Jodhpur's iconic dish, but popular all over Rajasthan. This region is popular for its vegetarian food.
Mirchi Vada is the perfect spicy breakfast of potato stuffed large, plump green chillies, dipped in chickpea flour batter and then deep fried until hot and crispy.
This delicious delicacy served with hot tomato sauce or with zingy mint and tamarind chutney. Breakfast snack and very popular street food snack.
Mirchi Vada differs in the style of cooking and taste, but combines spicy and zesty flavours for an explosion of taste in your mouth that will leave you longing for more.
A mouthwatering snack for those who love hot and spicy food or lovers of jalapeno peppers.
Find out the recipe for this dish in Kanak's Kitchen video tutorial below: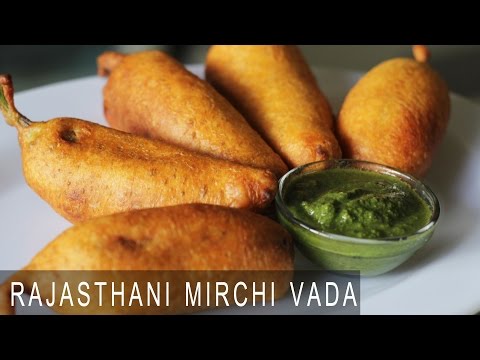 Tamil Nadu ~ Vada
Most South Indians seem breakfast incomplete without a crispy, tasty and protein rich vada.
Favourite and traditional breakfast snack of South India that features not only in everyday cuisine, but is also an indispensable part of the menu for festivals.
There are many different types of Vada depending on the way its made and what its served with.
These disc shaped fritters are made using a batter of black lentils known as urad dal and fried into donut shaped dumplings.
This mouthwatering snack is crispy on the outside and soft on the inside and served with hot Sambar (split pea stew with vegetables and sautéed tomato, onion and a tangy mix of tamarind) or coconut chutney. 
Try this recipe from Padhuskitchen here.
West Bengal ~ Luchi Aloo
The cuisine of Bengal is as rich and distinct as the state itself.
No Bengali breakfast is complete without fluffy and wholesome luchis, a Bengali's most quintessential and cherished breakfast.
Lunchi is a flatbread made of all purpose flour and is deep fried in ghee. 
The hot, puffed up Luchis are served with a myriad of dishes according to one's liking.
This breakfast is most popularly served with a potato curry, this combination makes a complete Bengali breakfast.
Simple, yet satisfying. Try the recipe here.
Karnataka ~ Neer Dosa
Thin, lacy and fluffy crepes made with rice batter from the Tulu region of Karnataka.
The word 'neer' translates to water in the Tulu language, as these dosas are watery, not thick and are prepared from purely rice and coconut milk unlike usual dosa batter.
The dosa is paired with coconut chutney, which is the preferred choice of Mangloreans for a feather light and delightful breakfast that melts in your mouth.
The preparation is simple and does not require overnight fermentation like other dosas. This means you can just grind up the the batter and fix this breakfast in a jiffy in those busy morning hours.
Try this fantastic recipe from Archana's Kitchen here.
Maharashtra ~ Misal Pav
Maharashtrian cuisine is known for its strong flavours and varies region to region.
Misal is a spicy curry made of mixed sprouts of moth beans, and is served with pav – an Indian bun to dunk in the delicious sauce, finished off with a crispy topping of farsan, raw onions and fresh coriander.
Squeeze a few drops of lime over the topping and this curry is an explosion of tastes, textures and flavours in your mouth.
There are many variations of making this popular Maharashtrian breakfast, snack, and brunch dish.
This zesty snack is also a popular street food. It also includes tangy tomato and onions.
If you are a lover of spicy food, then this is the perfect breakfast for you. Try it here.
India offers a tantalising array of delicious cuisines and you can find yourself tasting different foods in whatever state you are in.
Have a go at making some of these incredible Desi breakfast recipes from around India for a great kickstart to your day.